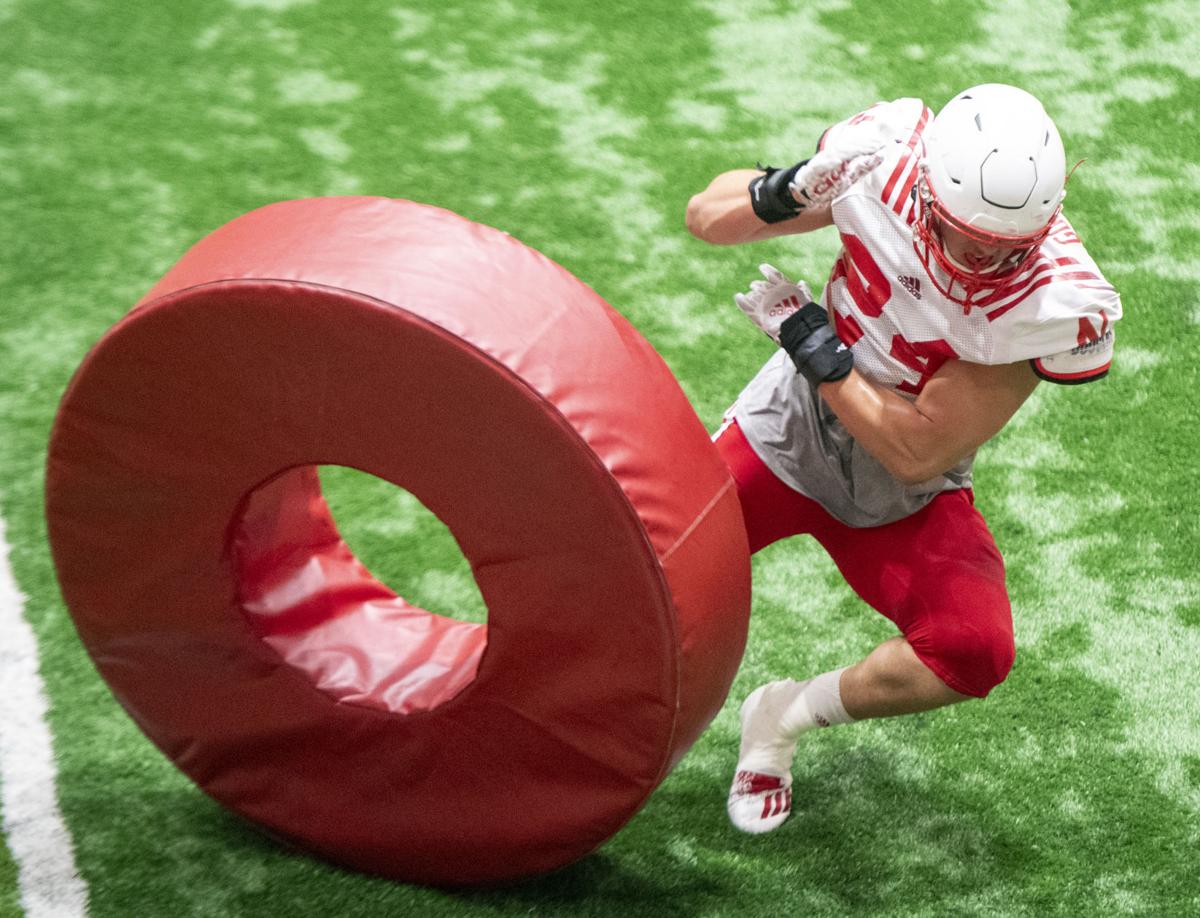 Blaise Gunnerson had a bit of a headache after Saturday's game at Wisconsin.
The Nebraska freshman linebacker, in his first meaningful snaps as a college football player, had a how-do-you-do moment with a Wisconsin tight end throwing a fan block on him.
There was a harmless sting to it.
"But that's good for you," Gunnerson said. "That's football. We got to do what we love."
There were no welcome-to-the-Big Ten hits, Gunnerson said, but this is what he has been patiently waiting for since arriving from Kuemper Catholic High School in Iowa in January 2020.
Fully healthy and with a better grasp of Erik Chinander's schemes, Gunnerson wants to show he can contribute sooner than later. He's getting that chance.
He was thrust into Saturday's 35-28 loss to the Badgers after Caleb Tannor went down with an injury in the first half. The 6-foot-6, 255-pound outside linebacker, making the travel roster for just the second time, picked up his first two career tackles in the process.
What did Gunnerson see on film?
"I thought I did a good job in aspects, obviously some parts of the game I got to improve on, specific game plan-type stuff I got to improve on," Gunnerson said this week. "Obviously it will help this week getting more reps and stuff like that. I just got to continue to prepare, continue to be physical with these guys and run to the ball."
Gunnerson's progression has been hindered by injuries. He had surgery on both hips at different times in high school before coming to Nebraska. He battled through some things during the COVID-19 season and missed the first part of fall camp this year. That put him behind several players, but Gunnerson said he just kept putting his head down and worked, even if that meant scout-team reps.
"Whatever opportunity I got, I try to give it my all and give my best effort," he said.
Gunnerson's big opportunity came during the Huskers' first bye week following the Minnesota loss. Chinander said the Huskers wanted to limit the reps that week for the older players, which meant more opportunities for young players like Gunnerson.
"He had some good-on-good periods with some of the younger guys playing, but we had a chance to see him against the first-string offense and some of those good tackles and one-on-ones and those good-on-good periods," Chinander said Monday. "I think that first bye week we were like, 'Man, this guy has really come along.'"
Chinander said he saw some errors from Gunnerson against Wisconsin, but he also saw some good things.
Gunnerson will likely factor into the defensive game plan for Friday's 12:30 p.m. home game against Iowa if Tannor is not available. The Huskers are already without senior outside linebacker JoJo Domann, whose season was cut short by a hand injury following the Purdue loss.
Fittingly, it will come against a program that Gunnerson, an Iowa native, knows very well, and a team he grew up rooting against. His parents are Iowa State fans, so Gunnerson followed their lead.
Yeah, he's received messages this week from back home. Most of his friends will be cheering for Iowa, they tell him.
Rest assured, Gunnerson hopes he has something fun to talk about when he goes home for the holidays.
"A lot of my friends will be watching," said Gunnerson, who is from Carroll, Iowa. "Yeah, it's going to be a big game for me personally. I got to play well and prepare myself accordingly."