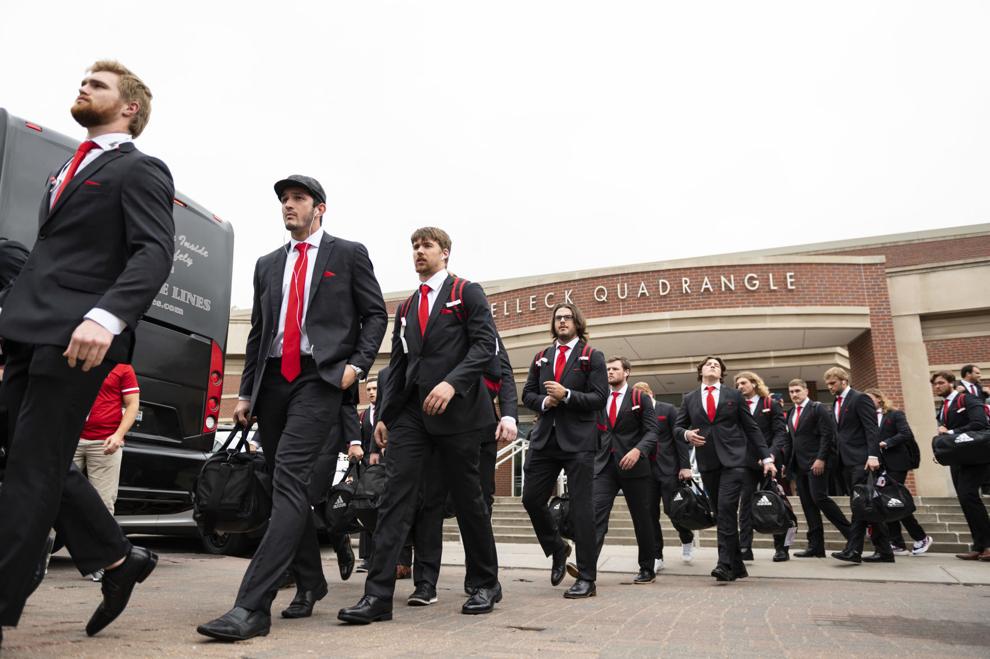 This gives new meaning to a team looking impressive as it comes off the bus.
Nebraska players exited team buses a couple of hours before Saturday night's game looking especially spiffy.
Each wore a new charcoal-gray suit and white shirt with a red tie and pocket square.
Husker fourth-year head coach Scott Frost came up with the idea during the summer, thinking it would be a good way to improve team unity and image.
Nathen Rutt of Gary Michael's Clothiers in Lincoln quickly flipped into action.
"Scott told me, 'Hey, I'm trying to get this thing turned around and it's taking longer than I hoped for, but I'm really trying to get the unity thing going and get everyone on the same page,'" Rutt said. "He said he would like to have all the guys in a suit so when they get off the bus, it's kind of like what Ohio State, Minnesota and some other Big Ten schools do."
Unveiling the look on Homecoming made perfect sense.
However, from Rutt's standpoint, it's been a challenge, although one he fully embraced.
In fact, outfitting the team in this manner was something Rutt and Gary Michael's Clothiers owner Gary Novotny had on their minds for several years.
Long story short, the process of getting it done has kept Rutt busy in recent weeks.
He measured some 100 players for their suits Aug. 11, a process that took 2½ hours. After the suits were delivered to Gary Michael's, Rutt's tailor worked on them for a solid month.
This week, Rutt went to the stadium as all the players tried on their suits — paid for by the university as part of an allotment for team-required apparel.
"They were excited about it," said Rutt, a 46-year-old Hastings native who's worked for Novotny for 27 years. "It's a nice suit, an all-wool suit."
The players showed off the new look at a different drop-off point than usual. This time, they got off buses near Selleck Hall and the Student Union and walked through the new student tailgate area north of the Union before proceeding to Memorial Stadium.
Nebraska will wear the suits for all homes games.
Frost originally requested black suits.
"You've got to understand that in our business, it's just like everything else in the country right now — the supply chain is totally messed up," Rutt said. "So I got the inventories from some companies, and the one major company that I used said, at this price range, there's no way we could get black."
"You really can't tell the difference from 10 feet away," Rutt said. "I mean, it's a dark charcoal."
What's more, "With black, you've always got to wear black shoes," Rutt said. "With charcoal gray, a guy can wear a brown shoe or tennis shoe or whatever."
You're welcome for the clothing tip.