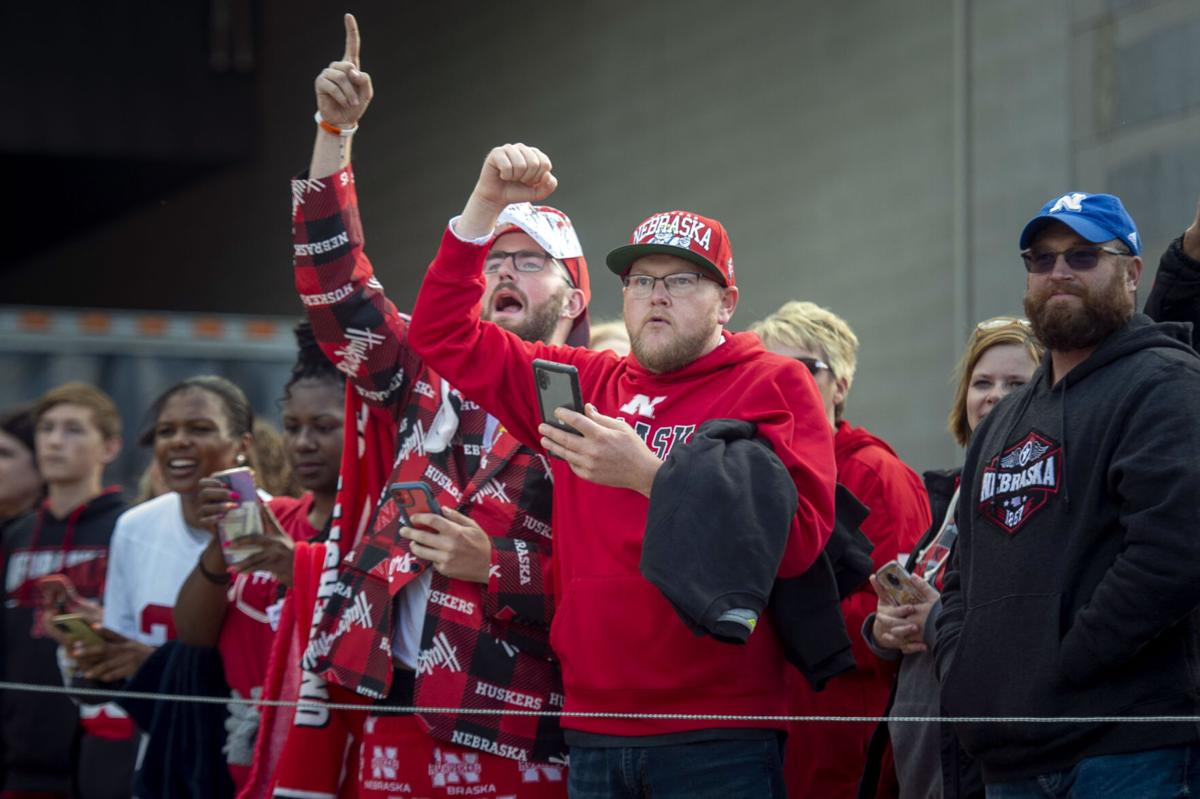 EAST LANSING, Mich. — Saturday afternoon, some four hours before kickoff for Nebraska-Michigan State, a smiling former Husker rush end entered Harper's Restaurant and Brewpub on the edge of MSU's campus. 
This was an especially fun time for Demoine Adams as Saturday marked his first road game as a Nebraska fan. There's no major reason for it other than he's been a busy man with work and family.
He said he wasn't even quite sure how to approach the day. I'll say this: He was off to a great start. As he entered Harper's, he traded pleasantries with a handful of Nebraska fans seated near the bar area. 
"Go Huskers!" they said, exchanging fist-pumps. 
Earlier this month, Adams took over as chief executive officer of the TeamMates Mentoring Program. No stranger to the program, Adams has served TeamMates for eight of its 30 years, first as post-secondary education coordinator (2012-16), then as program director (2016-20). He most recently served as director of development for the University of Nebraska Foundation for the College of Business. 
A native of Pine Bluff, Arkansas, Adams started 24 games for Nebraska from 2000 to 2002. In 2001, when NU finished 11-2 and played Miami in the Rose Bowl for all the marbles, he started all 12 games at right rush end opposite Chris Kelsay and led the Huskers with 5.5 sacks while ranking fourth on the squad with eight tackles for losses. 
You want some more East Lansing pregame flavor? I'll say Michigan State fans were generally very welcoming, with emphasis on "generally." Jake, a Husker fan from Lincoln, says he stepped out of his Uber ride and immediately had an expletive hurled in his direction. 
"That's OK," he told me. "I think it's because they know it's going to be a tough game." 
Jake added that the Michigan State fan's rude comment may have been the result of his friend's red sports jacket, which featured "Huskers" in white lettering in random spots on the jacket. By the way, he purchased the jacket at Target for $30. Seems like a bargain, particularly if you're planning an NU football road trip.
Harper's, by the way, is a comfortable spot to enjoy game watching in advance of a game at Spartan Stadium. It was about 50% full about four hours before kickoff, with a dozen Nebraska fans in the crowd. Friday night, though, the place was packed and roaring with college-age patrons. A very lively scene, I'm told.
On the downside, Harper's turkey club on the lunch menu was on the bland side. More bacon, please. But Journal Star football writer Parker Gabriel said his cheeseburger was "pretty good," and the service was excellent. 
Hopefully, Adams was treated well in Harper's on his big day.