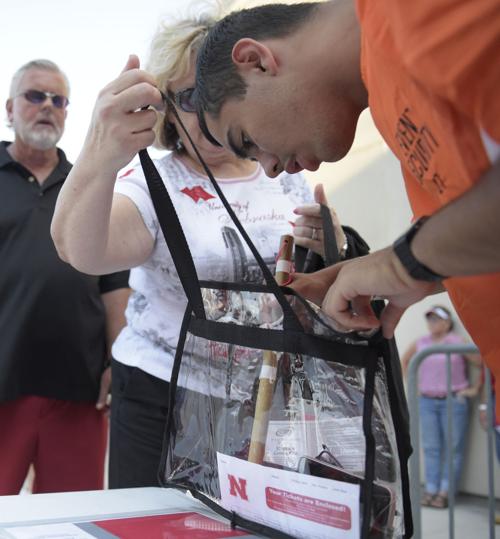 Among the sunglasses and worn-out ball caps, the cornhead hats and the throwback jerseys — Jordan Westerkamp and Tommie Frazier and even a Calvin Jones among them — Nebraska football fans sported a new accessory Saturday.
It certainly wasn't the most exciting part of Nebraska's season opener — JD Spielman, Tre Bryant, Stanley Morgan and a host of others took care of that — but it appeared the first football game under Nebraska's clear-bag policy went off mostly without a hitch Saturday as 90,171 fans filed into Memorial Stadium.
Instituted for the 2017 season, the policy has been advertised heavily by the athletic department, and most fans seem to have noticed.
A lap around the stadium about an hour before kickoff didn't reveal any hassles, though folding tables were set up at each gate along with tubs of gallon-sized freezer bags for anyone who needed to switch.
All in all, what could have been a logistical headache for NU went pretty smoothly.
New video screens impress: Nebraska's new wraparound video screens in the northeast and northwest corners of Memorial Stadium are impressive, as is the higher resolution of the main screen in North Stadium.
The graphics are sharp on both the screens and the ribbon boards on the east and west stadium decks. And the ribbon boards seem much brighter than last season. Call that $6.25 million well-spent.
And Adidas had its logo displayed on the corner of each wraparound screen. No doubt a part of that recently-signed deal with NU.
Fans honor Anderson: Along with the new digital signs, a simple banner hung in the southeast corner of the stadium.
The pink banner with "Get Well Soon, Wendy Anderson!" was an homage to the wife of Arkansas State coach Blake Anderson, who underwent successful surgery this week for triple negative breast cancer.
Blake Anderson missed his Monday news conference to be with his wife, who was diagnosed in April.
Anderson returned to practice Tuesday, and Thursday tweeted that his wife was cancer-free. He also retweeted a couple photos of the banner a few hours before Saturday's game.
"Very classy … thank you from us both," said one of the tweets.
Eight jerseys retired: Nebraska retired eight jerseys in a pregame ceremony Saturday, adding the names of some all-time Husker greats to the wall beneath the North Stadium scoreboard.
Forrest Behm, a tackle from 1938-1940; Guy Chamberlin, an end and halfback from 1913-1915; Sam Francis, a fullback from 1934-36 and runner-up for the 1936 Heisman Trophy; Wayne Meylan, middle guard from 1965-67; Clarence Swanson, end from 1918-21; George Sauer, fullback from 1931-33; Bobby Reynolds, halfback from 1950-52; and Ed Weir, tackle from 1923-25.
Spotted: On the sideline was Nebraska men's basketball coach Tim Miles, sporting a fresh pair of Adidas Yeezys and with his team before the game. NU volleyball coach John Cook and his five-player freshman class were also on the sideline for pregame festivities.
Not for camping: Among Arkansas State's sideline gear was a tent set up for the Red Wolves' training staff to evaluate injuries.
The idea was first used by Alabama in 2015, and began spreading across college football last season.