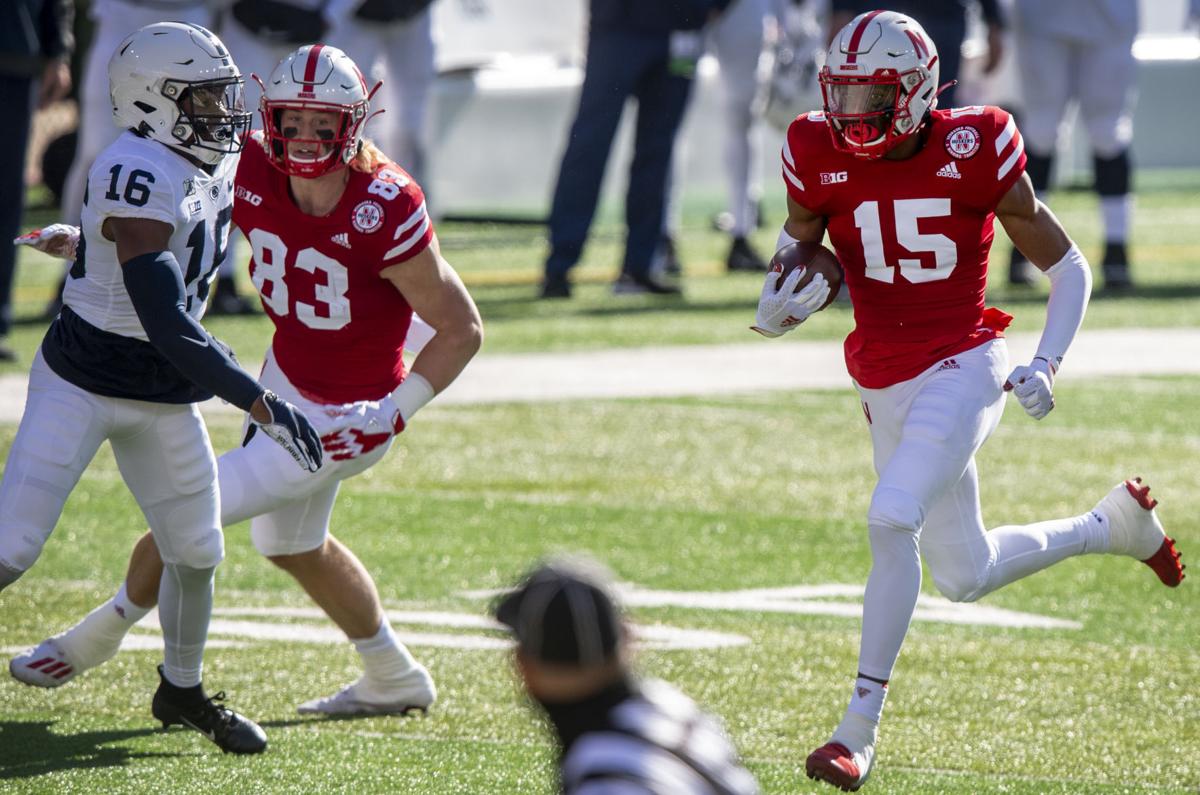 As Nebraska transitions from Year 3 to Year 4 under head coach Scott Frost, perhaps no position group on the roster has as many questions in front of it as the wide receivers.
If that feels like a familiar sentiment, there's a reason.
As a starting point, the Huskers are tasked for the third straight offseason with replacing their top receiving threat from the year prior. First, it was Stanley Morgan, who graduated and went on to the NFL after the 2018 season. The past two, NU lost JD Spielman (2019) and Wan'Dale Robinson (2020) as undergraduate transfers.
More than just the standout players, though, the Huskers have also churned through a high volume of options, some of which panned out and some of which did not.
Many of the players who Nebraska will rely on in 2021, of course, have stories that remain partially or nearly wholly unwritten.
Despite that, Frost likes where his group stands as the offseason plugs toward spring ball.
"As far as that (receiver) room goes, I think it's far and away the deepest and most talented group we've had," Frost said last week.
It's not the first time Nebraska has gone through an offseason lacking clarity at the position. 
NU in 2018 was heavily reliant on Morgan and Spielman, but put up good numbers in the passing game overall. After the season, head coach Scott Frost and then-offensive coordinator Troy Walters said they thought increased depth would pay off in 2019.
"There are a dozen other guys who have the ability to play or to start," Frost said before camp in 2019. "We are going to let those guys compete. There are a lot of guys with talent that are going to come down to consistency and reliability. …
"I'm really confident we are going to have a lot more receivers capable of going in and playing this year."
To some degree, that proved true. NU had two good options in Spielman and Robinson and bumped up from 32 20-plus yard receptions by receivers in 2018 to 39 in 2019 despite struggling to identify consistent options down the depth chart. No. 3 receiver Kanawai Noa graduated, Spielman left the program before eventually transferring and Frost and company readily admitted after that year that they'd have to rely on young and unproven players in 2020.
"When you look at that position, just being honest, when we came in as a coaching staff we only had four receivers on scholarship," he said in December 2019.
Without Spielman, NU had four scholarship receivers available at the beginning of spring ball for 2020, as well, before the pandemic shut it down.
Instead of making progress, though, production from the receivers backtracked in a shortened 2020 campaign and then Robinson transferred last month.
The Husker receivers turned in just 12 20-plus-yard receptions in 2020 (1.5 per game compared with 3.3 the year before) and only four came from players still on the roster: one each from freshman Zavier Betts (a 45-yard touchdown on a fly sweep), freshman Alante Brown, junior Oliver Martin and senior Levi Falck.
"We have to be able to push the ball downfield better," Frost told the Journal Star in January. "Part of that is getting guys who can stretch the field and win vertically. It's having bigger receivers, so even when you're not completely wide open the quarterback's able to get them the ball. It's easier to see them on crossing routes. It's guys who can block linebackers on the perimeter when we're running the football.
"I think a lot of the guys we have in the program are going to be able to help us do those things."
Amazingly, of the 39 catches of 20-plus yards by Nebraska receivers in 2019, none came from a player who will suit up for the program in 2021.
Big plays are not receivers' only job. Frost said he hopes having bigger players can help in other departments, too. Frost said last month that he thinks a bigger group in 2021, "in some ways, it's going to allow us to be closer to what we want to be on offense." 
The bottom line is this: For a third straight offseason, production in the receiver room will look markedly different than it did the year before. NU heads toward 2021 with its returning receivers having accounted for just 25.3% of last season's passing production.
The good news is that most of the potential options for NU are already in the building. Betts, Martin, Falck and Brown are squarely in the equation and all will be second-year players in Lincoln. Graduate transfer Samori Toure caught 87 passes for 1,495 yards and 13 touchdowns in 2019 for FCS team Montana. He arrived in Lincoln in January.
The other half of the returning scholarship Class of 2020 quartet lends more intrigue. Will Nixon missed the year with an injury, but NU is high on him as a slot player. Frost said he thought Omar Manning could be a major difference-maker, but he appeared in only one game this fall as he struggled to stay healthy.
"I think we have more talent in the room by far than we've had in a long time," Frost said. "Adding Samori certainly helps. I think we've got guys that played last year in Levi Falck and Oliver Martin, Zavier Betts and Alante Brown, that all have some experience and I can expect to take a huge jump this year. Some walk-ons that are really helping us and have a chance to be really good for us."
On top of that, the Huskers have three freshmen — Kamonte Grimes, Latrell Neville and Shawn Hardy — slated to arrive on campus this summer.
NU has been in this spot before — each of the past two years, in fact — where it wanted more from its receiving corps and thinks it has a group in place that can produce. The past is not prologue, so previous shortcomings are just that. They're previous.
And yet, it's fair to point out that of all the receivers on Nebraska's roster, none has more than 13 catches (Falck) or 131 yards (Betts) in a Big Ten football season under his belt.
That's what makes this corner of the roster such an interesting one to watch in the coming months.