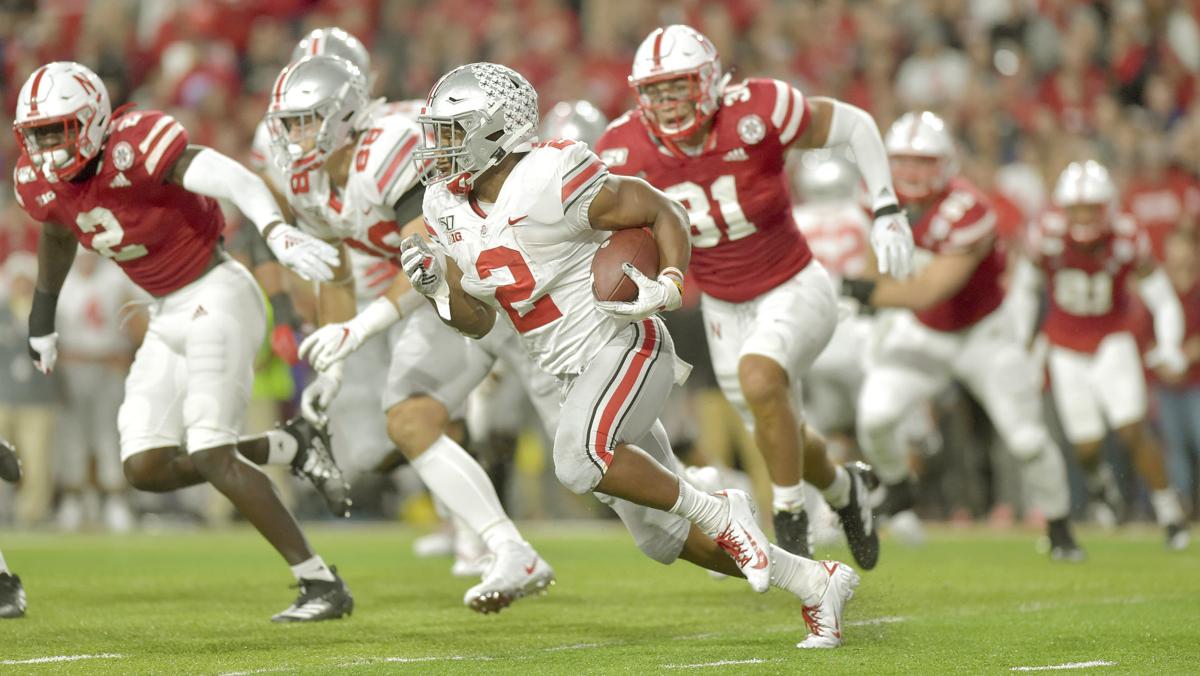 Great wrinkle by Scott Frost to employ Dedrick Mills as the fullback for the first time this season. It jump-started the Husker offense late in the first quarter. But Adrian Martinez's second interception ended what looked like a promising drive. Mills' legs looked live, but with Nebraska playing from behind, the run game basically became an afterthought for much of the game.
Rough night for Adrian Martinez, obviously. His three first-half interceptions essentially ended his team's hopes. His second pass of the game was picked off by cornerback Jeff Okudah. The 6-1, 200-pound Okudah made a nice diving grab, and Ohio State turned it into seven points. Martinez's second interception was slightly overthrown, ricocheting off Wan'Dale Robinson's right hand and into the waiting arms of Okudah, who was actually on his back. Martinez's third pick sailed 10 feet over the intended receiver's hands and led to the Buckeyes' third TD.
Ohio State quarterback Justin Fields' 14-yard gain to Nebraska's 6-yard line on third-and-10 in the first quarter was an energy-zapper for Nebraska. Two plays later, Ohio State led 14-0. J.K. Dobbins was a bear, sometimes carrying tacklers on his back. Backup Master Teague was no slouch. The Buckeyes had 230 yards rushing at halftime, averaging 7.9 yards per carry. They had 308 entering the fourth quarter (7.3). You get the idea.
Fields was 10-for-15 for 148 yards and two touchdowns as Ohio State led 38-0 at halftime. Game over. The Buckeye receivers made the secondary look silly a few times. But Caleb Tannor's second-quarter sack was the impetus to the Huskers holding the Buckeyes to a field goal to make it 17-0. Cam Taylor-Britt was called for interference in the end zone on Ohio State's first possession — but it actually looked like good coverage on K.J. Hill.
Khalil Davis' unsportsmanlike conduct penalty after an OSU extra point in the third quarter wasn't the best look with his team trailing 48-0. Neither was Isaiah Stalbird's offsides on a third-quarter kickoff. A few penalties earlier in the game hurt badly. Myles' Farmer holding on Robinson's return of the opening kickoff pushed Nebraska back to its 9. Not a great way to break from the gate. JoJo Domann's holding call on Robinson's return to begin the second half also set NU back at its 9. Isaac Armstrong punted four times in the first half for an average of only 35.2 yards — not great.
Nebraska finished with six penalties for 57 yards in losses, while Ohio State had two for 25. The Buckeyes were much better and much cleaner than the Huskers.
We mentioned the wrinkle by Frost to employ a fullback in the I-formation for the first time this season. That was good. But there was little a play-caller could do with an offense that was clearly outmanned.
If you're a Nebraska fan, or anybody associated with the program, Saturday night was just immensely disappointing on a lot of levels, most notably Martinez's performance. But Frost can't let his team dwell on this night because there are plenty of opportunities for wins ahead.
Be the first to know
Get local news delivered to your inbox!