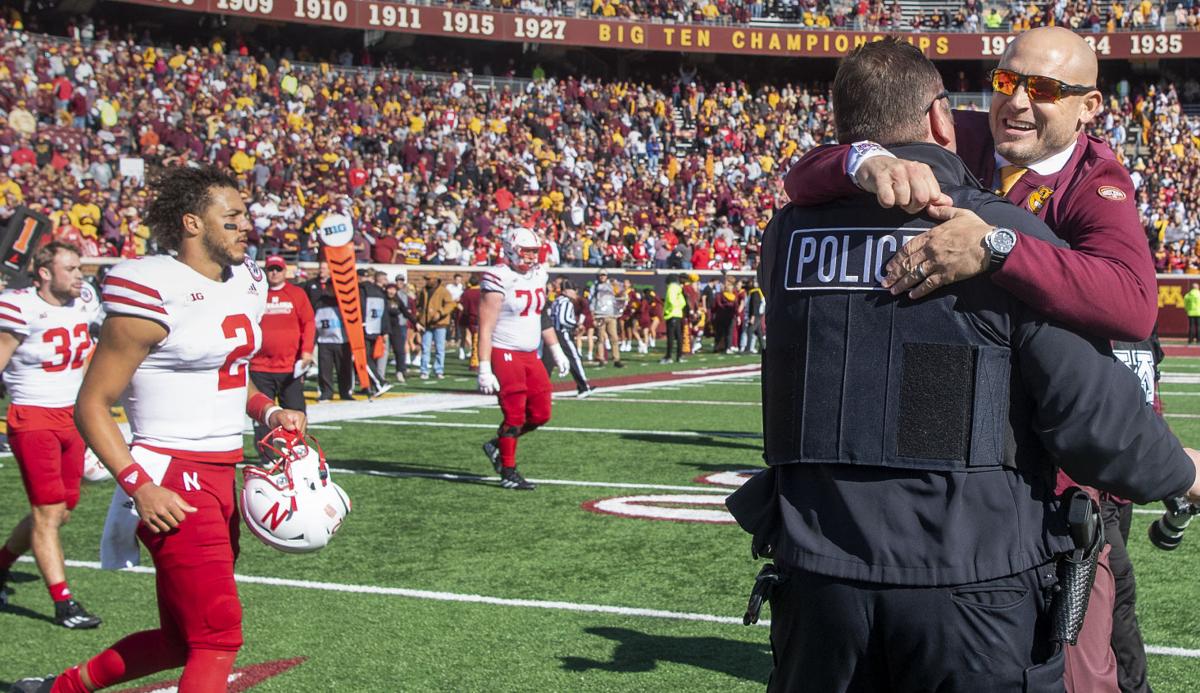 From Huntington Bank Stadium in Minneapolis, Parker Gabriel and Chris Basnett discuss the Ne…
For the second straight meeting with Nebraska, Minnesota came in undermanned.
The Gophers were without 30-plus players last year because of COVID-19, and yet grinded out a 24-17 win at Memorial Stadium behind the running of one of nation's top backs in Mohamed Ibrahim.
On Saturday in Minneapolis, the Gophers trotted onto the field without their two best running backs — season-ending injuries to Ibrahim and Trey Potts — and with an offense that carried the bottom of the Big Ten in total yards (12th) and passing yards (14th).
Minnesota found a way. Tanner Morgan easily had his best game, and P.J. Fleck improved to 3-1 against Scott Frost.
"That was truly culture versus skill," Fleck said. "That's what I saw today. Whatever anybody else wants to say about us or our program or culture, feel free. We've been called every name in the book, but culture versus skill."
Fleck dropped the word "culture" numerous times during his postgame news conference.
He believes it played a big part in the offensive game plan, and on defense where the Gophers came up with a huge goal-line stand in the fourth quarter, preventing the Huskers from taking their first lead of the afternoon.
Minnesota linebacker Jack Gibbens said the stop was a team effort.
"(Adrian Martinez) can hurt you running the ball with the option stuff they do, and then also pull it down and scramble, so everybody was just doing their job trying to take away the option stuff," Gibbens said. "Guys in the middle pushing the pocket, guys not rushing past the quarterback. They did an unbelievable job. It was just a combined effort with everybody doing their job and playing really hard."
Said defensive lineman Nyles Pinckney, a Clemson transfer who had a big game, "We knew they were going to try and run it in, and we just had to have some pride, blow our chests out and go make a play. But, yeah, that was an awesome play. We got great push up front and made a great play."
It marked a big day for a Minnesota defense that, while it gave up some chunk plays, never allowed the Huskers to get settled in offensively outside of the Martinez-Austin Allen connection.
With two weeks off, the Gophers spent a lot of time looking for ways to stop Nebraska's running game, which ranked second in the Big Ten at 223.6 yards per contest.
"We had to make sure (they) had small run lanes," Fleck said. "The triple option, we worked on that. They (Nebraska) have so many dimensions off of it — pass game, reverses, the zone play, the split-zone option, plus he's (Martinez) a runner. We had to condense the pass lanes, and not only that, we couldn't just rush the passer. We had to rush the passer through the offensive line. 
"We did exactly what we needed to do."
Minnesota held Nebraska to a season-low 136 yards on the ground, and Martinez's longest run was 4 yards.
Still, the Gophers found themselves fending off the Huskers throughout the second half while working with a five-point lead.
The goal is to win 78% of the game, Fleck says, but, "We live in a 22% world today, and won. That's a sign of a really good football team."