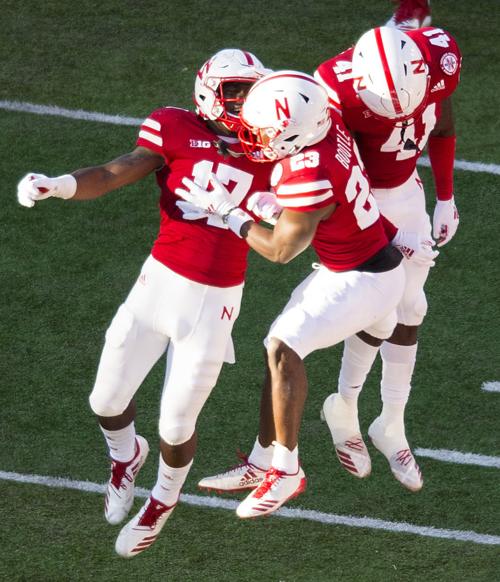 Dicaprio Bootle is entering his fourth year in the Nebraska football program, and he has spent all of it alongside the likes of Marquel Dismuke, Lamar Jackson and Eric Lee.
The chemistry that's built over that kind of time frame is hard to replicate, but as Bootle discussed the Husker secondary — one that enters 2019 with experience, depth and high expectations — on Monday, he noted a close relationship he's built with one of the more recent additions to the group.
"Me and him are the closest in the room even though he only got here a year ago," Bootle said. "Both being from Florida, we relate a lot."
Deontai Williams first arrived in Nebraska in January 2018 as a transfer from Jones County (Mississippi) Junior College and is originally from Jacksonville, Florida. He played part time last year, appearing in all 12 games but making only one start, even though secondary coach Travis Fisher said he might have been the most talented safety in a veteran room.
Now Williams is the vet and came out of spring ball at the top of the depth chart alongside Dismuke. Williams, listed at 6-foot-1 and 205 pounds, isn't lacking for confidence — at the time he committed to the Huskers, he referred to himself as, "a sniper," but for the most part around reporters he speaks quietly and is relatively reserved.
"He's a quiet guy, just generally quiet, but he will talk his trash once he gets comfortable with you," Bootle said. "Once you get comfortable with Deontai, you see the real Deontai. He's a quiet guy but he's a jokester, too. Always cracking jokes, always trying to get on you for something."
This offseason, the friendship between the two Floridians has taken off.
You have free articles remaining.
"There was a point in time this offseason where I'd see Deontai every day outside of football, we'd hang out every day," Bootle said. "That's my guy right there. We've got a strong relationship and that's my brother to the end, for sure."
Both are critical members of the Husker secondary and each has two years of eligibility remaining, meaning they have the chance to play a lot of football together going forward. They've taken to learning each other's tendencies and like to push each other.
"Me and Deontai worked together the most, probably, out of the whole summer, doing extra work and competing in drills and stuff like that," Bootle said. "We might have come in here on a Saturday, might have come in here on a Sunday, might have come in on an off day on Wednesday. That's my guy. Everything we do, we do together but we compete.
"I do my drill and he's like, 'Oh, that look good.' Then he does his drill and I'm like, 'Oh, that look good, too.' I'm always trying to one-up him and that's really helped us coming into this fall camp."
Among the groups competing with each other: Bootle and Williams, the Florida natives, as a corner/safety pair on one side of NU's defense against Jackson and Dismuke, both from California, on the other.
"Me and Marquel always tell each other that we can't let them outplay us. We can't let them do this," Jackson said. "It's just natural competition. We just go out there and do our thing."
Sophomore quarterback Adrian Martinez said last month at Big Ten media days that he and Williams talk as much smack back and forth as anybody, in part because their lockers are close to each other. Bootle, perhaps not surprisingly, put himself right in the mix, too.
"Sometimes I hear them talking trash back and forth, and my locker is a little around the corner, so I'll peek my head out and tell Adrian he better stop with all that," Bootle said. "We just let him know all the time, 'You're not throwing no balls over our head.'
"It's been a lot of competition around here lately, between DBs and quarterbacks, between DBs and receivers, between linebackers and D-line trying to get the most sacks and stuff like that. Everybody's competing, everybody's working and everybody's moving around."