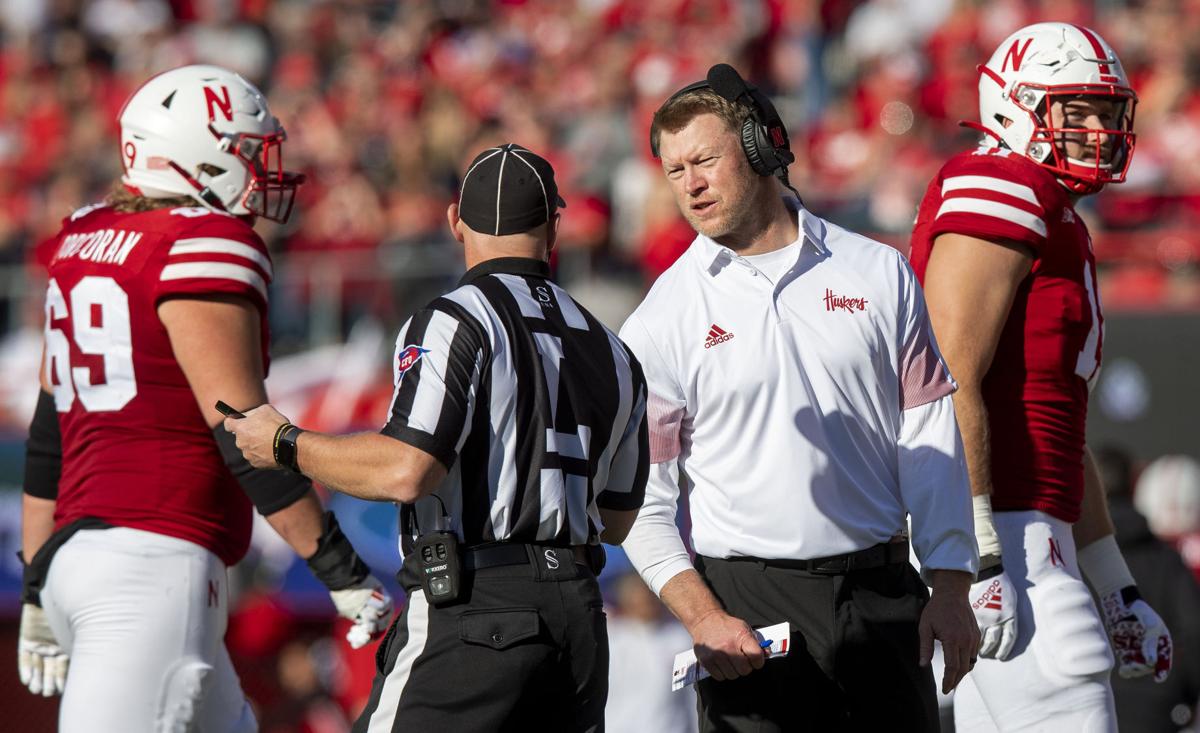 Nebraska athletic director Trev Alberts missed the Huskers' football game Saturday to attend his son's wedding.
If you're a Nebraska fan, you might say he didn't miss much. After all, the Huskers played a generally awful second half and dropped a 28-23 decision to a good-not-great Purdue team before 85,902 spectators at Memorial Stadium. NU finished minus-4 in the turnover category, and the Boilermakers held the ball for 38 minutes, 38 seconds, running 86 plays to the Huskers' 58. 
Didn't miss much? Anybody who missed this game actually missed what ultimately could be judged as an extremely important day for the program. 
This was perhaps the day that the story of the end of Scott Frost's tenure as Nebraska's head coach essentially began writing itself. 
It seems increasingly possible that when the 2021 regular season closes, Alberts will be left with a decision that isn't all that difficult — assuming he hasn't made a decision already.
Nebraska's record fell to 3-6 overall and 1-5 in the Big Ten. The Huskers' chances to reach a bowl game dropped to slim and none, and slim left town. NU's remaining schedule has home games against fifth-ranked Ohio State and No. 9 Iowa sandwiched around a road game at Wisconsin, winner of four straight games. 
In other words, any objective observer would tell you there's an excellent chance Nebraska will finish 3-9, which almost seemed unfathomable three weeks ago. Think about it. On Oct. 9, then-No. 9 Michigan escaped Lincoln with a 32-29 victory. At that point, Frost's supporters had a reasonable argument that his program was headed in the right direction. After all, NU was losing close games to ranked opponents. What's more, it hammered Northwestern to the tune of 56-7. 
Think about those night games Nebraska played against Northwestern and Michigan at Memorial Stadium. The place was absolutely alive. Charged to the max. Those scenes felt nothing like the scenes you often see in stadiums where an embattled coach is leading a team. In those types of scenes, you see empty seats and long faces and feel a sense of dread.
Yes, that's exactly what you saw and probably felt in the late-afternoon shadows Saturday as Nebraska stumbled around in the second half against Purdue (5-3, 3-2 Big Ten). 
Yeah, if you missed it, you missed plenty.
You missed seeing literally thousands of Nebraska fans head to exits after Purdue pushed its lead to 28-17 with 10:05 remaining in the game. It frankly felt like an indictment on Frost, a vote of no-confidence.  
I've been saying for weeks that both sides of the aisle — Frost's supporters and Frost's detractors — had strong arguments. I felt it was important for both sides of the aisle to respect one another's viewpoints. But then came Nebraska's dispiriting loss Oct. 16 at Minnesota. The Huskers had a bye last week, so you figured they would come out firing on all cylinders against Purdue. 
We now know otherwise. Nebraska junior quarterback Adrian Martinez had perhaps his worst game as a Husker, throwing four interceptions — including a pick six in the second quarter when the Huskers should have been headed toward a 14-0 lead, then another doozy of a pick in the third quarter when his team appeared in position to take control of the game. 
So, Frost's detractors suddenly have ample ammunition. They now more easily can minimize close losses to then-No. 3 Oklahoma and then-No. 20 Michigan State. They can point to an offense that still lacks anything resembling an identity in the head coach's fourth season. They can point to a defense that has had trouble getting off the field in each of the last three games. 
They can point to all those empty seats early in the fourth quarter. And, yes, they can absolutely point to Frost's record at Nebraska: 15-26 overall, including 10-22 in the Big Ten. 
What's more, Frost doesn't necessarily do himself much good in his postgame sessions with reporters. I asked him if the fact Nebraska was coming off a bye week — and still was mistake-prone — added to his disappointment. 
"I don't know what could make this more disappointing, bye week or no bye week," he said. "We've got a good enough team to win these games, and we're not winning them." 
That sounds like an indictment of his coaching, and his staff's coaching. 
Frost in July said, "There's no doubt we have more talent in the building right now, by far, than we've had since I've been at Nebraska."
He said his roster is better in essentially every area. He said his team is more confident than ever and more unified. He thinks the leadership is better. Of course, Frost saying all this basically put much of the onus on the coaching staff.
If the talent and culture have improved, you would expect the win-loss record to improve significantly at some point, right? 
Instead, it's going the other direction, or so it seems. Maybe Nebraska can surprise everyone and pull off a couple of upsets in its final three games. Based on what we've seen in the last two games, that would really be one hell of a surprise.
"We've just got to play better," he said. "We're a good team — we're not a great team — talentwise." 
Of course, that's on Frost. He went on to say a great team doesn't need a coach to motivate it all the time. That made me wince. 
The anti-Frost crowd's ammunition is increasing quickly. And, yeah, it's a sad story to watch unfold.