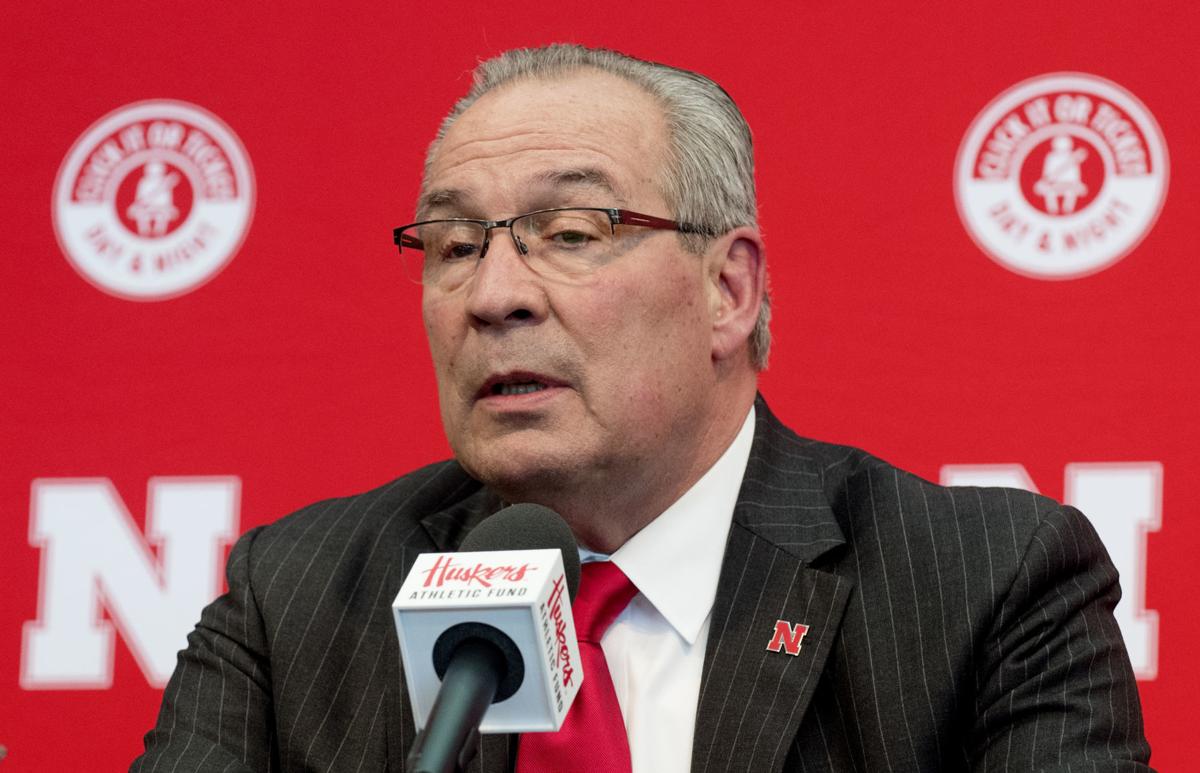 Back in October of 2017, during Bill Moos' first full day as Nebraska's athletic director, among the first calls he received was from one of the most powerful people in college sports.
"He said, 'We're thrilled you're coming to the conference, you'll bring a lot,'" Moos recalled Tuesday. "He was very complimentary. And then I'll never forget what he said next.
"He said, 'Nebraska's got to get back to being Nebraska.' I told him, 'That's why I'm here.'"
During his 20 months in charge, Moos has presided over coaching changes in football, men's basketball, men's tennis, men's golf, women's gymnastics, rifle and soon will hire a new women's golf coach.
"The signal and message is out there of what's expected of our coaches," said Moos, reiterating his base standard of all teams finishing in the upper half of the Big Ten standings.
In that regard, Moos expressed a degree of satisfaction when presented with Nebraska's seventh-place performance in 2018-19 in terms of average conference finish across the board, as compiled annually by Journal Star city editor Todd Henrichs. NU's average finish of 6.52 was its best since 2013-14, the early stages of Shawn Eichorst's tenure as AD, when the Huskers were fifth in the league at 5.29.
It became downright embarrassing in ensuing years: 11th in 2014-15, 10th in 2015-16, ninth in 2016-17 and ninth in 2017-18. There was a level of acceptance with mediocrity in the department that became troubling.
When Eichorst was fired in 2017, the message from UNL Chancellor Ronnie Green and NU President Hank Bounds was clear: The importance of winning must be ratcheted up a notch. They lauded Eichorst's work in student-athletes' academic performance, life skills and community service — areas where NU long had been strong. Green and Bounds, though, kept going back to a familiar theme.
Moos embraces that sort of mentality. If his willingness to make coaching changes keeps certain employees on edge a bit, well, so be it.
"It shouldn't create tension because of what we have to offer here, all the resources — you ought to be winning and competing for championships," he said. "Now, it's a tough league. I do know that. But we should be year in and year out in the upper half and making noise toward the top. I know the ball has to bounce right, injuries have to be avoided and all of that to get there.
"But we have everything here to accomplish that."
Well, not quite everything.
"We need a better facility in swimming, and we need the golf facility," Moos said.
(He didn't mention anything about new football facilities, but I wouldn't read into that).
You have free articles remaining.
Moos said he was pleased with baseball's third-place finish (tying Illinois and Minnesota) in the regular-season standings, emphasizing, "Darin Erstad is my type of guy."
What's more, "You have to be pleased with volleyball and track and field," he said of the volleyball team tying for third (plus a national runner-up finish), as well as Nebraska's lone Big Ten championship in 2018-19 in men's indoor track.
Moos voiced unsolicited support for Nebraska women's basketball coach Amy Williams, whose team tied for sixth in the league.
"I'm a believer in Amy and her young team and where it's going," he said. "And we took care of men's basketball. It's moving."
My sense is Moos' hires of Fred Hoiberg and Scott Frost energized the entire athletic department. Seems pretty safe to say, right?
"I think the organization is good, but we're still tweaking it," Moos said. "I think everybody feels part of the energy."
A strong financial position obviously helps Nebraska athletics, thanks in large part to the Big Ten. USA Today reported last week that the conference recorded nearly $759 million in revenue during its 2018 fiscal year, a 48% increase. The Southeastern Conference reported just under $660 million in revenue in the same period.
The Big Ten's haul resulted in payments of roughly $54 million to each of the conference's 12 longest-standing members.
"It means I can demand more from this, right here," said Moos, pointing to the LJS printout of conference teams' average finish.
"Fifty-four million dollars," he added for emphasis. "You add that to our Adidas deal, to our IMG deal, and then you throw in sold-out venues. We have the means to be champions."
No, we didn't forget football in this discussion. Moos has noticed national analysts' high expectations for the Nebraska football team in 2019.
"How many 4-8 teams are projected in Street & Smith to win the Big Ten West?" he asked rhetorically.
Moos has thick skin. It's one of his better traits. He knows nothing's guaranteed in the sporting arenas, and he's endured his share of rough times through the years — folks second-guessing him, nasty letters, the gamut.
"Hey, maybe one of the best things to ever happen to me is I played on a 1-10 team (at Washington State)," he said. "By the time I was a senior, we were 15th in the nation. I've heard people belittle and boo and everything else.
"To really appreciate winning, you have to experience losing. I looked at Scott's team last year and all those new players — they didn't like it. Then you get that fire. You don't ever want that again!"
By the way, what is the deal with the high expectations for Frost's program in 2019?
"It's because Nebraska's getting back to being Nebraska," Moos said.
As is the wish of the Big Ten commish.