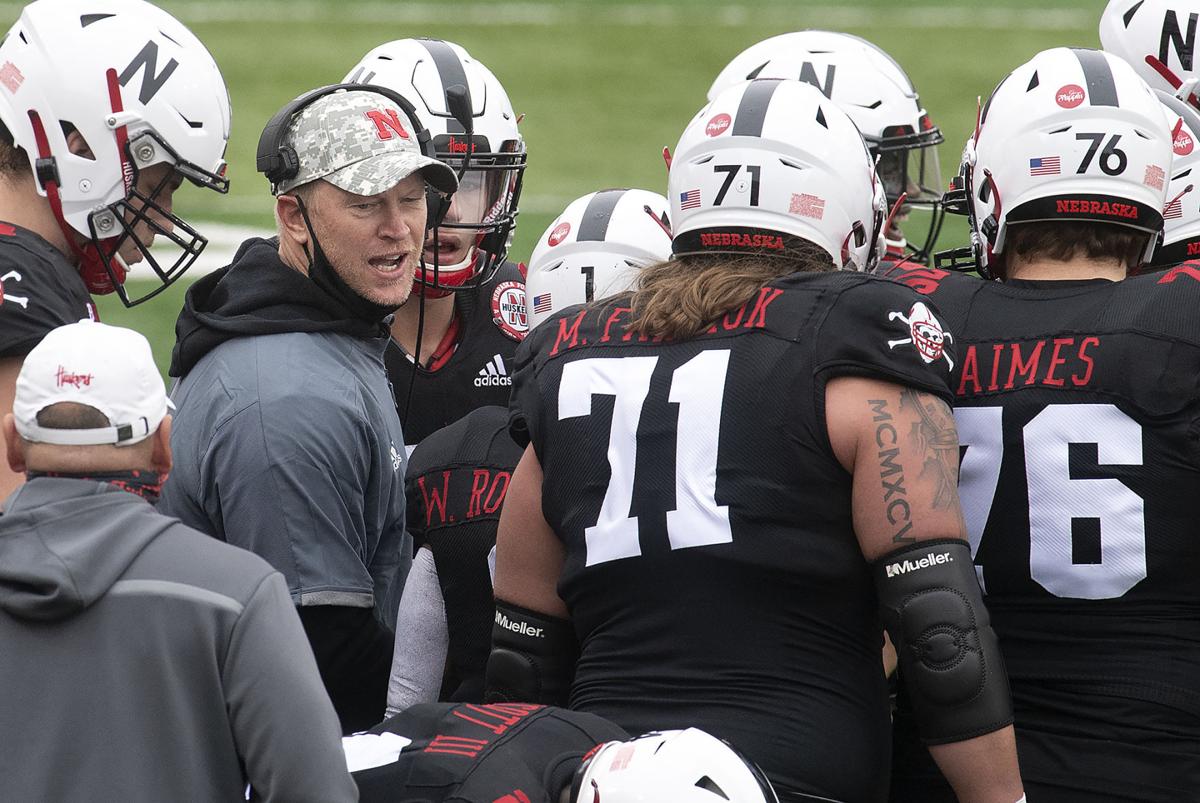 Booing is a part of sports that always makes me chuckle.
It's an oddly humorous sound, especially coming from the mouths of grown-ups. 
But if you were a grown-up Nebraska football fan booing from your easy chair Saturday, well, there was nothing particularly humorous about it. 
This was an awful day to be a Big Red fan.
Illinois 41, Nebraska 23. Holy smokes. 
Nebraska fought as a program to play games during this pandemic season — it even took the battle to the court system — but it didn't show nearly enough fight against a pedestrian Illinois program that defeated the home team in almost every way possible, including the coaching matchup.  
Illinois (2-3) was a 15-point underdog and often made tough plays look easy. I like to say the pandemic makes the whole season seem eerie. Well, watching the Illini dismantle Scott Frost's crew must have seemed eerie and disconcerting to longtime Husker fans who became accustomed to excellent football over the course of decades. 
After this type of result, I become really confused as to how Frost can sell the notion that his rebuilding job at Nebraska is moving in the right direction. 
"That's certainly a fair judgment to make after today," the third-year Husker head coach said while expressing confidence that the program is indeed making progress. 
"It simply was bad today," he admitted. "It starts with me and goes to the whole team." 
This sort of result — a lopsided loss to an Illinois team that fell 45-7 to Wisconsin and 41-14 to Minnesota — makes me wonder if I misjudged this Nebraska team in some key ways. 
First off, I thought Frost's 2020 team would have a ton of fight. I thought the way it handled itself starting in late March — being so intent on preparing hard and well for the season even in the midst of all the pandemic-related uncertainty — was a sign of a hungry program. I thought that it might even be a team that would play with an underdog mentality. 
Instead, after one win against a winless Penn State squad, Nebraska (1-3) was lackadaisical against Illinois. 
"I would die to play one more game on that turf," said Frost, the former Husker quarterback great. 
Trouble is, his enthusiasm doesn't seem to inspire his players. It definitely didn't on this day. 
What's more, Nebraska quarterback Luke McCaffrey said the Huskers lacked energy during the week of practice. 
"The whole week, we addressed it and discussed it, but really didn't change it," he said. 
That seems like a red flag for a Nebraska program that purportedly is scratching and clawing from the depths of failing to qualify for bowls the past three seasons. This is a program that's becoming a punching bag for national pundits. Bottom line, the Huskers often seem to comport themselves like a program that is a threat to win a championship. They need to fully understand the unpleasant reality that they're losing more and more respect because of performances like this one. 
I hope I'm not overreacting to a single loss. It's easy to do in the heat of the moment. Yes, I remember, Nebraska showed ample fight last week in beating Penn State 30-23. The Husker defense twice stepped up in the red zone to nail down the victory. But wise sports fans will tell you that a hallmark of mediocrity is inconsistency. After a couple of decent performances by the Blackshirts this season, they allowed 490 yards of total offense to an Illinois outfit that entered the day ranked 95th nationally in average yards per game.
Senior quarterback Brandon Peters operated with the smoothness of Joe Montana. Yes, eerie. And disconcerting. 
A particularly scary element of this loss for Nebraska fans is how easy it all seemed for Illinois, which is just 17-37 under fifth-year head coach Lovie Smith. I mean, the Illini converted 11 of 17 third-down chances. The Huskers entered the day ranked 112th nationally in that category, and now will head closer to the basement of the FBS. This from a defense that started seven seniors and two juniors. 
Some of Nebraska's issues are especially confusing to me. To wit: Entering the season, I thought the Huskers' offensive line and quarterbacks would be the team's primary strengths. I obviously was wrong on both counts.
As the season unfolded, I figured maybe Frost could lean on the Blackshirts as his offense tried to find its way. Wrong again.
This was a bad loss. It was Frost's 18th loss in 28 games at Nebraska, and it was arguably his worst one. 
Find me the person who expected Illinois to win this game easily. That person surely doesn't exist. 
Going forward into next week, be warned that many of the conversations surrounding Nebraska football will be bleak in nature. In that regard, I admired Frost's postgame demeanor. He sounded strangely confident, especially for an offensive coordinator leading a unit with more issues than Rolling Stone magazine.
McCaffrey, the energetic and eternally upbeat redshirt freshman, ran the ball 26 times. Yes, that's far too many. To say Frost leans hard on his QBs is like saying millennials lean hard on their phone chargers. He seemingly can't help himself. 
"Luke's a great player," Frost said. "He's going to be a great player. Nobody played good enough to win today." 
Right after Nebraska fell behind 21-7, the Audioslave hit "Save Yourself" blared from stadium loudspeakers. Frost arrived at NU to save the program from utter ruin. At this point, it's far too soon to rule out such a rise. But it's not too soon to worry about it ever happening.  
It's definitely OK to let out a few boos.