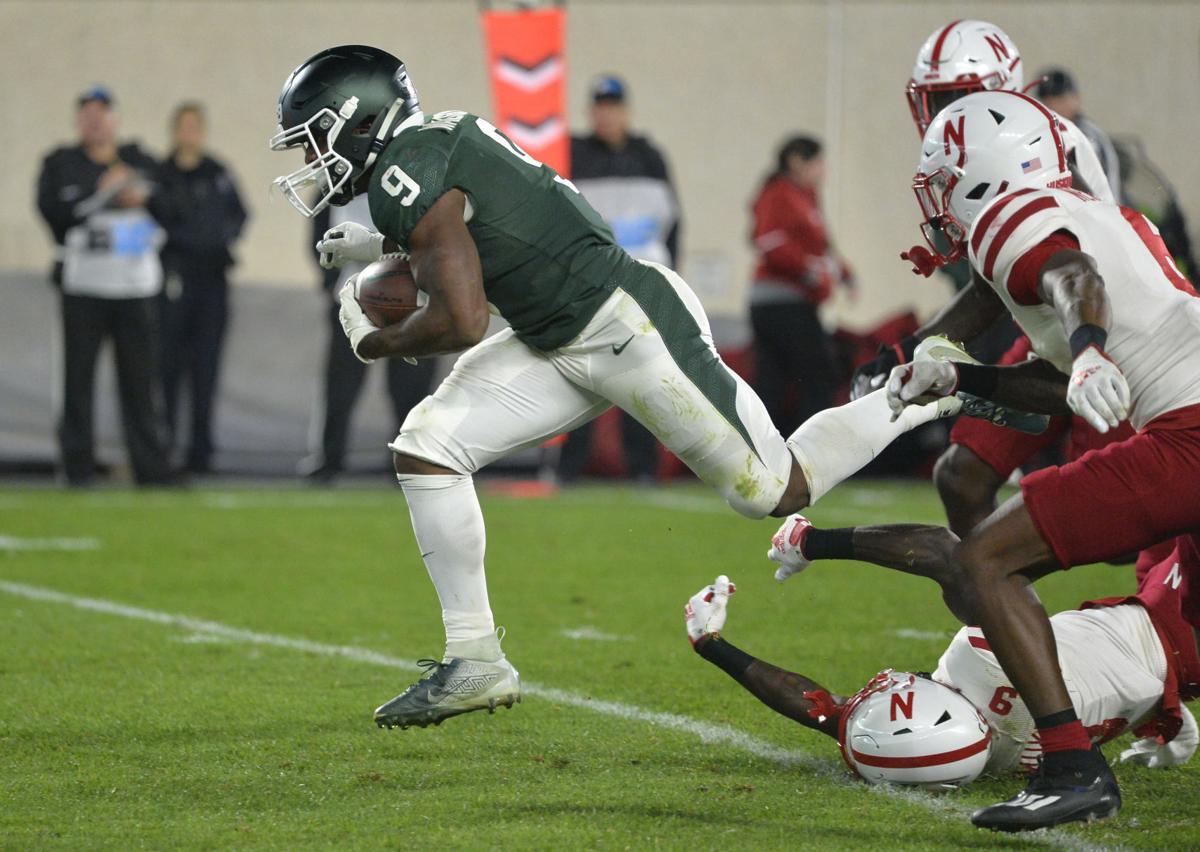 Nebraska and No. 20 Michigan State met Saturday night at Spartan Stadium in East Lansing. Here are four key statistical areas for the Huskers in a 23-20 overtime loss:
The stats don't tell the whole story
Saturday: Nebraska outgained Michigan State 440 yards to 254, including 241-36 after halftime, and had a big advantage in rushing yards (188-71) and first downs (26-12).
Time of possession: Nebraska (37:14), Michigan State (22:46).
Michigan State was 1-for-10 on third-down tries. Nebraska was 2-for-2 on fourth downs.
But the final score: Michigan State 23-20.
Penalties
Entering Saturday: Nebraska committed eight offensive penalties for 70 yards last week at Oklahoma. Would the Huskers clean it up, or would another road environment lead to some more laundry on the field?
Saturday: The false starts are officially a major issue. Nebraska had back-to-back false starts on Matt Sichterman and Cameron Jurgens, which turned a first-and-10 at the MSU 40 into second-and-20 at midfield. That led to a Husker punt.
Brant Banks and Bryce Benhart drew flags on the same drive in the second quarter, but NU overcame it and scored its first touchdown of the game.
NU had seven penalties for 50 yards by the break.
The good news for Husker fans: NU didn't commit a penalty in the second half.
Containing Walker
Entering Saturday: MSU entered Saturday ranked 14th nationally in rushing yards, and it starts with Kenneth Walker III, the Wake Forest transfer who leads the country at 164.3 yards per contest.
Saturday: Nebraska bottled up Michigan State's best offensive threat all night — until overtime.
Walker broke some tackles for a 23-yard gain that set up the winning chip-shot field goal. It was by far his best run of the night.
Walker finished with 61 yards on 19 totes (3.2 ypc). He was held to 37 yards in the first half.
The Blackshirts did their job against him.
The base run game
Entering Saturday: This is a weekly focus of the Huskers. Take away Adrian Martinez's running production, and NU's tailbacks have rushed 122 times for 446 yards. Who would get the bulk of the carries? Rahmir Johnson? Sevion Morrison?
Saturday: Johnson, Morrison and Markese Stepp combined for 23 carries for 93 yards (4 yards a carry).
Has Nebraska found its lead back? For the second week in a row, Johnson had the bulk of the carries, finishing with 76 yards on 19 carries. The sophomore was effective at times, but outside of the option plays, NU was unable to get its downhill running back going.
Morrison had 15 yards on three carries. Stepp rushed one time for 2 yards.