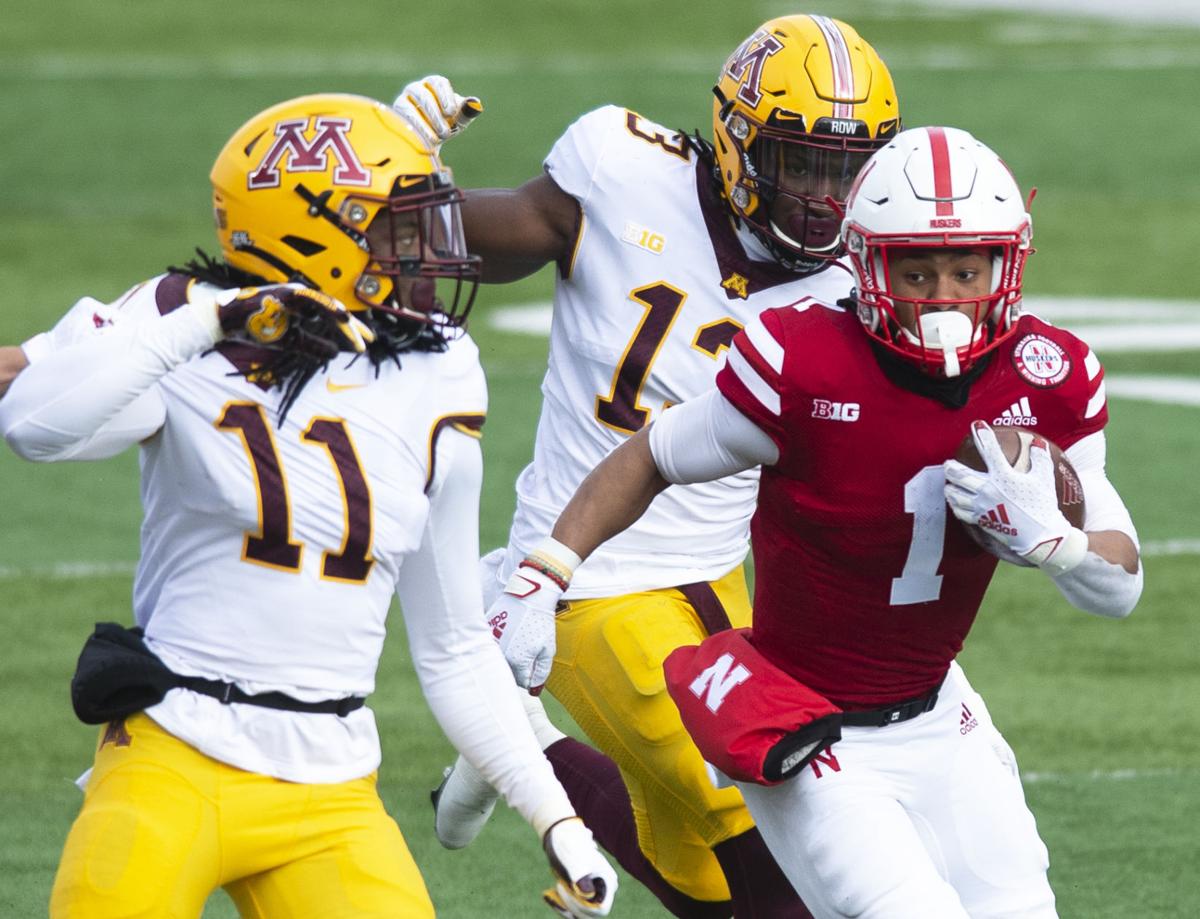 These four stats were talking points during the week leading up to Minnesota-Nebraska. How did the Huskers fare in those categories Saturday?
Slowing down Ibrahim
Entering Saturday: Mohamed Ibrahim, the Big Ten's top running back, averaged more than 163 yards per game and 5.3 yards per carry.
Saturday: The 5-foot-10, 210-pound junior broke loose for a 26-yard touchdown in the first quarter, but was held in check — quite possibly because he got nicked up on his TD run — after that. That was until the final drive. When Nebraska needed a stop to get the ball back down seven, it couldn't stop Ibrahim, who had runs of 7, 5, 31, 2, 2 and 12 yards on the game-sealing drive. Ibrahim finished with 108 yards on 20 carries behind a backup offensive line.
Getting Mills going
Entering Saturday: NU senior running back Dedrick Mills returned to action last week against Purdue and finished with 60 yards on 16 carries. Getting Mills going would take pressure off the legs of QBs Adrian Martinez and Luke McCaffrey.
Saturday: Mills finished with 50 yards on 12 carries, and take away a 16-yard run, he had 34 yards on 11 carries (3.1 yards per carry). Though Nebraska had success on the ground (5.5 ypc), it never got Mills going, though it's hard to say how healthy the senior is. For the sixth time this season, a quarterback led the Huskers in rushing. Martinez had 96 yards and a touchdown on 15 totes.
Efficient offense
Entering Saturday: Minnesota likes to chew up clock with its ground game, meaning less offensive snaps for the Huskers. It was crucial for NU to make the most of its opportunities.
Saturday: The Gophers had a 35:48-24:12 advantage in time of possession, and a 73-65 advantage in plays run. The Huskers averaged 4.7 yards per play, but were just 4-of-13 on third downs, and had an average of 7.8 yards to go on the money down. NU was 4-for-6 on third-and-short (4 yards or less), but it just couldn't sustain long drives outside the 13-play, 73-yarder late in the second half, and a nine-play, 72-yard possession that ended in a missed field goal in the third quarter.
Efficient Martinez
Entering Saturday: Martinez had completed 41 of 50 passes in the past two games and bumped his season completion percentage to 70.8%.
Saturday: Martinez was 13-for-16 for 70 yards in the first half, though he overshot Oliver Martin on what would have been a big play just before halftime. Nebraska's passing game was poor in the second half. Martinez was just 3-of-11 passing over the final two quarters. There were bad throws and bad protection (Boye Mafe got around the edge for a strip-sack late in the third quarter). Martinez misfired on eight of his final 10 passes and finished 16-of-27 for 111 yards.