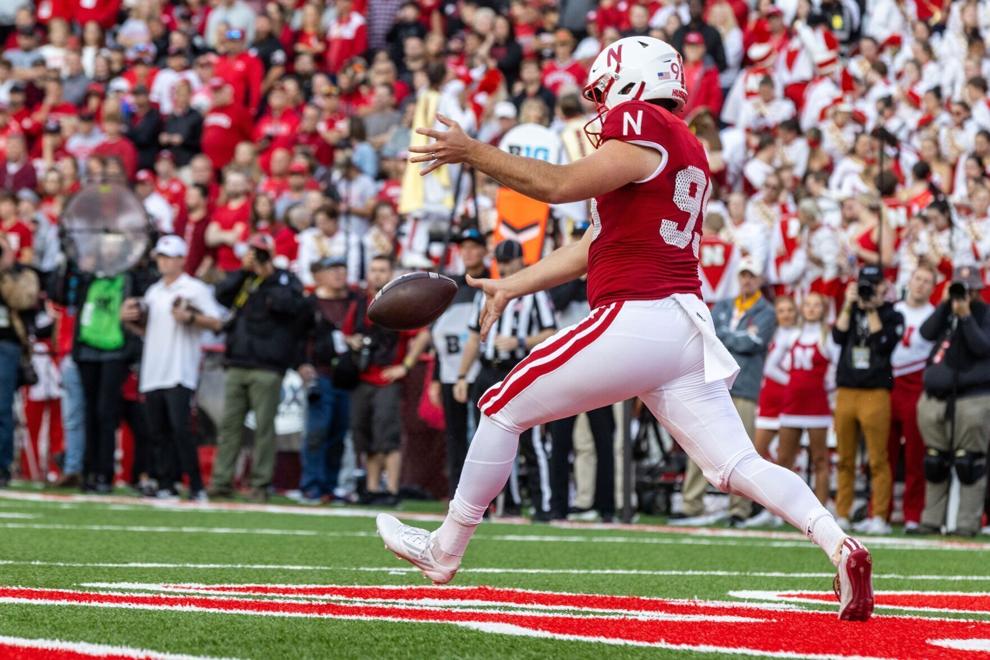 Unsettled roles and new faces. Nowhere is Nebraska less defined — and closer to a total reset — than on special teams.
It's not an indictment but the reality for a group that remains mostly a mystery after 15 spring practices. While various offensive and defensive positions started to develop a pecking order and identity, the third phase rotated through as many as five shifts as a first-year coaching staff began learning what its roster could do.
"We still have a lot of work to do, special teams-wise, to get to where we want to be," Nebraska coach Matt Rhule said in mid-April.
Such is life as the Huskers transition to new long snappers, returners and schemes. Perhaps the only given is punter Brian Buschini — in his second year in Lincoln and a legitimate All-Big Ten candidate — being locked into a starting job. NU also brings back kicker Timmy Bleekrode, who will have to beat out another scholarship specialist in incoming freshman Tristan Alvano during fall camp.
Rhule's biggest critique of special teams came the week before the spring game when he said the unit needs to be one of the best kick-blocking forces in the country and wasn't getting hands on enough of them. Communication is also no small task — Nebraska inserts special-teams drills into different parts of practice to simulate what a game situation might look like.
"The overall system and fundamentals I'm pleased with," Rhule said. "It's just the consistency of it is going to take a while, I think, getting all these different people on the same page."
A deeper look at special teams:
Who left: Alante Brown, Stephon Wynn, Braxton Clark, Noa Pola-Gates, Ajay Allen.
Who's still here: Brian Buschini (punter), Timmy Bleekrode (kicker). Returners Tommi Hill, Anthony Grant.
Who's arriving: Marco Ortiz (long snapper) and Tristan Alvano (kicker).
Post-spring summary: Special teams are often a reflection of team depth — recall Nebraska in many recent seasons turning to a slew of walk-ons on various units — and the Huskers have only begun to sort through possible lineups.
Specialist situations are fairly straightforward with Brian Buschini entrenched at punter and the kicker battle between Timmy Bleekrode and Tristan Alvano set to be one of the most compelling August storylines.
Long snappers Marco Ortiz and Camden Witucki will likely see the field in some combination between punts and field goals.
NU also cycled through half a dozen return options including receivers Billy Kemp, Joshua Fleeks, Isaiah Garcia-Castaneda and Zavier Betts along with running back Anthony Grant and defensive back Tommi Hill.
Expect a blend of starters, reserves and redshirting players to carve out niches on coverage and return units — Grant Tagge, John Bullock and Phalen Sanford are recent examples of current Huskers who thrived with the opportunity.
Philosophically, the Huskers under Matt Rhule want to be aggressive going after punts and kicks — Rhule's 2019 Baylor team blocked a combined 10 of them and his 2016 Temple squad stuffed a dozen while each piled up double-digit wins.
On kickoffs, special teams coordinator Ed Foley said this spring NU would like to be precise in where the ball goes instead of simply blasting it through the end zone and conceding the 25-yard line on a touchback.
After years as a liability, the Husker group mostly played to even last season. A repeat of that is a realistic starting point.
Stock up: Buschini. The former FCS Punter of the Year was so obviously Nebraska's best option this spring that Foley outright said there isn't a position battle to talk about.
The coordinator's praise gains more credibility considering Foley worked with four-time NFL Pro-Bowl punter Johnny Hekker last season.
The junior by eligibility has clearly become a leader not only on special teams but among the entire team after impressing during winter conditioning.
Coach quote: "I just expect us to be a really good special teams unit. I think it's one of our opportunities to be successful. I think we have a lot of fast guys. I think we have a lot of guys that want to be pro football players who can be so I'm going to expect that they can contribute on special teams." — Rhule