Everything happens fast in Nebraska's offensive film room.
Husker coach Scott Frost oversees the operation, of course, given that he's the play caller. You can imagine the efficiency with which a meeting proceeds.
Have a tweak to a teaching method or how a practice period will run? Great, let's get through it.
Something we didn't like about the way a receiver ran a route? Point it out and let's move on.
Run back some Central Florida tape as a refresher on a certain concept that's being installed tomorrow? Right, that's familiar. Good to go.
OK, now, quick, we have 20 minutes, who are the last 200 NBA players to score 40 or more points in a game?
Wait … hold on a second. What?
Shift gears fast, because unless you're a buff, names are going to start coming awfully slowly after you've rattled off Stephen Curry, LeBron James, Kevin Durant, Russell Westbrook and a handful of other household names.
Let's not go so far as to say that Sporcle, the online quiz repository in which the player tries to complete random lists in a set amount of time, is the secret weapon to all of the success Frost has piled up en route to becoming one of the most decorated young head coaches in college football.
However, the frequency with which the website comes up in conversation does illuminate more than a little bit about the 43-year-old Wood River native.
You'd better be on your toes when Frost is in charge, because you never know what's coming next.
Organizations, the theory goes, take on characteristics of their leaders.
At Memorial Stadium these days, that means competing at every turn, whether it's against somebody or yourself, and thinking critically — and fast — at all hours of the day.
On the field, it might be a blitz you haven't seen before. In the meeting room, it might be a run-pass option tag that hasn't been installed yet. In the weight room, it might be a number you didn't think you could lift. 
"It's infectious," running backs coach Ryan Held said recently. "We're all competitors, but when it starts at the top and your head guy just wants to compete in everything … I mean we'll go play noon hoops in the offseason. We'll play Sporcle. We'll do some sort of challenge and that makes it fun every day because you know that you'd better bring it.
"You can't have a day where you're not ready to compete. It starts at the top. We've got to be ready to bring it every day."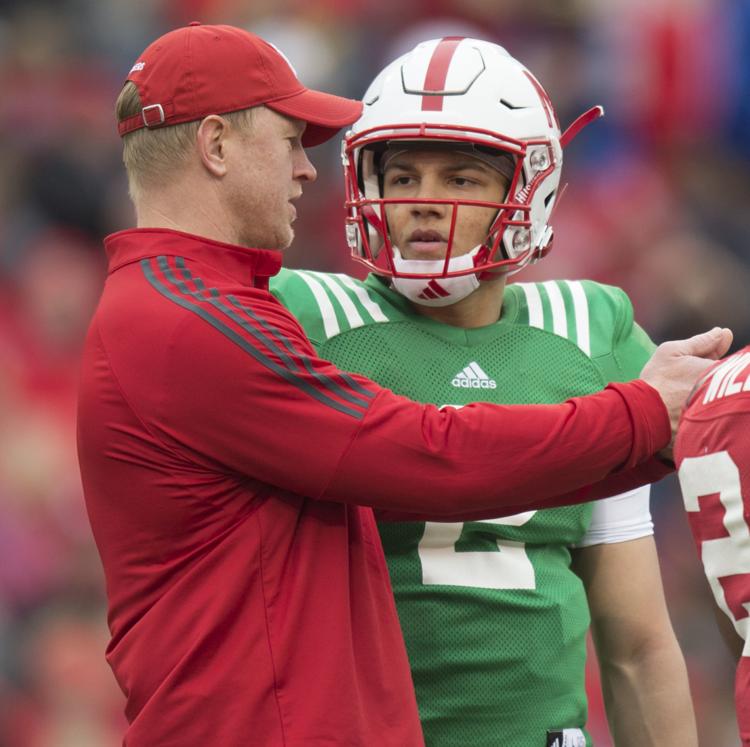 Before Sporcle, there was road trip trivia. Held, who has known Frost since the quarterback transferred from Stanford back to NU in 1995, has heard stories about Scott and his brother Steve squaring off in the back of the Frostmobile with parents Larry and Carol up front, heading off on a family trip to who knows where.
"We'd be on a road trip and he would pull out trivia questions and you'd start going around and the first one to get one wrong was out of the game," said NU chief of staff Gerrod Lambrecht, who played with Frost at Wood River High and has overseen internal program operations for him since Frost became a head coach in 2016. "We're only passing time, but he's already brought this element of competitiveness into it.
"And you don't want to be the dummy."
The parallels to football are not hard to spot.
"All of that goes well with how we run our offense and how he has to call plays and think quickly and all that stuff," said associate athletic director for football Matt Davison, one of Frost's closest friends and the Husker on the receiving end of the "Flea Kicker" against Missouri in 1997. "His brain is getting a workout pretty much all day because he's always doing something like that."
Held quizzes Frost every game week on his play sheet. Frost memorizes each tailored edition and rattles off groupings of plays by formation or section from memory over breakfast, on the bus or in the locker room before kickoff.
Quarterbacks coach Mario Verduzco recruits "quick blinkers," players who can process and recall information quickly.
Everything is fast, but it's also calculated. 
That ethos, which permeates every corner of the program, begins with Frost.
Held, Lambrecht and Davison have each seen it up close for more than 20 years.
"It's all the time and it's ever since I've known him," Davison said. "I think it's the product of how he grew up, with parents that were athletes and parents that brought him up in an environment of competition. He's always been ultra-competitive at everything from playing cards to shooting pool."
"We've had some of our best arguments on the golf course," Davison said. "He accuses me of being the luckiest guy ever. If I hit a tree and it bounces into the fairway, I hear about it.
"He always says that all the best breaks happen to me, but I always remind him that the best break benefited both of us about 20 years ago."
Now that summer is gone and both are too busy to regularly hit the links, the battles take place indoors.
Tucked away in the Husker players' lounge is a Golden Tee golf arcade game. It's a new addition. Davison and Frost regularly sneak in a late-night game before heading home.
Eighteen holes. Stroke play.
"I won't tell you the record, but I am kicking his ass," Davison said proudly. "We've been playing Golden Tee for 20 years on and off, on and off. … I think I may have won the first eight matches or so, and now he's made a little bit of a comeback, but I'm still ahead in the win column."
This is not all fun, games and Golden Tee, of course. In the Big Ten, competitiveness is great until Penn State hangs 42 first-half points on you. It's well-placed until Wisconsin combo-blocks the same power run play 22 straight times and grinds away your will to fight. It's easy to talk about until Iowa embarrasses you on your home field.
Staying power requires more than a fast-thinking coach and a few players who play hard and fast.
Program-building is its own sort of competition. In the major college football world, coaches are CEOs with varying degrees of involvement on countless fronts and varying degrees of trust and willingness to delegate.
Some are rigid, some are lax. Some are detail-oriented, some are free-wheeling. Some are player-centric, some are coach-driven. Some reach the stratosphere, some crash and burn. 
We haven't seen Frost's vision for a program fully borne out just yet. He built a foundation at Central Florida, but football empires are not built in two seasons.
"The fact that the entire staff came along, that's been very well documented and discussed probably ad nausem," Lambrecht said. "But one of the things I don't think he gets enough credit for is assembling a very intelligent, high-character, diverse group in his structure that compensates for whatever areas he may feel he might be deficient. Not to say he's deficient at anything."
Think of this as self-awareness and critical self-evaluation as its own form of competitiveness. Self-scouting is just as important as knowing an opponent. Winning is being right about strengths and weaknesses and then figuring out the best way to build out from there.
It's something Frost started molding well before he arrived in Orlando.
"I think that he was preparing a construct in his mind for a long time before he became a head coach, but at the same time he was not in any rush to become a head coach and was going to critically evaluate the opportunities as they came along to make sure the first one was the right one."
The first job was the right one, and now the second job is home. Last time Frost was here, he won a national championship.
"Back then we'd play Sega, Bill Walsh Football," Held said. "Then we'd play intramural basketball and softball. When I met him, I knew about him because he was a great player in high school, and then when he came back we were obviously fired up that he was coming home then.
"Now he's back here again to get this thing right."