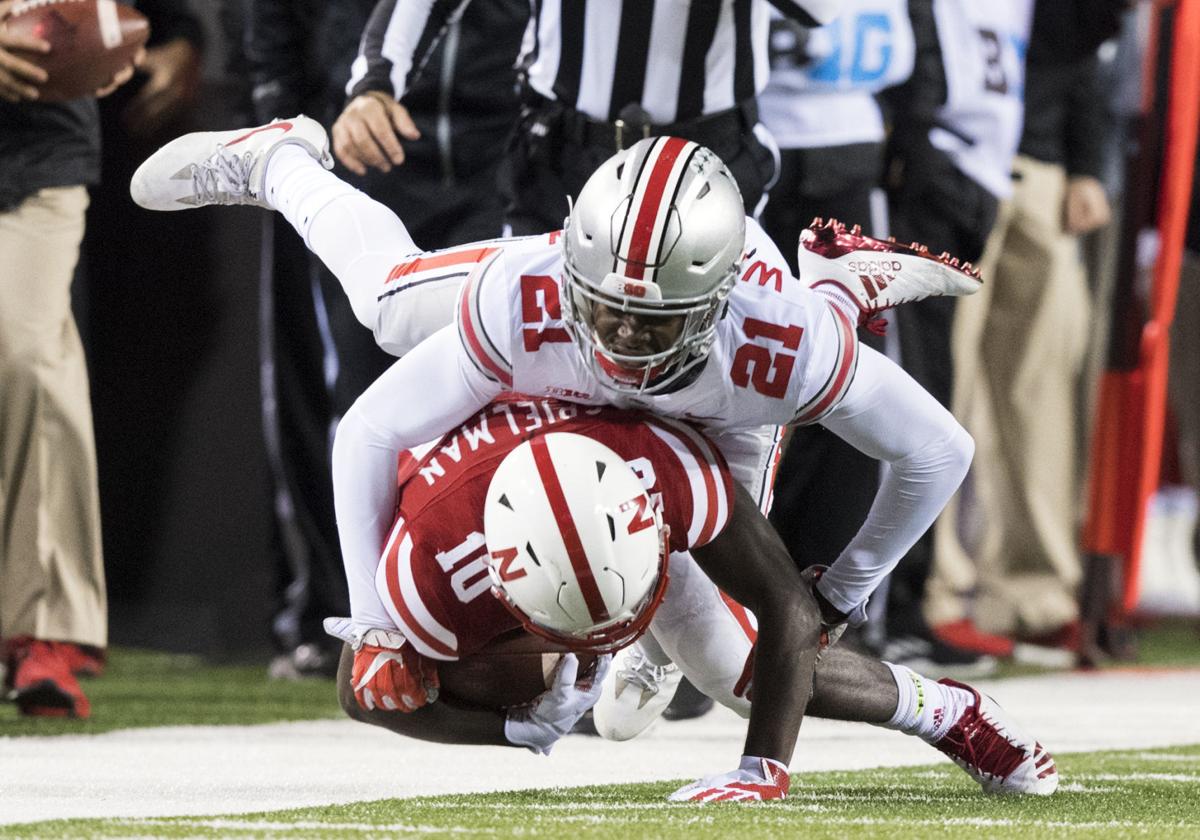 The general consensus after Nebraska's 56-14 loss to Ohio State on Saturday night at Memorial Stadium was that the Huskers' bye week arrived at a good time.
That sentiment likely only grew stronger when Mike Riley and his staff gained a clearer picture of the team's injury situation.
Riley said on Tuesday's Big Ten coaches teleconference — one of two times during the bye week Riley will be available to reporters — that neither redshirt freshman wide receiver JD Spielman (shoulder) nor senior safety Joshua Kalu (hamstring) would likely have been available to play this weekend if the Huskers had a game.
"It's fortunate for us," Riley said. "I don't know if either would be able to play this week, but everything we've learned about both Josh Kalu's injury and JD Spielman's injury is that they should be back by the end of the week and ready to practice on Monday."
He thought both might be ready in time to play at Purdue on Oct. 28, however, and added that junior safeties Aaron Williams (neck) and Antonio Reed (knee) could be back as well.
"They were both in a situation going into the Ohio State game where we kind of held our breath on them until Thursday and then pulled the plug," Riley said. "They should be good and ready to go."
Spielman was injured late in the game — redshirt freshman quarterback Patrick O'Brien had taken over for starter Tanner Lee — after hauling in his 11th catch of the game for a school-record 200 yards. He caught a crossing route and picked up 18 yards before Buckeyes defensive back Marcus Williamson picked him up and dumped him on his right shoulder along the home sideline.
The head coach added that Spielman and Williams dressed for NU's Tuesday morning practice, but were limited. So, too, were junior wide receiver Stanley Morgan and some other players who have been used heavily through the Huskers' first seven games and feeling the physical toll.
"We are very, very careful and aware of where guys are physically and what they might need and what they can do," Riley said. "We were selective. … The other guys got some more work in (Morgan and Spielman)'s place. Anybody that was kind of on the edge — Aaron Williams might have, could have practiced today, he's much better with his neck. He dressed out, did some stuff, but not too much."
As the week progresses, NU will ramp up specific focus on the Boilermakers, but Tuesday the Huskers "just had a good, basic football practice," Riley said.
"(Monday) we just lifted and watched some film, and then today we practiced (early) because we don't have school," he added. "It was a great workout. It was less game-planning and more back to the basics. Some more interactive work between our No. 1 offense and defense and then our next-man offense and defense. It was good stuff. We didn't do any special teams or anything like that."
Briefly
* Riley said he and the coaching staff are having "ongoing discussions," with sophomore running back Tre Bryant (knee) about whether to try to return to the field this season or apply for a medical redshirt. Bryant carried the ball 51 times early in the season for the Huskers, but has not played since the fourth quarter against Oregon on Sept. 9 because of a long-standing, unspecified knee issue.
Bryant tried to get ready enough to play against the Buckeyes, but was limited early in the week and then could not make it through practice Thursday.
* Riley met with new athletic director Bill Moos after Sunday's introductory news conference. The pair have been familiar with each other for years, as Moos ran Oregon's athletic department both during Riley's first stretch as Oregon State's head coach in the late-1990s, and then during the first five years of his second stretch there.
"It was very, very social," Riley said. "We've known each other for quite a few years and I happened to get in the building around that time because we were (finishing) a recruiting weekend. They called me and told me he was upstairs in the stadium. So I just had a brief meeting with him. Kind of a hello and congratulations meeting. We talked about old times more than future times."