On Saturday night, Nebraska's football team will take on Ohio State in the Huskers' historic home venue. In the near future, Scott Frost's program will prepare for such games in a new state-of-the-art facility.
Nebraska intends to build a new training facility that will jump NU to the cutting edge of a national arms race, multiple sources tell the Journal Star. The project is expected to come with a price tag in the neighborhood of $150 million. 
NU on Thursday afternoon set a 1:30 p.m. Friday news conference on the East Stadium plaza, "to make a major announcement about the future of Nebraska Athletics." 
The facility is expected to sit where the Ed Weir Track is currently located, off the northeast corner of Memorial Stadium, allowing the building to work in concert with both the Hawks indoor facility, adjoining practice fields and the facilities in North Stadium and West Stadium.
The NU track and field program is expected to relocate to a new venue on Nebraska Innovation Campus.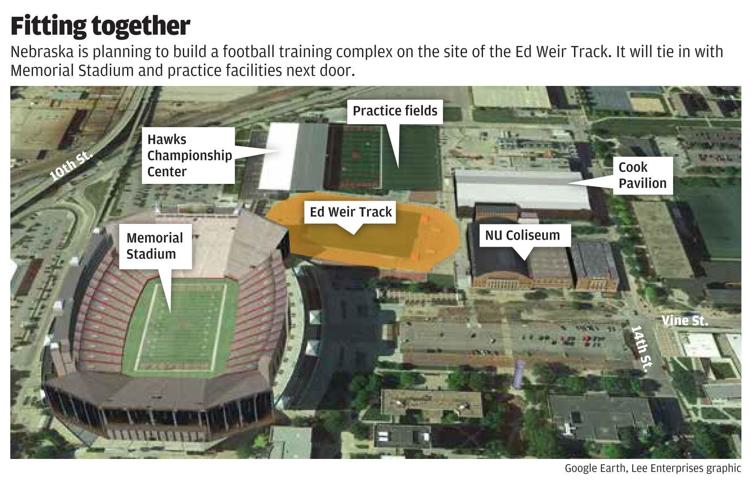 Nebraska is teaming with HNTB, a national architecture and design firm, on the project, two sources told the Journal Star. An HNTB spokesperson declined comment on the project's status. 
HNTB has a long history in designing these types of jobs. It worked on recently completed complexes at LSU and Illinois and has worked with Purdue, Iowa, Ohio State, Michigan and many others in recent years. HNTB has also worked on projects at Nebraska such as the East Stadium upgrades and the new gymnastics complex. 
Typically, a national firm has a local partner. That part of the picture wasn't immediately clear. It also isn't clear whether the facility will be for football use only or if some aspects will include resources for other NU student-athletes. 
It was not immediately clear when Nebraska plans to break ground on the project. 
NU athletic director Bill Moos has for months downplayed the football program's immediate need for a new facility, although during a Wednesday night radio appearance allowed that his department was considering plans and numbers. He noted that every Big Ten team either had completed or is in the process of completing football facility upgrades since NU's last major project was completed in 2006. 
"This is our competition, and that's why we're taking a real serious look at this," Moos said. 
Nebraska administrators toured Illinois' new football facility last week. Husker officials have also toured Clemson's facility, the Dallas Cowboys' training facility in Frisco, Texas, and several others in past months. 
The building project is not expected to include a renovation of South Stadium, meaning those fan-focused improvements are likely part of a second phase or a separate project altogether.
In July, football coach Scott Frost said NU's current facilities are "functional," but that they presented challenges.
"I think what we have is perfectly functional right now, but that being said, the one thing about it that's really a challenge was it was built during the Steve Pederson and Bill Callahan era when they were dealing with a 105-man roster," Frost said then. "We have 150 some on our roster right now. We don't have that many seats in our team room. Our position rooms are too small.
"Our training room is way too small. There's some things about our facilities that don't fit the mold of what we're trying to build right now."
Another of the major impediments is the size of the weight room that strength coach Zach Duval and his staff have to work with.
"In the training room, we have to shuffle them in and out," Frost said. "In the weight room, even, we're running (Duval) into the ground a little bit because he's running four different lifting groups all day. … We can fit about 40 at a time in the weight room to do what we want them to do.
"We're managing it and it works fine. We can get it done. But I understand why there appears to be a little bit of conversation about whether or not we need to step it up to compete with the people that we're trying to recruit against and play against."
None of that will be a problem in the new building, of course.
Friday's announcement comes on a big weekend, with Nebraska's Saturday night showdown with No. 5 Ohio State at Memorial Stadium, which will feature a national television audience, ESPN's "College GameDay" program in town for the first time in 12 years and the biggest on-campus recruiting weekend of Frost's tenure.
"Really what you want to do is give high school kids as many reasons as you can give them to come to Lincoln, Nebraska, to play football," Frost said in July.
That's what this facility will do for Frost and the Huskers. It will stand as another central piece to the puzzle as they try to restore a long-dormant football program to national prominence.
Be the first to know
Get local news delivered to your inbox!