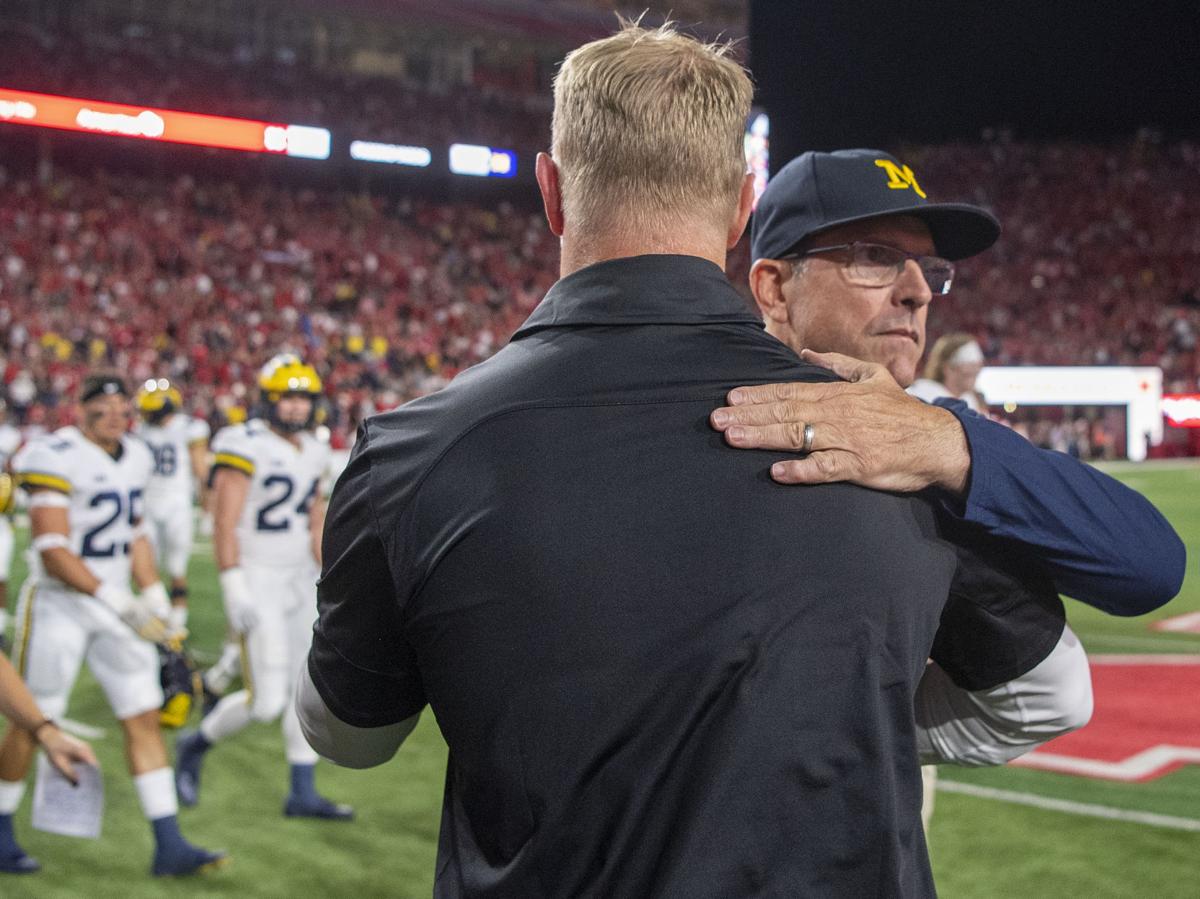 A look at some talking points after the Huskers' game against Michigan on Saturday.
Behind enemy lines
What those in the opposing locker room said:
Michigan coach Jim Harbaugh on Nebraska fans: "There's no doubt they wanted to storm the field, tear down the goal posts. Not on our guys' watch."
Harbaugh: "That was a Clint Eastwood win, and we're going to enjoy it."
QB Cade McNamara on a second-half shootout: "It was about time the offense backed the defense up."
DL Mazi Smith on Dax Hill's interception: "C'mon, man, Dax is like that. He's been like that."
Harbaugh: "I knew they wouldn't flinch. Some of throws Cade made (we're) incredible. Talk about the fight of the guards."
Harbaugh on Hassan Haskins' second-quarter run (that was reviewed and overturned): "I've never seen one spotted nine feet short of the spot. That's the first time I've seen that."
Scanning the wires
What other media outlets are saying:
Seven days after the Michigan football team reveled in the Wisconsin tradition of dancing to "Jump Around" between the third and fourth quarter, the Wolverines again rocked and rolled to an opponent's theme song. Lights flashed, cell phones glowed and music blared as coach Jim Harbaugh's team soaked in the energy of "Thunderstruck" by AC/DC and beckoned Nebraska toward the middle of the field, with both sets of players taunting each other.
Had Michigan wilted during the ensuing 15 minutes as its double-digit lead eroded, the between-quarter antics would have looked sophomoric. But this Michigan team is less fallible than the groups Jim Harbaugh has trotted onto the field in recent years. These Wolverines believe in themselves as much as they believe in Harbaugh's new crop of coaches.
Faced with their first deficit of the season late in the third quarter, these Wolverines looked within themselves to summon an incredible fourth quarter. Michigan scored on three consecutive drives in the final 11 minutes and generated a game-changing takeaway as Harbaugh's club refused to yield. Behind a resurgent running game that generated 101 rushing yards in the fourth quarter alone, the Wolverines kept their perfect season alive with a 32-29 victory.
— Michael Cohen, Detroit Free Press
They Tweeted it 
What the fans and others are saying on Twitter:
RedditCFB (@RedditCFB): Nebraska is by far the best 3-4 team in the country
Dave Portnoy (@stoolpresidente): Not gonna lie. This is what I dreamed of when Nebraska joined the Big 10. Two historic programs playing under the lights with the entire world watching elite Big 10 football
Ryan Dettman (@RyanDettman): Following the Illinois game would have anyone thought that the Huskers would have lost by one possession to the #6, #9, and #11 teams in the country? Losing sucks but there is a lot to be said about competing. #GoBigRed #Alwaysafan
James McCormick (@60andhatched): Nebraska is the most chaotic, enjoyable, exasperating 3-4 team ever. Huskers are about 6 plays from getting a lot of first place votes tomorrow.
Connor T. Carman (@CoachCarman10): Is Nebraska cursed? Just wondering. 
Anthony (@AnthBlahBlah): I have never been so disappointed, but yet, at the same time, so encouraged by anything like I am with the Nebraska/Michigan game. The Huskers are ALMOST there. ALMOST. They're THIS... CLOSE...
DJ Gomes (D-Gomes24): Right now subconsciously our Huskers have the "what is going to be the play that loses the game" mindset, opposed to "we are about to make the play to WIN the game" mindset. Once we flip that switch these close games will fall our way
Jim Scott (@GreatScott51): Not the result we all wanted but the Huskers competed and hung in there tonight with a good team. There were times they could have quit but they didn't. 1st half didn't end the way we wanted it to but they fought back. This game made the Huskers better!
(@CFBTweets): This loss sucks. The Michigan State loss sucked. Losing at Illinois was just depressing. But there's a LOT out there for this team. I still believe this season will be a redemption story.
Chris (@KingChrisTheGr8): It is stupid to be sad and mad about a dumb football game but alas, still sad and mad.