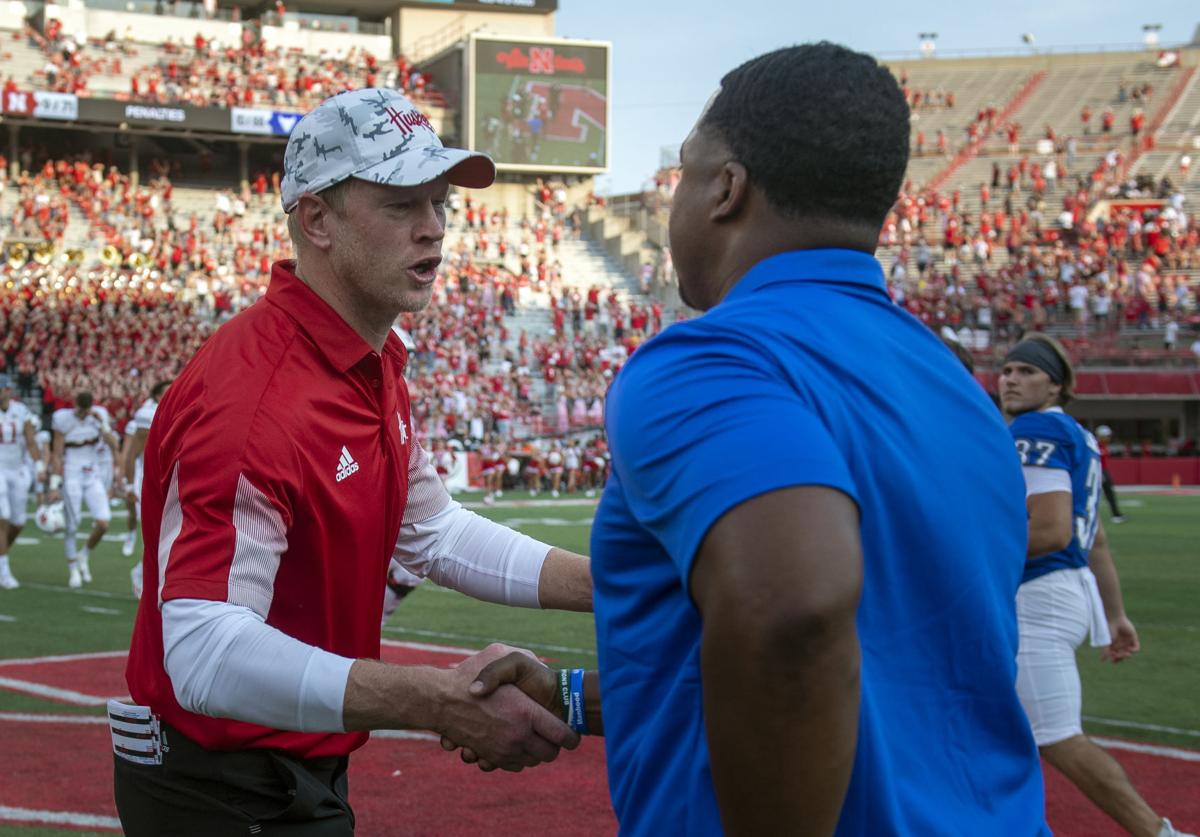 A look at some talking points after the Huskers' game against Buffalo on Saturday.
Behind enemy lines
What those in the opposing locker room said:
RB Kevin Marks: "It was a fistfight. We knew it was going to be a game of inches. We knew we had to go toe-to-toe for four quarters. We did that. We didn't give up. We kept fighting. We worried about who was playing."
Marks, on NU's defense: "They kept it the same, showing us a five-man front. Picking on our offensive linemen and doing stunts. We were ready for it. We did a pretty good job up front."
Coach Maurice Linguist: "Going into the fourth quarter having possession of the ball, we very, very much were right in the middle of the game, which was what we planned and prepared for our team all week. And in the fourth quarter we didn't make enough plays to get get it done."
LB James Patterson, NU's big plays: "Those two plays that happened (in) the first half we shot ourselves in the foot. We just got a little too excited when we got to the point of attack. We could have made that play."
Linguist: "I do not have the stats in front of me but I think we were on the 50% mark on third down, which is right at where our goal is, we feel, to play championship football. We had our opportunities. Nebraska made enough plays in the fourth quarter to win the game."
Scanning the wires
What other media outlets are saying:
The University at Buffalo football team had the chance to go toe to toe with one of the blue-blood programs in college football.
Granted, Nebraska isn't the vaunted Nebraska program that much of college football is traditionally used to seeing on Saturdays. But the Bulls couldn't rise to the challenge of keeping the pace with a Power Five program in a 28-3 loss to the Huskers on Saturday at Memorial Stadium. In fact, the Bulls couldn't complete drives with the same ease they did in their season opener against Wagner.
In a way, the outcome was as expected. Nebraska did enough to hold off an opportunistic Mid-American Conference team, even as it shot itself in the foot a few times. It felt as though neither team wanted to win. As Nebraska made mistake after mistake that kept it from opening a two-touchdown lead until the fourth quarter, the Bulls made their own mistakes in the second half.
UB left Lincoln with a $1.32 million paycheck, and a more accurate gauge of where it stands as it moves closer to its MAC schedule, and as it now prepares to face No. 17 Coastal Carolina next weekend at UB Stadium. Nine days after an offensive outburst against Wagner, the Bulls' production plummeted. In particular, the Bulls (1-1) had a pair of prime opportunities in the third quarter to cut a 14-3 lead to four points, but squandered two drives in the third quarter that could have made a difference, or, at least, made it a more competitive contest Saturday at Memorial Stadium.
— Rachel Lenzi, The Buffalo News
They Tweeted it 
What the fans and others are saying on Twitter:
Husker Power (@Huskers887): Blackshirts are playing lights out today, loving Ervin in the second half!!
Michael E. Myers (@mmyers97): This Buffalo team is solid. Just thankful they are having the usual #Huskers penalties today!
Jon Gard (@JonGard1): it's so far from perfect but this is the type of football I have been waiting for....minus the missed kicks
Cameron Parker (@CameronParkerPO): Luke Reimer is your defensive MVP for the Huskers. He has two game changing plays today.
Will Compton (@_willcompton): If you don't count Week 0 then the Huskers are 2-0. Great day to be for the big red
Gov. Pete Ricketts (@GovRicketts): Congrats to (Coach Scott Frost) and the Huskers!
Steve Kriegs (@stevekriegs): Huskers win! Still need a lot of work to beat Oklahoma, but they're on a win streak so that's one positive
HuskGuys (@huskguys): The fact that Reimer was a walk-on feels like a crime against humanity.