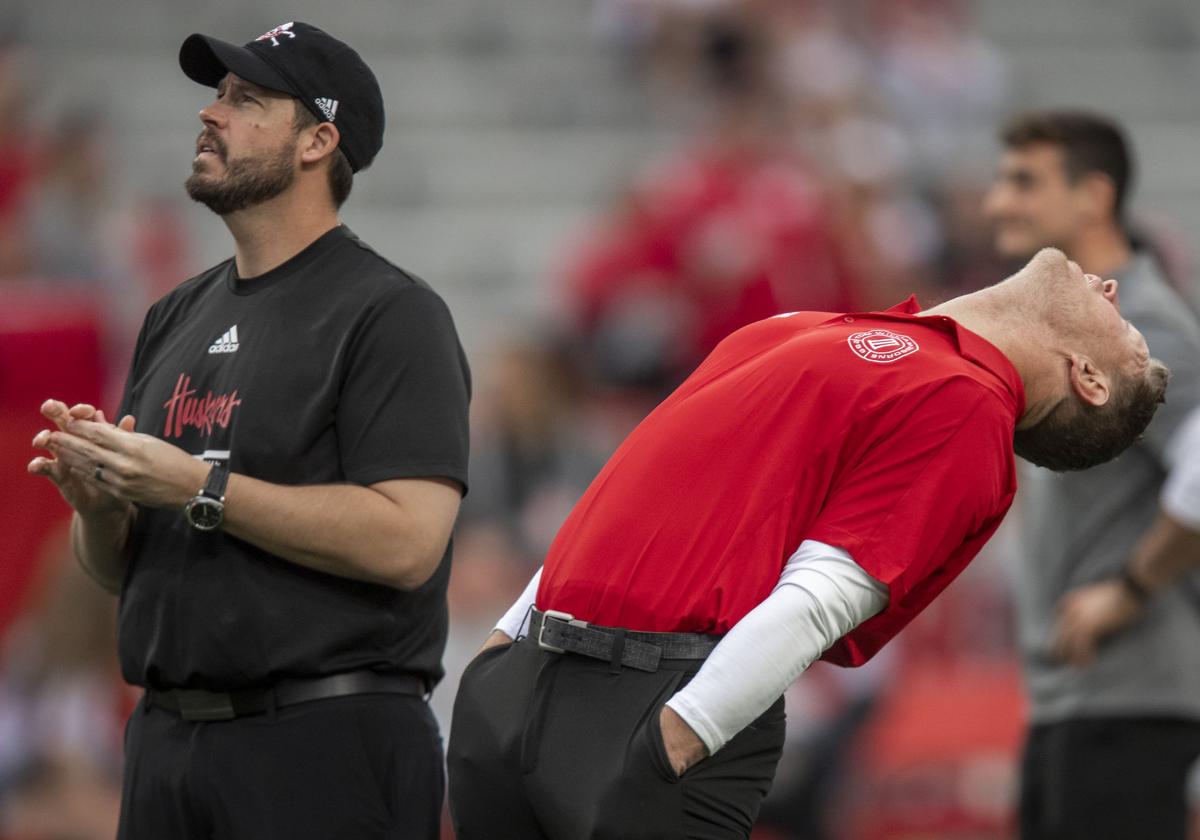 Miss the live discussion after Nebraska's 56-7 win against Northwestern? Check out the replay. 
A look at some talking points after the Huskers' game against Northwestern on Saturday.
Behind enemy lines
What those in the opposing locker room said:
QB Ryan Hilinski on in-game injuries: "Having all those guys go down just means that we fought to the end."
Coach Pat Fitzgerald, on Hilinski: "He took a lot of hits tonight. I thought he battled his tail of. He's just got to keep rolling and keep working hard and he will. With that will come plays. I thought some of our receivers made some great plays for us tonight."
Hilinski: "We're at a crossroads right now. There's two ways this can go. We can have a miserable rest of our season, or we can have a blast and win all of our games."
WR Stephon Robinson Jr.: "We're gonna watch the film, we're gonna talk about it and then we're gonna put it behind us."
DB AJ Hampton: "I think the first thing that we need to do when we all get home tonight is look in the mirror and ask yourself, 'What could I have done to win this rep?' or just focus on your technique. Instead of pointing the finger, you point it at yourself first because negativity will bring the team down from the inside."
Scanning the wires
What other media outlets are saying:
2008 vs Ohio State, 2010 vs Wisconsin. 2015 vs Michigan. 2015 vs Tennessee. 2019 vs Ohio State.
These losses constitute the worst of Pat Fitzgerald's coaching tenure.
Tonight, the Cats added one more game to the collection, as Northwestern (2-3, 0-2 B1G) fell 56-7 to Nebraska (3-3, 1-2 B1G) in arguably the ugliest contest of Fitzgerald's head coaching career.
The primary difference between tonight's game and Fitz's other nightmare losses is the fact that Nebraska's 2021 football team lost to Illinois just over a month ago. Tonight, NU made the Cornhuskers look like Bama.
The Wildcats passing attack actually moved the ball through the air with decent success. Ryan Hilinski completed 25-of-39 passing attempts for 238 yards and one touchdown. Stephon Robinson Jr. led the wide receivers with eight receptions for 116 yards and a touchdown while Malik Washington added three receptions for 46 yards. On the ground, Evan Hull scampered for 31 yards on seven carries.
— William Karmin, Inside NU
They Tweeted it 
What the fans and others are saying on Twitter:
Nick Bahe (@NickBahe): It's Yant's world and we are just living in it!
Eric Crouch (@croucheric): The turnovers are feeding this team!! #blackshirts going nutz
Will Compton (@_willcompton): Hell of a night for the boys. 6-0 ball club without special teams. Onto Michigan.
Gov. Pete Ricketts (@GovRicketts): Congrats @HuskerFBNation and @coach_frost!
Salad Czar (EdASalazar): It's amazing how important fair catching a punt is instead of letting it roll to a stop. Nebraska could've been pinned in their own endzone. Instead they had room to call a play that leads to an Zavier Betts touchdown.
CleverNameBrah (@CleverName_Brah): I was on the fence going into the season. I wanted to see improvement and clean play. I wanted to see a disciplined team. I see it. I really truly believe now. #GBR
Matt Willis (@willisOD): That's what Husker football is supposed to look like! #GBR