A look at some talking points after the Huskers' game against Iowa on Friday.
Behind enemy lines
Coach Kirk Ferentz: We just didn't do the things you have to to be successful. ... We really put ourselves in a tough position in the first half. 
Ferentz on Iowa's senior class: A tremendous group. Really proud of them, and the way they have let our football team. Today is really disappointing, but we'll get over that and turn our vision to the next opportunity here.
LB Jack Campbell: No one is going to hang their head. We're just going to keep going. We've got one more as a group together. There's really not much more to it. 
Backup QB Alex Padilla on playing: "There's not a whole lot of thinking that goes into it. Just try to go in and do my job the best I can. Just throwing a helmet on.
Scanning the wires
What other media outlets are saying:
With so much to play for Friday, Iowa dropped it.
Then the Hawkeyes dropped it again … and again.
Iowa put the football on the Kinnick Stadium turf three times Friday and Nebraska turned those costly mistakes into 17 points, more than enough for the Cornhuskers to earn their first win over the Hawkeyes in eight years, 24-17.
An interception with 42 seconds remaining ended any Iowa chance of overcoming the 24-0 hole it found itself in minutes into the third quarter and preceded a mad dash by Nebraska players to hoist the Heroes Game trophy.
The Cornhuskers celebrated with fans who migrated to the bottom rows of the stadium seats as the game ended.
After finishing with four turnovers, the Hawkeyes were left to wonder what if?
"Turnovers are killers against Big Ten teams," said quarterback Alex Padilla, forced into action when senior starter Spencer Petras suffered an injury during the first quarter.
— Steve Batterson, Quad-City Times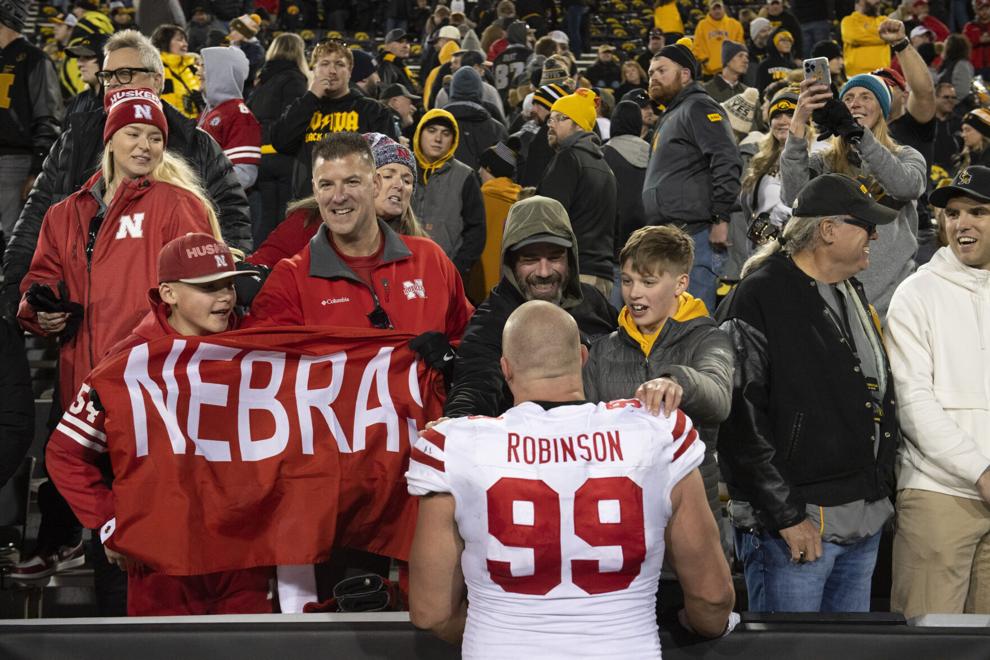 They Tweeted it 
What the fans, players and others are saying on Twitter:
@Huskers: OUR CORN >>>>>>>>>>>>>>>>
Trey Palmer: For some reason I woke up pissed off more than ever!!
Trent Hixson: What a way to end the season with a great group of guys and team.
Rahmir Johnson: Ball don't lie #gbr
Ryan Held: Really happy for the Seniors at Nebraska.
Alex Kirshner: History will not record Nebraska-over-Iowa as a notable upset. But vibes will. In terms of pure vibes, this is the most stunning game in Big Ten history
Stanley Morgan: That's Big Trey Palmer Genuinely Proud of you Bro. From one Husker WR to Another good S***!!!
@RedditCFB: Iowa went undefeated against both Iowa State and Nebraska from 2015-21. They lost to both this year.
Gov. Pete Ricketts: Watching the game with my good friend Governor Kim Reynolds. Huskers up 10-0 at end of the 1st quarter.
Collin Miller: LETS GO!!! Hold that trophy high boys!! Momentum into the offseason and Iowa not going to Indianapolis?! BOOM!!
Kenny Bell: Playbook: Throw it to Trey Palmer.