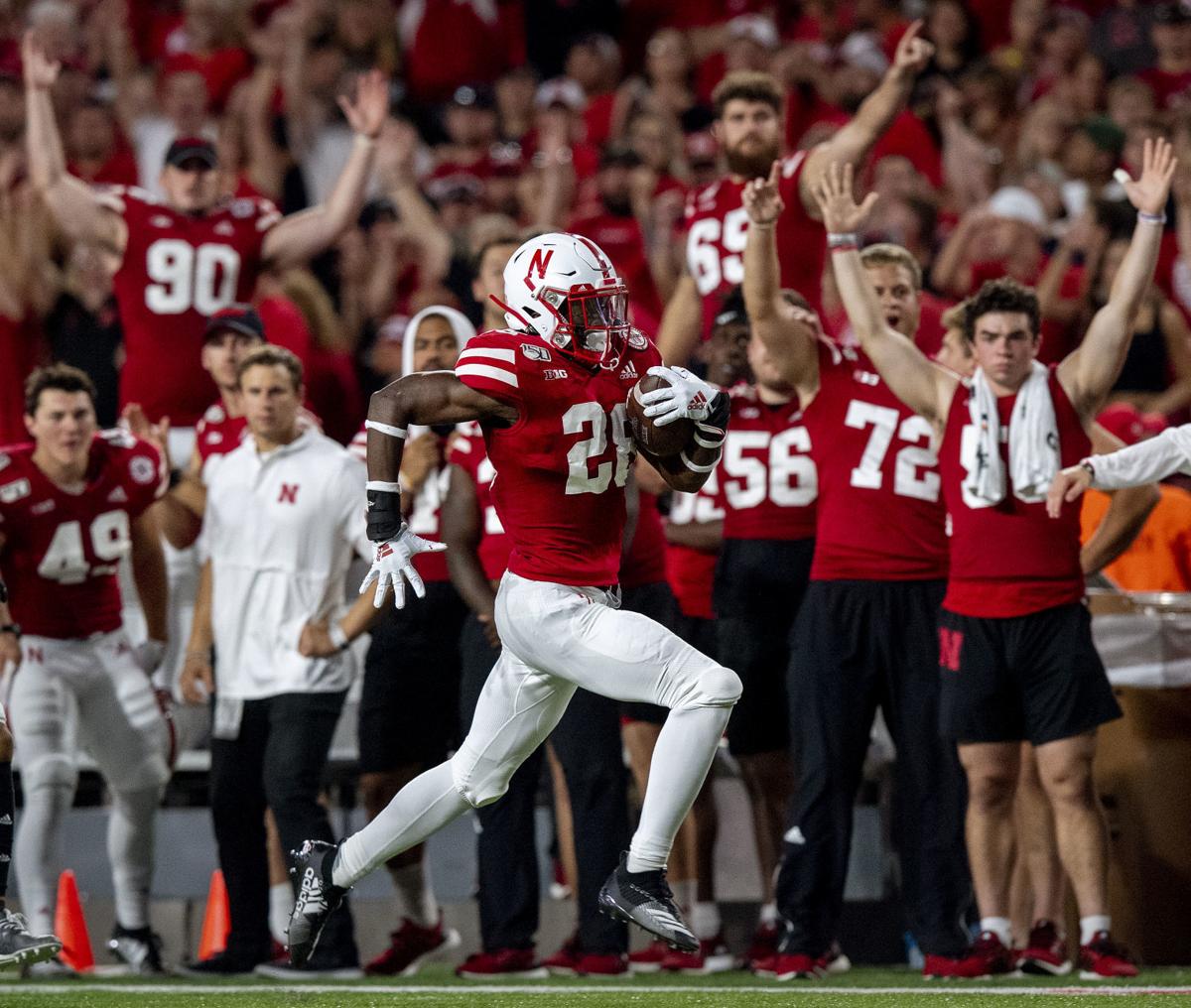 A lot of ground was covered during Nebraska's weekly football news conference Monday.
Three takeaways:
1. Scott Frost's answer to the question regarding running back Maurice Washington's first-half benching Saturday seemed telling.
The coach's comments indicate that the sophomore probably should feel a degree of urgency in how he responds this week in practice. In other words, Frost is looking for the right response. My gut tells me this is a situation to watch closely.
Frost said it was his decision to hold out Washington, the team's third-leading rusher and third-leading receiver despite missing a significant amount of game action with nagging injuries.
"We want him to come back and prepare well and get ready to play well," the coach said. "If he does, this will all be water under the bridge. But we need him to respond just like the rest of the team."
Head football coach Scott Frost talks about running back Maurice Washington's suspension for the first half of the Northwestern game on Oct. 7, 2019.
The next hearing in Washington's ongoing legal matter is scheduled for Oct. 17 in Santa Clara (California) County Court. That's Nebraska's bye week. He faces a felony charge of possession of a video of a person under the age of 18 engaging in sexual conduct. He is also charged with one misdemeanor count for sending that video to the victim to inflict emotional harm.
Washington was suspended for the first half of Nebraska's season-opening win against South Alabama. The football staff and campus officials decided on that punishment.
Washington is obviously a gifted player. If he genuinely wants to help his team, and sets his mind to do so, he could be perhaps its most explosive weapon. With JD Spielman's status for this week uncertain, Washington's contributions could become that much more important.
Any coach has to weigh a variety of factors in deciding how to discipline certain players in certain situations. But, as Frost noted Monday, "We hold our players to a certain standard and we want them all to live up to that standard."
Here's hoping Washington hears his coach's message loud and clear.
One of the most frustrating aspects of life is seeing elite talent go unrealized.
2. I get the whole conversation that media (and coaches) have about salvaging a redshirt year for freshmen. I especially understand the delicate nature of the conversation in regard to the quarterback position.
But my heavens, I generally despise the discussion.
You have free articles remaining.
Here's what I'd love to hear from a coach when he's asked (for the 107th time) what the redshirt plan is for so-and-so player/players:
"The plan is we're going to do whatever we have to do to win on Saturday, period."
Head football coach Scott Frost talks about the situation at quarterback and Martinez's health on Oct. 7, 2019.
To wit: Frost said Monday he'd like to have true freshman running back Rahmir Johnson sit out this season as a redshirt. In the next breath, though, Frost tells you Johnson is ready to help the team win now. The competing nature of those sentences is unfortunate.
Johnson appeared in his second game of the season Saturday.
"That's two games, so we're going to try our best to keep him around here for four more years after this," Frost said.
How about playing Johnson -- no questions asked -- if he's indeed needed to win games this season? Is that such a problem? How about paying little mind to whatever may or may not happen in 2021, 2022 or whenever? Isn't that the right thing to do for the team's seniors who have missed out on two straight bowl seasons?
Wouldn't a "win-now" approach more closely jibe with the coaches' "it's a one-week season" mantra?
I understand the inherent sensitivity involved in the discussion. You don't want to "waste" a season for any player. But I think in making these decisions, the emphasis should be on doing whatever it takes to help the team win now.
3. Matt Farniok engaged in some plain talk regarding Nebraska's center-snap issues in the shotgun.
A reporter asked Farniok about it, and the junior right tackle somehow handled a potentially awkward situation well.
He made no bones that snaps have been a problem. He said Cameron Jurgens knows the problem must be fixed and he's been working on it.
Offensive lineman Matt Farniok talks about the issues with snapping on Oct. 7, 2019.
But Farniok characterized the matter as an offensive line issue instead of a Jurgens issue. Good approach.
"It's on all of us," Farniok said. "We have to find some type of way to get those snaps right to (the quarterback's) chest. There's no excuse for it now. Heading into Week 7, we need perfect snaps every time."
Look around college football. You'll seldom see errant snaps. When you do see it, it jumps off the screen because of its clear impact on a given play. It's been a perplexing issue for Nebraska, to say the least.