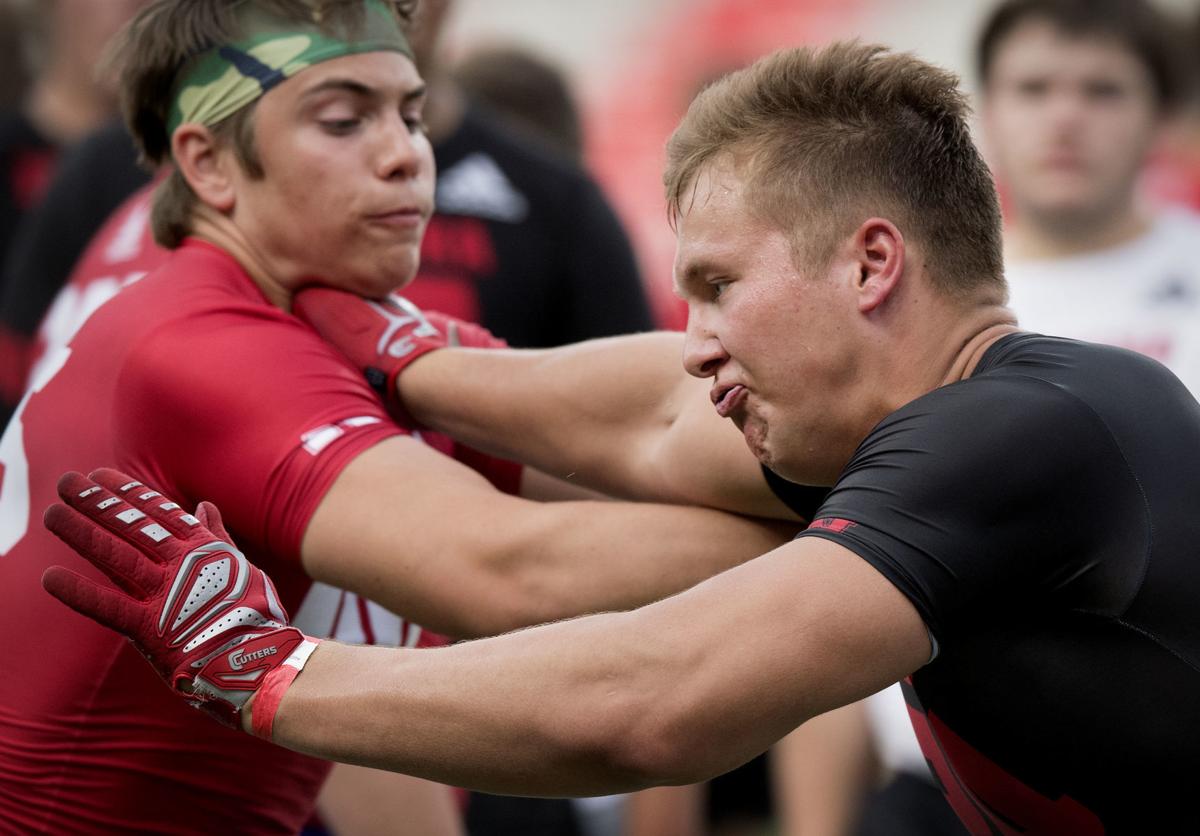 Take a poll of the Nebraska fans that follow recruiting to at least some degree, and you are likely to find at least some level of concern for the Huskers' current "drought" on the 2020 recruiting trail.
Scott Frost and company had a big weekend in mid-April around the Red-White Spring Game when four-star tackle Turner Corcoran gave his verbal pledge and joined four-star receiver Zavier Betts (Bellevue West) and dual-threat quarterback Logan Smothers (Muscle Shoals, Alabama) as the third member of NU's 2020 class.
Since then, the Huskers have added three transfer pieces to their 2019 roster -- junior college defensive tackle Jahkeem Green committed a day after Corcoran, Cal graduate transfer wide receiver Kanawai Noa followed suit in mid-May and then Rutgers transfer tight end Travis Vokolek picked NU last week -- but haven't added to the 2020 group for just a tick more than two months.
Meanwhile, around the country, some schools have racked up pledges. Of the top 25 classes in the 247Sports Composite rankings to date, only No. 23 Penn State (nine) has fewer than 10. In the Big Ten, six teams have 10 or more.
Nebraska's streak will end at some point -- sooner rather than later is at least a relatively safe bet -- but even if it lingers a few more weeks, you'll have a hard time finding concern among the NU staff.
On Saturday after the Huskers' first national "Pipeline" lineman camp at Memorial Stadium, defensive line coach Tony Tuioti said he thought the May evaluation period went very well for the Huskers.
"As a coaching staff, I think we all made some really good progress," Tuioti said. "We're working really hard and, for us, it's about trying to be in the recruiting process late in the game.
You have free articles remaining.
"Anybody can get in it early, but you want to be able to build relationships where, when you're at the end, you have a chance to close some of those kids out."
The results haven't followed yet in terms of commitments, but the recruit traffic to Lincoln has been heavy so far in June.
Linebackers Cody Simon (Jersey City, New Jersey), Blaise Gunnerson (Carroll, Iowa) and running back Marvin Scott III (Spruce Creek, Florida) have used official visits already this month, and at least three more -- running back Sevion Morrison (Tulsa, Oklahoma) and linebackers Choe Bryant-Strother (Norcross, Georgia) and Malik Reed (Chandler, Arizona) -- are expected to next weekend.
Unofficial visitors this month include wide receivers William Nixon (Waco, Texas), Thad Johnson (Beaumont, Texas) and Omaha Burke wide receiver Xavier Watts (who's been on campus three straight weekends) and linebacker Regen Terry (Florence, Arizona). They will also reportedly include linebacker Devyn Curtis (Brentwood, Tennessee), offensive lineman Alex Conn (Derby, Kansas) and several others in the next week. 
All of this isn't to say that the Husker staff wouldn't be happy if Nebraska had a dozen verbal commitments at this point, but only to illustrate how the picture could change fast in the coming weeks.
Every class is going to come together slightly differently, and this one is developing a bit more slowly than last year when the Huskers picked up their seventh pledge on June 15 (running back Ronald Thompkins) and closed June with nine.
The Huskers are in on several players currently that figure to make their choices in the coming six or so weeks and potentially much sooner, including all of the June official visitors, defensive tackle Nash Hutmacher (Chamberlain, South Dakota) and perhaps a few others. Some, like Watts and touted defensive lineman Jamar Sekona (Greenbrae, California) might take their recruitments into the fall, but NU is expected to be in the mix until the end, as Tuioti referenced.
NU had 13 verbal commitments when the season started last year. The number might not be that high this summer, but there's plenty of time remaining and little cause for concern at present. In fact, a summer heat-up might just be on tap.