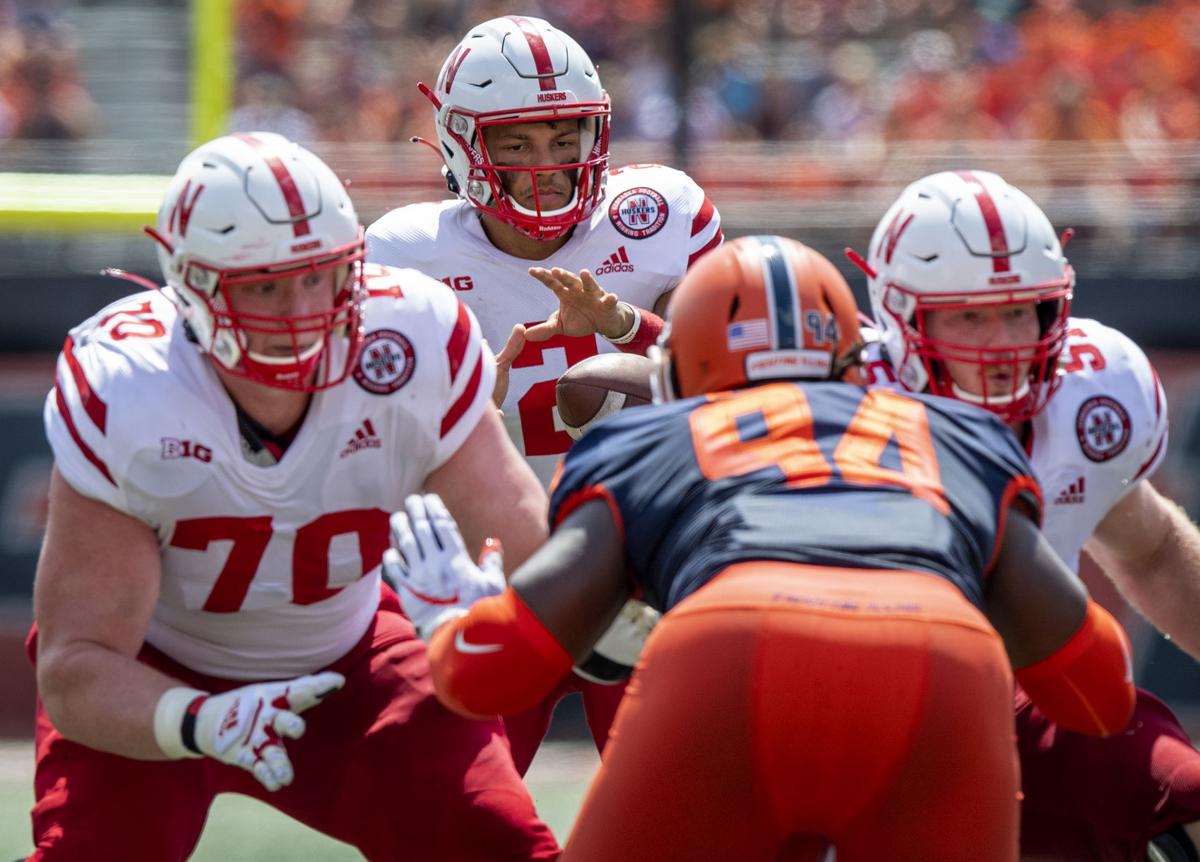 Nebraska's starting offensive line may well look different Saturday night against Northwestern.
Coach Scott Frost said Monday that the Huskers' coaching staff is intent on opening the competition wider than usual this week during practice and providing several players a "real shot" to earn a starting job.
"We're going to look at it. There are some guys that I know have the ability to play better than what we've been playing," Frost said.
In particular, he added, "It's kind of been a little bit here and a little bit there, but we've got to find a left guard and we need to play a little better at right tackle. Those are probably a couple of the spots we'll look at, but it's an open competition everywhere."
NU has struggled to generate consistent running room but maybe more acutely in pass protection. According to Pro Football Focus data, the Huskers have given up 63 pressures the past three weeks in 110 drop-backs despite the fact that Buffalo, Oklahoma and MSU only combined to blitz 15 times on those plays.
On top of that, the unit has combined to commit 10 penalties over the past two weeks, including eight false starts. What's worse, those infractions came against a pair of ranked opponents, on the road, in a pair of games the Huskers had several chances to win.
"There's just got to be expectations, and when expectations aren't met, then, I wouldn't say consequences, but there's going to be competition and opportunity for other people," Frost said. "That doesn't mean we crumple anybody up and throw them away, this is a team thing."
Junior right guard Matt Sichterman acknowledged Monday that the group "made too many mistakes," against Michigan State and said he welcomes the challenge of retaining his spot this week.
"We can't do the same things and expect a different outcome," he said. "We're trying whatever we can to get this thing right and I'm happy with how our group responded today. I think we had a good practice and I think the competition in this room is as high as it's ever been. I'm excited about guys pushing me and pushing other guys."
Frost also said he wants to see a more "nasty" attitude from the group in the run game.
"Right now, we talk all the time about playing with a desire to excel and no fear of failure, and you can talk that all you want, but I want to see them come off the ball and rip it and strike people and run and create some seams for the running back to go through," Frost said. "Right now I'd rather have a miss doing that than getting on guys and not moving anybody. I don't want to see running backs take the ball and have a wall of people in front of them. We need some crease runs, that's going to open a lot of things up. And we need to protect better. I think some of that was technique on Saturday. We're going to help them out some other ways, but generating a little consistent run by being more aggressive and playing with good technique in protection.
"We've got maybe the most athletic quarterback in the country and he still got sacked seven times, so there's a lot to fix there. Coach G (offensive line coach Greg Austin) is working hard and so am I."
Nebraska's already tried two starters at left guard in Ethan Piper (first three games) and Trent Hixson (past two). Junior guard Broc Bando was back in uniform and played on special teams against MSU after missing a couple of weeks and the Huskers have other players with experience at guard such as Brant Banks, Nouredin Nouili and others. Or, a tackle could slide down to guard and any of those three — or Teddy Prochazka or Ezra Miller — could get a shot outside. 
"Hey, all hands on deck. Teddy's got a chance to compete for it just like anybody else," Frost said. "There's a lot of guys that are really good athletes. (Strength coach Zach Duval) did an unbelievable job with that group and the whole group in the offseason. We've got big, strong guys that can run. We've got to play better."
Redshirt freshman Bryce Benhart has started 13 straight games at right tackle dating to the beginning of 2020, but struggled, in particular, in pass protection the past two weeks.
Frost said he wants any young player who loses a starting spot to keep fighting and that he leaned on his own personal experience when talking to the group about it on Monday.
"I essentially got benched for part of a game my senior year and things worked out pretty well," he said. "I benched (junior quarterback Adrian Martinez) last year when he wasn't playing well enough and he's playing at an elite level right now with some of the things he's doing. That happens, that's life, and if those guys bounce back, a couple of them, they're going to be fine.
"But you have two choices when something like that happens, and I hope they pick the right choice and I think overall it's going to make us better as a unit."
Sichterman said the group had some changes to its typical drill work on Monday at practice and credited Austin with switching things up as the group continues to struggle. Frost also has spent more time with the offensive line on the sidelines in between drives during games and said he had a more active role in helping with the group on Saturday.
"He's the head coach and he's got to address the issues and who's not performing on the team," Sichterman said. "That's been the offensive line, offensively. Coach Frost is continuing to take a bigger role in coaching us as an O-line along with Coach Austin."
Despite the potential week of change for the Huskers, Frost said Monday that he remains confident in the core group of players in Austin's room and what the future holds for them. It's just, simply, that they need the production now. After all, PFF credited MSU with 28 pressures in 47 pass plays on Saturday night. 
"I don't want to beat these guys down. This is the same group we finished the year with last year and played really well," Frost said. "I don't know what it is right now, but I've got faith in these guys. They've got to pick it up. They didn't play well enough Saturday and we still should have won the game. Didn't play well enough and we still had a bunch of yards and more opportunities.
"So, we're going to keep working with them, but we've got good players with good talent and we've got to get more out of them."