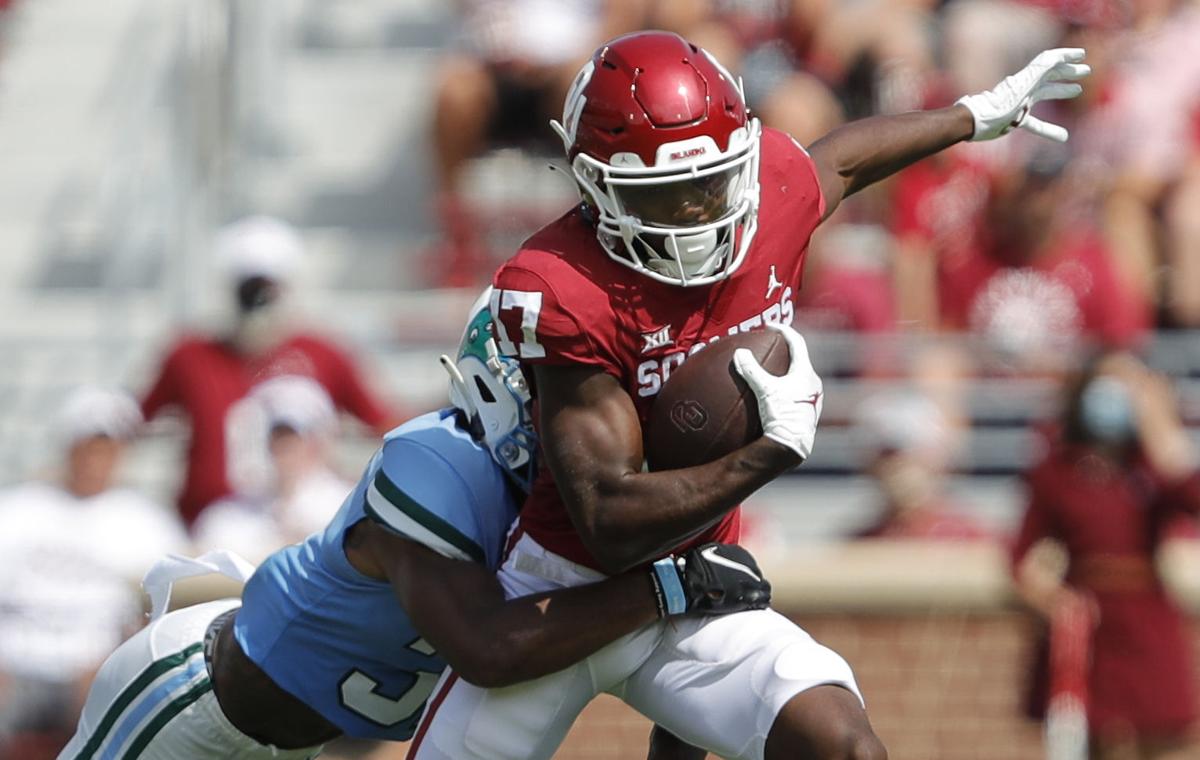 Coach: Lincoln Riley (5th season, 47-8).
Rankings: No. 3 Associated Press, No. 3 coaches' poll.
OFFENSIVE RATING: 9.5
DEFENSIVE RATING: 7
SPECIALISTS RATING: 6
Why you may need Rolaids
1. Nobody scores more points than Oklahoma, and it's been that way for quite some time. The Sooners are going to get theirs Saturday, but how many will depend on what Nebraska's defense can do, and what Nebraska's offense can do to help Nebraska's defense. There likely come a point when Nebraska is going to have to keep up when the game tilts toward a shootout. Oklahoma is plenty comfortable in situations like that.
2. It often doesn't matter who Oklahoma is playing at home. The Sooners are 125-11 in their Memorial Stadium since the start of the 1999 season, outscoring opponents by an average of 43-17 in those games. Look, it can happen: Kansas State won in Norman 38-35 last year. Iowa State got the Sooners in 2017, 38-31. But it doesn't happen very often.
3. Oklahoma's defense is much improved under coordinator Alex Grinch, who was hired before the 2019 season. The Sooners create a bunch of turnovers, get opposing offenses off the field on third down, get after the quarterback and stifle the running game. For a Nebraska unit that struggles enough getting out of its own way half the time, a havoc-causing defense might spell big trouble. NU will need its best offensive performance in some time to have a shot.
Why you might chill
1. Nebraska doesn't have to be perfect. In Oklahoma's season opener, Tulane turned the ball over three times, fell behind 37-14 at halftime, and then rallied to get within five points and had the ball before a potential game-winning drive stalled out near midfield at game's end. The Huskers will need to play well, of course. But every football team makes mistakes. Can NU overcome its miscues?
2. With an 11 a.m. kick perhaps Nebraska will walk into an atmosphere that isn't at its charged up best, despite the history surrounding the game. It might be similar to 2018, when a Nebraska team thought to be vastly outmanned by Ohio State led the Buckeyes at halftime before OSU eventually won 36-31 in Columbus. Should Nebraska survive the early emotions intact, the Huskers can make it a game.
3. Sooner Magic worked plenty well for Oklahoma when the teams were rivals in the Big Eight. Maybe any supernatural forces have shifted Nebraska's way since the teams have gone their separate ways. On the 50th anniversary of one of the Huskers' most important wins, on the same site where it happened back in 1971, maybe NU finds something that doesn't show up in the stat sheet or the film room, and someone makes an unexpected big play to swing things Nebraska's way. Hey, it's happened before.
By the numbers
55: OU coach Lincoln Riley has needed just 55 games to reach 47 wins. Only legendary Sooner coaches Barry Switzer (53 games) and Bud Wilkinson (54 games) got to 47 wins faster.
.919: Oklahoma is 125-11 at home since the start of the 1999 season. The Sooners' .919 home winning percentage is the best among Power Five programs. OU has won more Big 12 championships (14) in that span than it has lost games.
49: Oklahoma is averaging 49 points per game at home under Riley, the most in the nation since Riley took over in 2017. The Sooners are 24-2 at home under the 38-year-old.
Press coverage
Ryan Aber covers Oklahoma football for The Oklahoman.
How much have Oklahoma's players, and even Lincoln Riley, talked about the history of the OU/NU rivalry and what this week means?
RA: Lincoln Riley grew up in the Texas panhandle, much more familiar with OU-Texas than OU-Nebraska. But still, he was plenty aware of the rivalry. Riley has delved into it more in the lead-up to this game and said he showed his players a slideshow highlighting the importance of the rivalry to the program and some of the best games in the rivalry's history. The players are catching on, though for Caleb Kelly, whose girlfriend is a soccer player at Nebraska, and Reggie Grimes, whose mom ran track for the Cornhuskers, the importance is a bit more clear.
What did the Sooners take out of the close shave in Week 1 against Tulane?
RA: They hope they learned the lesson of never letting up. The Sooners have had a habit in recent years of building big leads early and then slipping after halftime. It bit them against Kansas State last year and nearly did against Tulane. Riley said there's been plenty of emphasis on completing ballgames since that close call vs. the Green Wave, but until they show it on the field against solid competition, that remains to be seen.
Has it been difficult to really discern just what OU is made of considering the results of the first couple weeks?
RA: Very. Season openers are always difficult to gauge since teams can grow so much — or completely fall apart — early in the season. Last week's performance vs. Western Carolina looked good — 76-0 always does — but how much the Sooners progressed remains to be seen. That's why Saturday's game looms so large. The Sooners need to prove they've progressed — especially in run blocking, putting pressure on the quarterback and, perhaps most importantly, in coverage to prove that they are a legit College Football Playoff contender.
How important is Spencer Rattler to Oklahoma's success? Where have you seen him improve from last season?
RA: Extremely important. The quarterback makes Lincoln Riley's offense go and Rattler has been mostly fantastic early in his OU career. He has plenty of talent around him to have one of the best offenses in college football. Last season, his decision-making wasn't always the greatest — he'd force a throw where none needed to be forced, or hold onto a ball instead of throwing it away, or miss an obviously open option. He's definitely cleaned that up this season, though against Tulane there were a couple moments where you started to wonder if he'd really made a big leap forward. I still think he's much better than he was as a redshirt freshman last year but he'll need to show those things to have success against the Cornhuskers' stout defense.
There's obviously been plenty made of Nebraska's efforts to get out of this game earlier this year. How has that been received in Norman, and how much has it been talked about this week?
RA: It has been talked about a little but not much. Certainly, there's been a lot of examination of the "why" part of that — namely, the Cornhuskers' recent struggles — but most of the focus has been on the celebration of the Game of the Century, the renewal of a rivalry that's much different from OU-Texas and Bedlam as far as how the opponent is viewed, and reveling in that history rather than gnashing teeth over what almost wasn't.