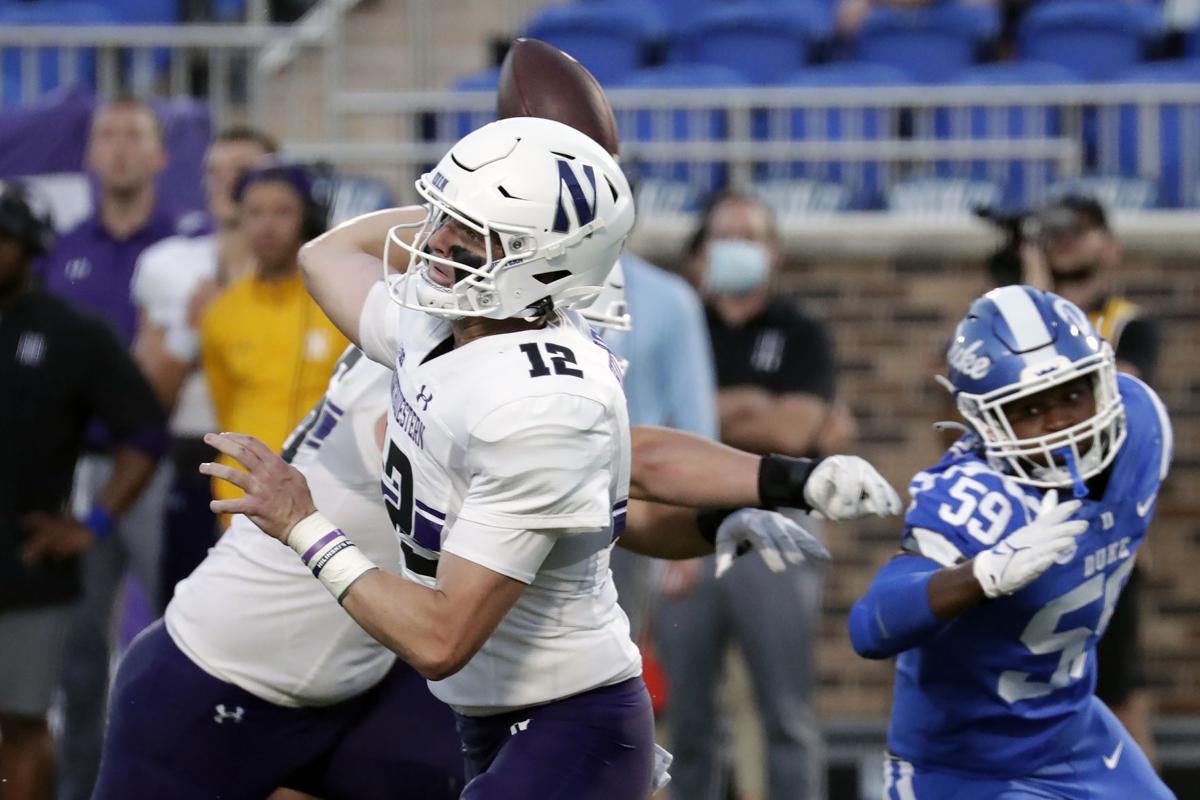 Coach: Pat Fitzgerald (16th season, 108-83).
OFFENSIVE RATING: 4
DEFENSIVE RATING: 5
SPECIALISTS RATING: 5
Why you may need Rolaids
1. It's always a close game between these two. Eight of the 10 Big Ten games between the programs have been decided by one score and six have been within three points, with two of the last three ending on game-winning field goals. Last year's 21-13 Northwestern win ended with Nebraska throwing into the end zone from inside the Wildcats' 20-yard line. Plenty of nail-biting potential here.
2. The Wildcats tend to not make the catastrophic mistakes Nebraska does in any phase of the game. Northwestern's turnovers are up a bit this season, eight in four games, but the Wildcats have also forced eight. And this is still a team that avoids penalties, ranking 24th nationally in fewest penalty yards per game. Northwestern will be very content to sit back and wait for Nebraska to make a game-turning blunder.
3. Speaking of game-turning plays, Northwestern ranks fifth in the nation in punt returns, averaging more than 23 yards per return. That is, um, not great for a Nebraska team coming off last week's debacle at Michigan State. If it's close in the fourth quarter and Nebraska has to rely on punting for field position, well, buckle up.
Why you might chill
1. This not a vintage Northwestern defense. At least not yet. In two games against Power Five foes, the Wildcats have allowed 38 and 30 points while giving up 511 and 558 total yards to Michigan State and Duke. Duke had 420 yards at halftime of its 30-23 win over Northwestern a couple of weeks ago. New defensive coordinator Jim O'Neil is still trying to fill the big shoes left by Mike Hankwitz.
2. Northwestern has played three quarterbacks extensively so far, starting two. It was sophomore Ryan Hilinski's turn last week, taking over for Hunter Johnson after Johnson turned the ball over four times in the first half and was pulled against Duke. Andrew Marty, who is battling a shoulder injury, has also played. 
3. Nebraska's defense should have a decided advantage against Northwestern's offense. Partially because of the unsettled quarterback situation outline above, but also because the Wildcats' strength, running the football, appears to be something the Huskers are ready to handle. Northwestern running back Evan Hull ranks behind only Michigan State's Kenneth Walker III among the Big Ten's rushing leaders, and the Huskers showed Saturday they were ready for Walker.
By the numbers
373: Northwestern's 373 rushing yards last week against Ohio are tied for the most by a Big Ten team this season.
17: The Wildcats have won 17 Big Ten West Division games since 2017, sweeping the division two of the last three seasons.
90: Running back Evan Hull's 90-yard touchdown run last week against Ohio was Northwestern's longest play from scrimmage since 2011.
Press coverage
Louie Vacchar covers Northwestern for Wildcat Report.
Ryan Hilinski got the start at QB over Hunter Johnson against Ohio. What kind of quarterback issues does Northwestern have, especially with Andrew Marty's shoulder injury?
LV: Hilinski is the No. 1 guy for now, and for the foreseeable future. Marty elected not to have surgery on his shoulder, so there's a chance he could come back this season, but it won't be for quite a while. The Hunter Johnson era looks to be over, and the coaches have moved on.
Hilinski, a South Carolina transfer, wasn't asked to do much in his first start against Ohio last week, but it's easy to play quarterback when your team rushes for 373 yards. He managed the game, took what was given to him in the passing game and, most importantly, didn't turn the ball over. Hilinski has a big arm and was a top-50 recruit back in 2019, but he's not very mobile. While he hasn't played in a road game yet for Northwestern, he has started games in the SEC and even led the Gamecocks to a win at Georgia as a true freshman.
From your point of view, what is the biggest issue plaguing Northwestern's offense right now?
LV: Well, the quarterback situation isn't quite settled yet. I think everyone is hopeful that Hilinski is the answer, but we haven't seen evidence of that as of yet, at least while he's been wearing purple. You can bet that Nebraska's defense will be focused on stopping Northwestern's ground game and putting the game squarely on Hilinski's shoulders. We'll see how he responds and whether he can make the type of plays that can win a game.
But the biggest issue, to me, is the offensive line, particularly the interior. The Wildcats have had to shuffle personnel a couple times already. Starting guard Josh Priebe missed the Duke game, and then center and captain Sam Gerak was out against Ohio. But they've had problems in pass protection all season, and that's going to be magnified now that they have a quarterback who's not as mobile as the guys they've had in the past.
The Wildcats' defense hasn't been its elite self through four games. What's plagued that unit so far?
LV: There are a few things going on defensively. First of all, there's a new man in charge: Jim O'Neil is the new defensive coordinator, taking over for the legendary Mike Hankwitz. We expected that there would be some growing pains associated with a new scheme, but I don't think anyone anticipated that they'd be this pronounced. The warning signs started right away, when Michigan State's Kenneth Walker III took a handoff and went 75 yards for a touchdown on the first snap of the season. Under Hankwitz, the Wildcats employed a Cover-4, bend-but-don't break type of defense that served them very well. O'Neil, though, runs a lot more five-DB looks and, especially early in the season, when running backs and receivers were running free through the defense, there were a lot of missed fits and coverages.
In addition to a new system, there are also a lot of new faces in the starting lineup. There have been signs, though, that the defense is snapping out of its funk. They shut out Duke in the second half, and then lost a shutout last week only when Ohio's Armani Rogers went 55 yards for a touchdown on the last play of the game. They've also created five turnovers in the last six quarters.
This isn't a program that is prone to panic because of a slow start. What's your read on Northwestern's psyche through four games?
LV: Slow starts are nothing new in Evanston. In fact, they've become as common as Fitz's flat-top haircut.
Since 2016, Pat Fitzgerald is 7-14 in September and 31-13 in all other months, so they've shown the ability to bounce back in the past. In 2016, they lost their first two games at home to Western Michigan and FCS Illinois State, and then rallied to win the Pinstripe Bowl at the end of the year. In 2018, they started 1-3 with an ugly home loss to Akron, and then won seven of eight to win the Big Ten West. The mantra around the program is "flush it" – whether it's a big win or a horrific loss, they compartmentalize it and move on. (It's worth noting that the Wildcats didn't play any September games last season and had their best season since 1995, finishing with a No. 10 ranking.)
So, I don't think this team will be fazed by their slow start. Admittedly, this one feels a little different because the program's rock, the defense, has been shaky, and they've also had issues with turnovers and mistakes that they don't normally have. But I think that when the lights come on in Lincoln, they'll be ready to go.