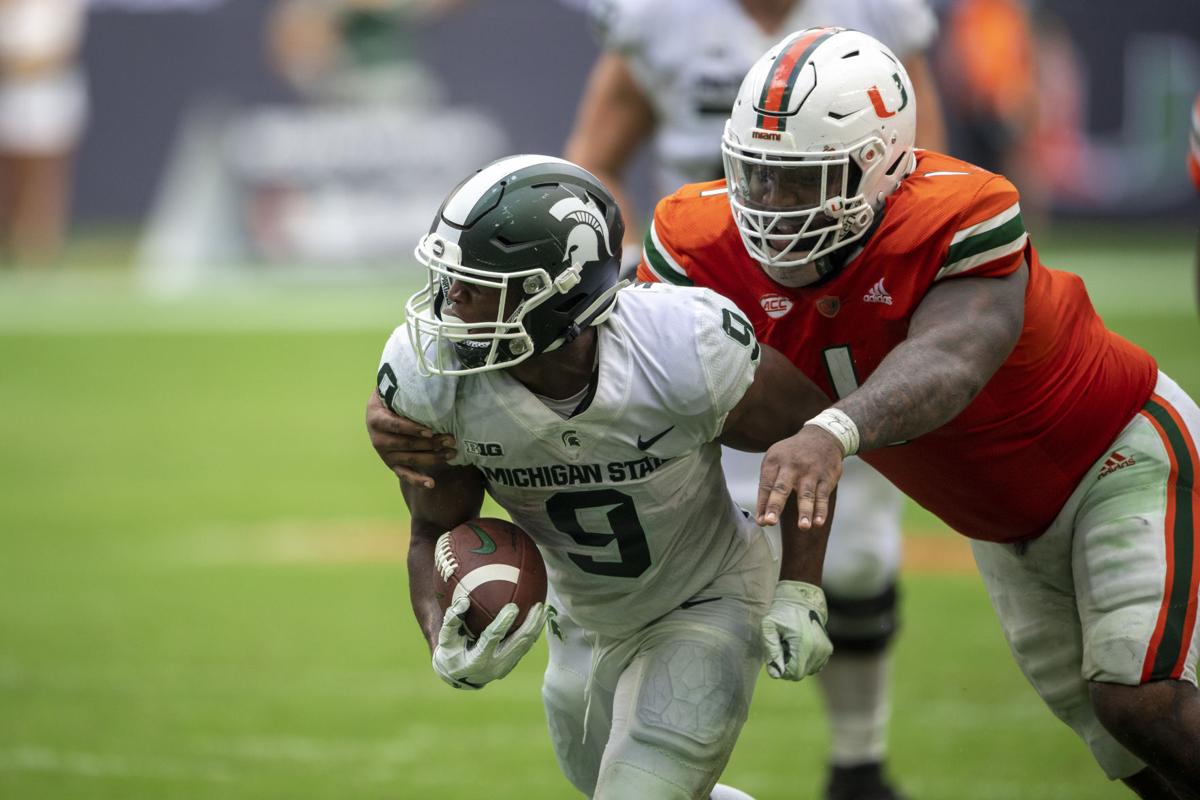 Location: East Lansing, Mich.
Coach: Mel Tucker (2nd season at MSU, 5-5; 10-12 overall).
Rankings: No. 20 Associated Press, No. 21 Coaches poll
OFFENSIVE RATING: 7
DEFENSIVE RATING: 5
SPECIALISTS RATING: 6
Why you may need Rolaids
1. Kenneth Walker III was a good running back at Wake Forest, rushing for 579 yards in each of his first two collegiate seasons with the Demon Deacons. He's become great at Michigan State, leading the nation in rushing yards and rushing yards per game through MSU's first three contests. His 164.3 yards per game is 24 yards more than Memphis' Brandon Thomas, who ranks second nationally. Walker has the looks of being MSU's best back since Le'Veon Bell, who rushed for nearly 1,800 yards in 2012. Walker and Michigan State's run game will stress Nebraska's defense in ways it hasn't yet seen.
2. This isn't the plodding Michigan State offense you're used to. The Spartans have scored 75-yard touchdowns on their first play in two of their three games, with Walker breaking free against Northwestern and Payton Thorne throwing to Jayden Reed against Youngstown State. This is the same offense, coordinated by Jay Johnson, that Colorado was running when it went wild on Nebraska in the second half of the Buffaloes' win in 2019 in Boulder. Nebraska's defense will need a similar effort to the one it mustered against Oklahoma's high-octane offense.
3. Spartan Stadium isn't traditionally the most intimidating atmosphere in the Big Ten. But Michigan State is 3-0, playing a night game and hosting its "Stripe the Stadium" night. Mel Tucker has exhorted the MSU fan base to keep Husker fans out (a tactic he also tried at Colorado to no avail), going so far as to bring out the nickname "The Woodshed" for MSU's home stadium. Whether Nebraska gets taken there or not could depend partly on how charged up a normally sleepy fan base decides to get.
Why you might chill
1. Michigan State's defense can give up some big plays. Through three games, the Spartans have allowed 25 "chunk" plays — passes of 15 yards or more, or runs of 10 yards or more. Miami had 13 such plays last week in a game that was 17-14 going to the fourth quarter. Even Northwestern, with an offense that ranks in the bottom third or worse nationally in most major categories, had seven such plays, including six chunk passes. Nebraska will have opportunities to hit some big ones.
2. The Spartans are one of the most penalized teams in the country, drawing 21 flags through three games. The number of flags per game has gone up each time out, too: five for 50 yards against Northwestern, seven for 56 yards against Youngstown State, and nine for 80 yards against Miami. If Nebraska can stay clean in that department, it will likely have the advantage against an MSU squad that has been able to overcome those miscues thus far.
3. MSU is just 2-for-5 on field-goal attempts this season (its opponents are 1-for-4). If it comes down to a kick or two Saturday night, the Spartans may be in a similar boat to Nebraska when it comes to having to decide just how much confidence they have in their experienced placekicker. Four-year letterwinner Matt Coghlin came into this season as one of the most accurate kickers in MSU history, hitting 75.3% of his attempts. He hasn't found the range yet this year.
By the numbers
5: Of Mel Tucker's 10 wins as a college head coach, five have come against AP Top 25 opponents. That includes a victory over No. 25 Nebraska in 2019 while at Colorado.
2015: Michigan State is 3-0 for the first time since 2015. That season the Spartans went 12-2, winning the Big Ten championship game before losing to Alabama in the College Football Playoff semifinals.
1: This will be Michigan State's first home game against a Power Five opponent this season. The Spartans opened on the road at Northwestern before hosting Youngstown State and traveling to Miami.
Press coverage
Matt Charboneau covers Michigan State football for The Detroit News.
On a scale of 1-10, how surprising is Michigan State's 3-0 start?
MC: Good question. I'd have to put this one up around 8 or 9. There was no doubt Michigan State upgraded its talent in the offseason, but it was hard to envision things coming together so quickly. The offensive line was the biggest question, and they've been borderline outstanding, opening holes for Kenneth Walker III and protecting Payton Thorne. Look, the Spartans haven't played any championship-level teams yet, but they've been bad against everyone the last couple of years. So to see them turn things around like this, get two road wins over Power Five teams and actually put points on the board has been impressive.
What are one or two of the biggest factors in the strong beginning to the season?
MC: As I mentioned, the play of the offensive line has to be at the top. This is a unit that has been downright bad the last few seasons. Sure, some of it was because of injuries, but there was nothing to believe they'd suddenly get better this year. But adding transfer Jarrett Horst (Arkansas State) has helped put everyone in the right position to succeed, and it's finally all come together. The other factor would be the turnovers. Last year, MSU was a turnover machine. Through three games this year, they have two turnovers, both fumbles late in blowout games. Amazing what taking care of the ball can do.
What has made Kenneth Walker III such a good fit for what MSU does on offense?
MC: For the first time since maybe Jeremy Langford in 2013-14, the Spartans have a back with some vision. Too often the past few years, when the line did create holes, they were missed. Not by Walker. His vision and ability to cut the ball back are outstanding, and when you combine his toughness and speed, he becomes remarkably difficult to tackle. The bigger question is, what in the heck were they thinking at Wake Forest?
How much has Walker's success played into the strong start for Thorne?
MC: I think it has been critical. Look, Thorne is a cool customer, especially for a guy that had started one game coming into the season. But let's be honest, if teams didn't have to be concerned with Walker and the running game, would life be so easy for Thorne? Not likely. I'm not saying he'd be playing poorly and turning the ball over, but for a fairly new starter, things could not be falling into place any better when it comes to having some balance on offense.
With the momentum the Spartans have, what kind of atmosphere are you expecting Saturday night?
MC: The atmosphere is likely going to be something we haven't seen since MSU was in the middle of its unprecedented run from 2013-15 when it won two Big Ten titles and made the College Football Playoffs. The buzz around the program is high, and with coach Mel Tucker essentially demanding Michigan State fans show up early, be loud and never let up, it will be wild.