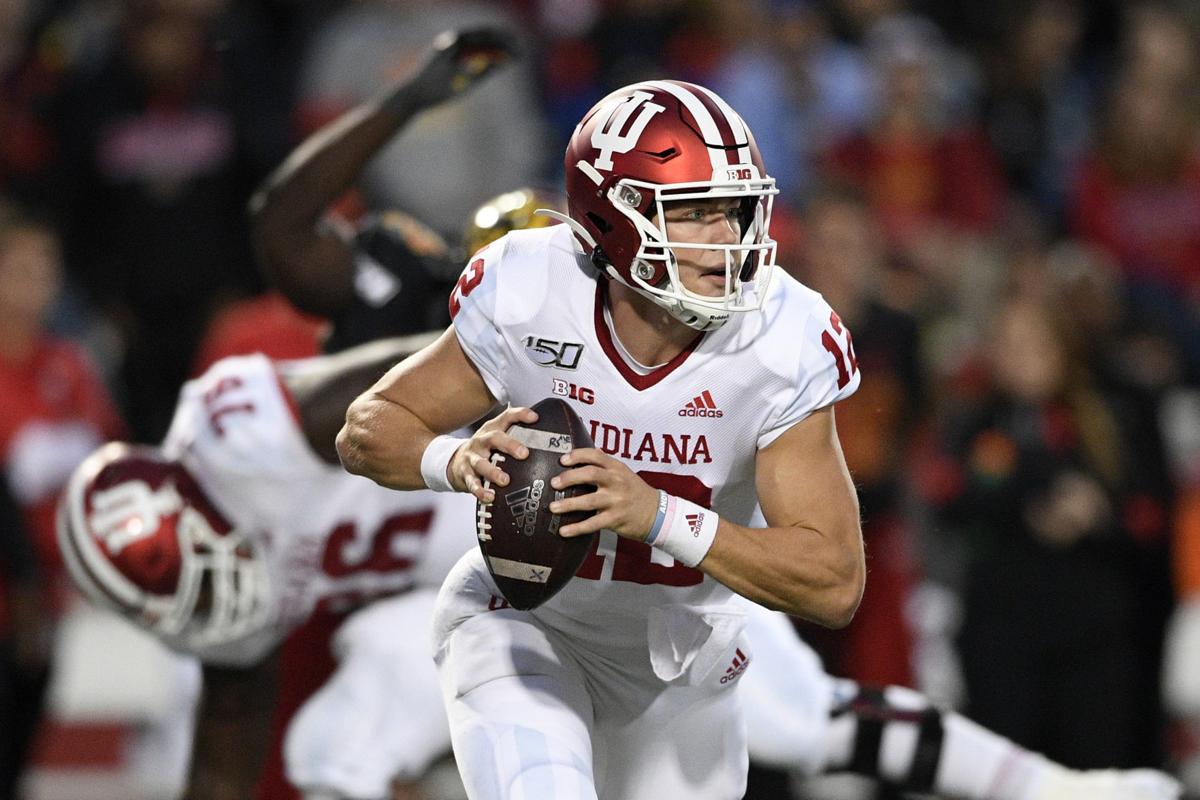 Location: Bloomington, Indiana.
Coach: Tom Allen (15-17, third season).
Record: 5-2, 2-2 Big Ten.
Offensive averages / national rank
Defensive averages / national rank
Special-teams averages / national rank
You have free articles remaining.
Why you may need Rolaids
1. Indiana is a confident team that is playing well. The Hoosiers have won three of their last four, with the only loss by nine points on the road against Michigan State. Indiana led that game early in the fourth quarter, and the score was tied with five seconds left before a Michigan State field goal and a fumble recovery for a touchdown. The Hoosiers are 5-2 for the first time since 2007, and one win away from their first bowl since 2016. They've certainly watched Nebraska struggle the last three weeks. And a win in Memorial Stadium would not only get IU bowl-eligible, but could be a potentially huge tiebreaker should Nebraska also find its way to six wins and be competing with the Hoosiers for a more coveted bowl spot. 
2. Indiana has seemingly always been good on offense, and this year is no different. Tom Allen is a defensive-minded coach. But his offensive coordinator, Kalen DeBoer, is an offensive wizard who orchestrated a quick turnaround at Fresno State before coming to Bloomington. The Hoosiers will stress Nebraska in the ground game with running back Stevie Scott and whoever lines up at quarterback between Michael Penix and Peyton Ramsey. And that's on top of a passing attack that ranks second in the Big Ten and 16th nationally in yards per game. It's going to be a stiff test for a Nebraska defense that has sunk to near the bottom of the league statistically since conference play started.
3. A slow start out of the bye week could put NU in a familiar place: behind the eight ball again. In three of its last four contests, Nebraska has trailed after the opponent's first or second possession. In five straight games, the Huskers have allowed their foe to score on its first possession of the second half. Nebraska players and coaches have talked of being mentally and physically refreshed this week. But NU also won't have played a football game in 14 days by the time kickoff gets here. Another slow start could have Nebraska playing catch-up against a really good offense.
Why you might chill
1. Indiana's defense has some impressive numbers, but they're skewed by the competition. The Hoosiers allowed zero points and 116 yards, three points and 145 yards, and zero points and 75 yards to Eastern Illinois, UConn, and Rutgers — an 0-8 FCS team, a 1-6 FBS team that hasn't beaten an FBS opponent this season, and what is shaping up to be one of the worst Big Ten teams of all time. Against teams with anything remotely resembling a pulse, IU has given up 24 points and 398 yards, 51 points and 520 yards, 40 points and 442 yards, and 28 points and 383 yards. A struggling Nebraska offense still has to go out and do it, but there should be opportunities to move the ball.
2. This is in direct opposition to point No. 3 above, but: It's been so long since Nebraska has had a bye week, it's kind of hard to remember how much good that can do for a team. Sure, Nebraska's players needed a break both physically and mentally. But what about NU's coaching staff, which hasn't had a single bye week since first coming together more than three years ago? It's not like the coaches just went home and sat on their couches for a week, but even getting away from the grind for a day or two could mean a more relaxed atmosphere for everyone, from the head man down to the walk-ons. 
3. Speaking of refreshing mentally, perhaps Maurice Washington's absence lifts a cloud from this team. Washington's talent and skills are undeniable — his speed is nearly unmatched on this roster, and his vision is elite. But there reaches a point of diminishing returns. Nebraska will miss Washington's ability. But the Huskers won't miss the distractions that came with him.
Believe it or not, Indiana leads the all-time series against Nebraska 9-8-3, including a 7-5-2 advantage in Lincoln. However, the Hoosiers haven't beaten the Huskers since 1959.
Indiana is one of just four teams this season with two shutouts. The others are traditional powers — Wisconsin, Florida and Georgia.
This is Indiana's first trip to Lincoln in 42 years. That 1977 team, coached by Lee Corso, lost to the Huskers 31-13.
Press coverage
Zach Osterman covers Indiana athletics for the Indianapolis Star.
Do you sense more buzz building as Indiana closes in on a bowl berth?
There's undeniable buzz, although Indiana only playing three home games between Sept. 28 and the end of the season has probably watered some of that down. But there is an undeniable feeling that IU might have the opportunity for the kind of season it only gets once in a generation, which is part of what makes this weekend so important. A win in Lincoln wouldn't be easy, but with Northwestern at home next weekend and then another bye, it would be a potential springboard.
How much different does the IU offense look if Peyton Ramsey is at the controls instead of Michael Penix?
Not terribly, honestly. They're not all that dissimilar as quarterbacks. Penix has an undeniably stronger arm, and Ramsey is probably a slightly better runner (not so much in speed as in angles, change of direction and comfort in the open field). But Kalen DeBoer, IU's offensive coordinator, will rely heavily on the screen game with either quarterback. He's increasing Stevie Scott's workload as the season goes on. He'll look to set up one-on-one matchups with his bigger receivers outside. And he's gotten improvement out of Ramsey and Penix both, such that if you combined their numbers, they'd lead the Big Ten in passing yards and be second in completion percentage.
Obviously Penix, Ramsey and Stevie Scott are talented guys, but is there any other particular reason the Indiana offense has operated at a higher level this season?
The short answer is DeBoer. The long answer is everything is operating at a slightly higher level of efficiency in the offense this season, which is so fundamental that it has to come from the coordinator's spot. IU's dealt with the quarterback shuffle, injuries along its offensive line and just kept getting better offensively. Numbers, individually and collectively, are up almost across the board. Some of that probably would have happened naturally, given that this group has largely been together for three years now and still contains a number of underclassmen. But DeBoer is probably at the heart of it.
How has IU done at piecing it together on the offensive line with all the injuries?
Surprisingly well. Losing Coy Cronk was a blow, from both a talent and experience perspective, but true freshman Matthew Bedford has been superb in his absence. The interior line is three guys (Crider, Littlejohn, Stepaniak) who've been in the mix for a while now, and Littlejohn and Stepaniak were both starters last year, too. Caleb Jones has been the most improved, at right tackle, where he's been very good. Sacks and pressures are way down, and the run game is improving. IU expects Littlejohn back at center Saturday, but if he's not, expect them to do the same as they did at Maryland: slide Crider to center, Stepaniak to left guard to give Bedford veteran help and Mackenzie Nworah in at right guard.
Is there much being made about IU coming to Lincoln for the first time since 1977?
Probably not too much, although with this being the 40th anniversary of the 1979 Holiday Bowl team that was the first at IU ever to win a bowl game, there have been some reminisces of old meetings with Nebraska (and a fair few wondering aloud why Indiana replaced Kentucky with Tom Osborne's Cornhuskers back then). I think IU fans are curious, and anecdotally, I know a few who are going, with this quirk of Big Ten scheduling meaning Indiana hasn't yet played a conference game in Lincoln. But, broadly speaking, to circle back to your first question, I think Indiana fans are largely just curious how good this team actually is, and they see this weekend as a fascinating potential test.
Nebraska's foes for 2019