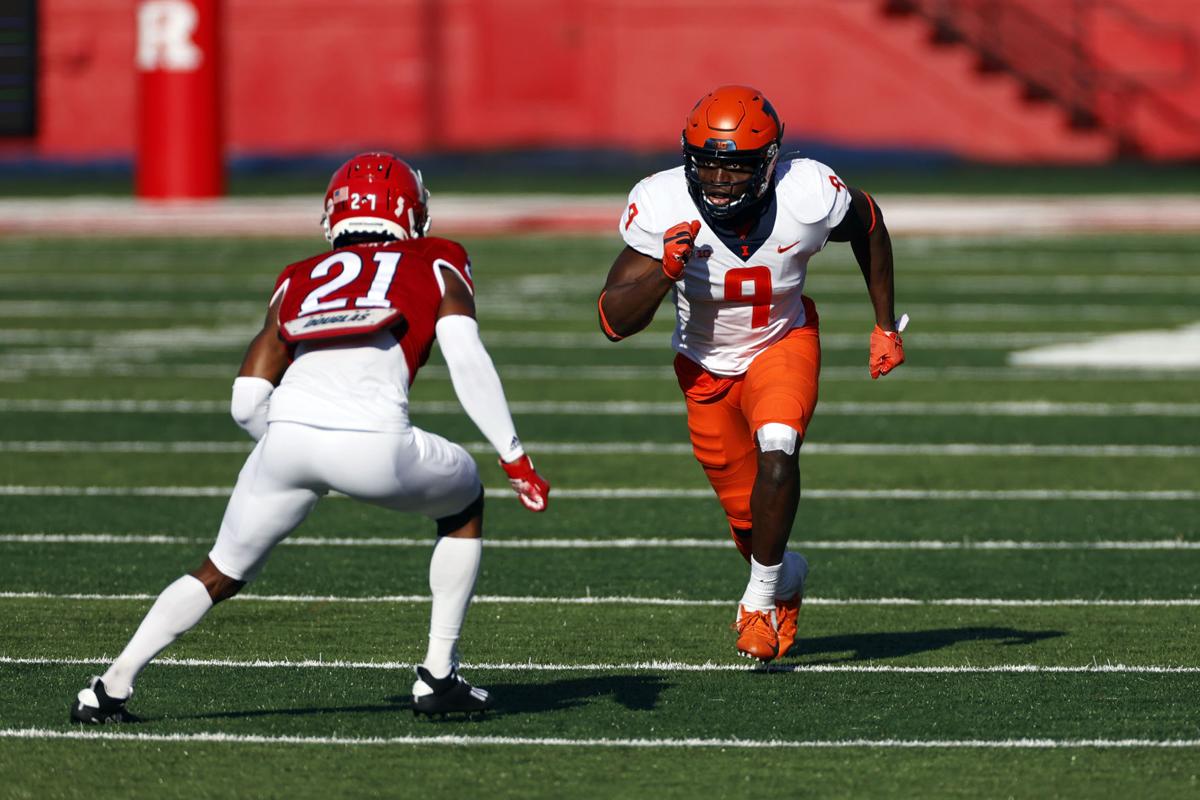 Location: Champaign, Ill.
Coach: Lovie Smith (5th season, 16-37 overall, 16-37 at Illinois).
OFFENSIVE RATING: 3
DEFENSIVE RATING: 2
SPECIALISTS RATING: 6
Why you may need Rolaids
1. As per usual, Nebraska is not in a position to take any team for granted, and certainly not one that nearly beat NU last season and has a history of making things difficult for the guys in red. That includes the bizarre 14-13 Illinois win in 2015, followed by three multiple-score Nebraska wins that never really felt like blowouts. Last year, the Huskers needed Adrian Martinez to go supernova and Wan'Dale Robinson to turn into a workhorse running back to pull out a 42-38 win.
2. For the second straight week, there appears to be a pretty good chance the Nebraska defense will see multiple quarterbacks. Both Brandon Peters and Isaiah Williams are capable of making plays with their feet, but Peters is the far more effective thrower, while Williams set an Illinois record for rushing yards in a game by a quarterback last week. Illinois doesn't have the talent of NU's previous three opponents, but there will still be plenty to scheme for.
3. Illinois might view this as their last real shot at a win this season. The Illini are scheduled to play Ohio State, Iowa and Northwestern to finish the season. And while it remains to be seen whether all those games get played, it's pretty clear what the best shot is for Illinois to pick up win No. 2. Whether or not Lovie Smith and his staff bring that up during preparations, Illinois' players aren't going to be naive about their chances against NU vs. everyone else left on the schedule.
Why you might chill
1. It's difficult to express just how poor Illinois' defense is. The Illini are allowing opposing quarterbacks to complete nearly 75% of their passes, average 12.5 yards per completion and throw for 273 yards per game. And that's just when opposing teams feel like they have to throw it. Illinois is also allowing 189 yards per game on the ground, which ranks 89th nationally, while allowing 4.6 yards per carry. For Lovie Smith, a man who has built his career on defense, it must be a maddening exercise. Nebraska, even with its so-so offense, should be able to move the ball.
2. Illinois won last week, but it's not as if the Illini did it by playing well. Rutgers scored less than two minutes into the game and led 10-0 and 20-10, then threw two interceptions in the fourth quarter. Illinois missed a pair of field goals in the final period. Credit the Illini for staying the course, but had they been playing anyone other than Rutgers, it very likely would have been another ugly result. Now in his fifth season, Smith has seen his team win back-to-back Big Ten games just once — the Illini won four in a row late last season on the way to an unlikely bowl berth.
3. If Nebraska really did turn a corner with the Penn State win, and Illinois' defense plays like it has, the Huskers could put this one to bed early. Another 27-6 halftime lead isn't totally out of the question, and the Illini don't come close to having the talent for a potential comeback that Penn State did. Nebraska has started fast in all three games so far. Do it again, and it will be easier than it has all year for NU to keep piling on.
By the numbers
3: In four games this season, Illinois has had the lead for a total of three seconds: the last three seconds of its win over Rutgers last week.
187: The Illinois record for rushing yards in a game by a quarterback, set by A.J. Bush against Nebraska in 2018, until Isaiah Williams ran for 192 last week.
1,280: Illinois has given up nearly three-quarters of a mile of offense to Nebraska the past two seasons — 674 yards last year, 606 in 2018.
Press coverage
Bob Asmussen covers Illinois football for the Champaign News-Gazette.
How badly did Illinois need the win over Rutgers?
BA: Really bad. Or is it badly? Most here considered it the most winnable game on the remainder of the schedule. Rutgers has been Lovie Smith's most frequent victim since he took over in 2016. He is now 4-1 against the Scarlet Knights. It wasn't an easy win. Rutgers threw a couple of late interceptions that really hurt its chances to win. Again, it played to Lovie Smith's push to produce turnovers. The team was real good at it during a turnaround 2019 season. Until Rutgers, Illinois was not getting turnovers like it did in the past.
Who starts at quarterback this week? Who should start at quarterback?
BA: Brandon Peters will start at quarterback and Peters should start at quarterback. Isaiah Williams might be a very good quarterback someday soon. But for now, he struggles with passing. If he is in the game, a team with a good defensive scheme will give him a lot of trouble. That was not Rutgers last week, which made a lot of mistakes in how it defended Illinois. With Peters, the entire offense is in play. He can continue to hand or pitch the ball to Mike Epstein and Chase Brown. Brandon Peters is a better runner than he is given credit for. Not speedy, but fast enough.
And he is a lot bigger and stronger than last year. He won't carry the ball 30-plus times like Williams. But he can handle 10-15 runs and be effective. He is by far the better passer. He did not have a good game against Wisconsin, but that was more on the rest of the offense. He had very little help. Plus Wisconsin's defense looks to be very good.
Is there any one issue you can point to for the team's defensive struggles through the first four games?
BA: The pass defense has been the worst I have seen here in a long time. I'm not sure if it is scheme or personnel. Probably a combination of both. The team is last in the Big Ten in passing yards allowed and passing efficiency defense. Part of it has been missing pieces. Cornerback Nate Hobbs couldn't go against Minnesota, then played well against Rutgers.
Safety Sydney Brown, who was really good in 2019, has struggled. Tony Adams has been moved from corner to safety and back again. He is a good player, but it can't be good to have to move back and forth. The breakdowns have been catastrophic, with players running wide open down the field. Tight ends have been a particular pain for Illinois.
Is the seat warm for Lovie Smith, even in such an unprecedented year?
BA: Lovie Smith has enjoyed the full support of athletic director Josh Whitman. But the fans are getting restless. The 2019 season led them to believe the corner had been turned. The 0-3 start, with a tough schedule ahead, has reduced the enthusiasm. If some of the big-time donors start to get vocal, it could turn in a hurry. The question for Illinois is whether or not it believes Lovie Smith is the long-term answer. He is a young 62 and wants to coach for a long time. If he gets a chance might depend on how the team finishes this season.
What does Jake Hansen mean to the Illini defense? Obviously he's a special player.
BA: I have seen a lot of great linebackers in three-plus decades covering the team, and he is among the best. He is the heart of the defense and the other players look to him for leadership. He gets to the ball and is disruptive when he arrives. He will likely break Simeon Rice's record for career forced fumbles. At Illinois that is good company. He is one of the tougher guys I have seen here. He suffered a concussion against Wisconsin and came back and played the next week. His teammates knew he wouldn't miss it.