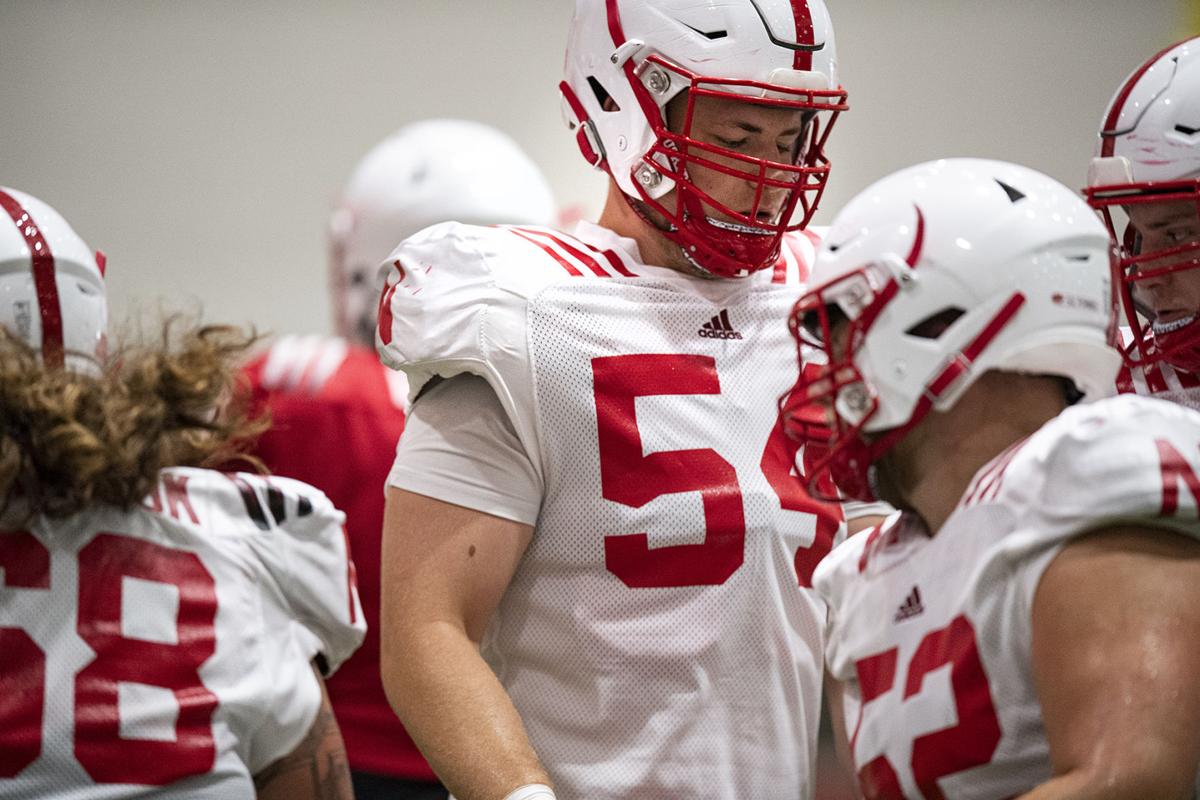 Start on the left side of Nebraska's offensive line and you quickly get an idea of why it is considered perhaps the deepest and most talented position group on the roster.
There's senior left tackle Brenden Jaimes, who has 33 consecutive starts and two full seasons protecting the blindside of Husker quarterbacks. Then there's Boe Wilson, healthier than he was in 2019 and a dependable player with 21 starts under his belt. In the middle, the explosive sophomore Cam Jurgens, who experienced some burns in a trial-by-fire, 12-start 2019 season but is expected to be an anchor moving forward. To his right, senior Matt Farniok, formerly a right tackle and a player with 28 career starts to his name and 31 games played, who has slid inside to guard where his coaches think he more naturally fits.
Then there's the right tackle, with no starts to his name yet and only minimal game action during a redshirt season in 2019. A big ol' question mark. A 6-foot-9, 315-pound question mark.
That's Bryce Benhart, the massive redshirt freshman who is set to make his first career start Saturday at Ohio Stadium against the vaunted Ohio State Buckeyes.
"When I think about Bryce, I think about a blue head," Austin said. "We talk about red head vs. blue head guys and Bryce is a calm dude. Not going to be overwhelmed and obviously he's walking into the Horseshoe and there's no fans there, but the fact of the matter is you're still playing a really good team. … I'm looking for that (calm) demeanor and certainly looking for a guy that made big-time progress from the time he got here to where he is now.
"We have a lot of confidence in him to go out there and compete at that right tackle spot and playing at a high level for us for years to come."
The native of Lakeville, Minnesota, has taken the lion's share of the repetitions with the top group for the entire offseason after Austin first said the team was exploring moving Farniok to guard in order to give Benhart the chance to man the right flank.
Now, NU is about to find out what it looks like in real time.
"We kind of threw Bryce into the deep end and put him in with the No. 1s and let him kind of learn on the fly here," Husker coach Scott Frost said. "We've had a lot of practices. He's certainly not going to be playing as well as he's going to be three or four years from now, but we feel good about where he is. Really talented kid. Think he's pretty confident right now."
That confidence has grown over the summer as Benhart and the rest of the group have worked together more and more. Of course, there's no substitute for getting live game action. He does have the benefit, though, of having a veteran of the position and mentor of sorts just to his left in Farniok.
"He's just grown in understanding the offense," the senior and captain said of Benhart on Monday. "Understanding what he needs to do, and then just being more confident in what he needs to do, because he has all the tools and everything you need to get the job done."
Benhart served as the No. 2 right tackle behind Farniok for all of 2019 and then had a full offseason in the strength and conditioning program to develop physically. He's got athletic traits, given that he was a talented heavyweight wrestler at Lakeville North High outside of Minneapolis. And he's got talent: Both Rivals and 247Sports considered him a four-star prospect and one of the best high school tackles in the country during his recruitment.
"Especially being a young guy, you just kind of have to build that confidence up and understand that you're there for a reason," Farniok said. "You've earned that spot, and then just kind of prove to everyone — and prove to yourself — that you've earned that spot and that's your spot."
Nebraska has contingency plans it can go to if Benhart struggles. Farniok could slide back out and the Huskers could tap into their depth at guard. The Huskers could also look to other young tackles in the program that they're high on in redshirt freshman Brant Banks and freshman Turner Corcoran. Coaches and players, though, think Benhart is ready to roll, with the caveat that no young player is going to sail through his first year without any rough water along the way.
"He's going to get tested playing the type of team we're playing in Week 1, but he's going to be a really good player around here," Frost said.
What the Huskers are saying as gameday approaches
Watch now: Here's what Husker players and coaches are saying as opening kickoff looms
Watch now: Vokolek says team will use TEs 'pretty significantly'
Watch now: Mills of being in Lincoln, "I love being here... being here makes me happy"
Watch now: Dawson says his OLB group doesn't 'have time to be young'
Watch now: Held pegs Thompson as No. 2 RB, praises position's depth
Watch now: Chinander identifies six-man rotation at OLB