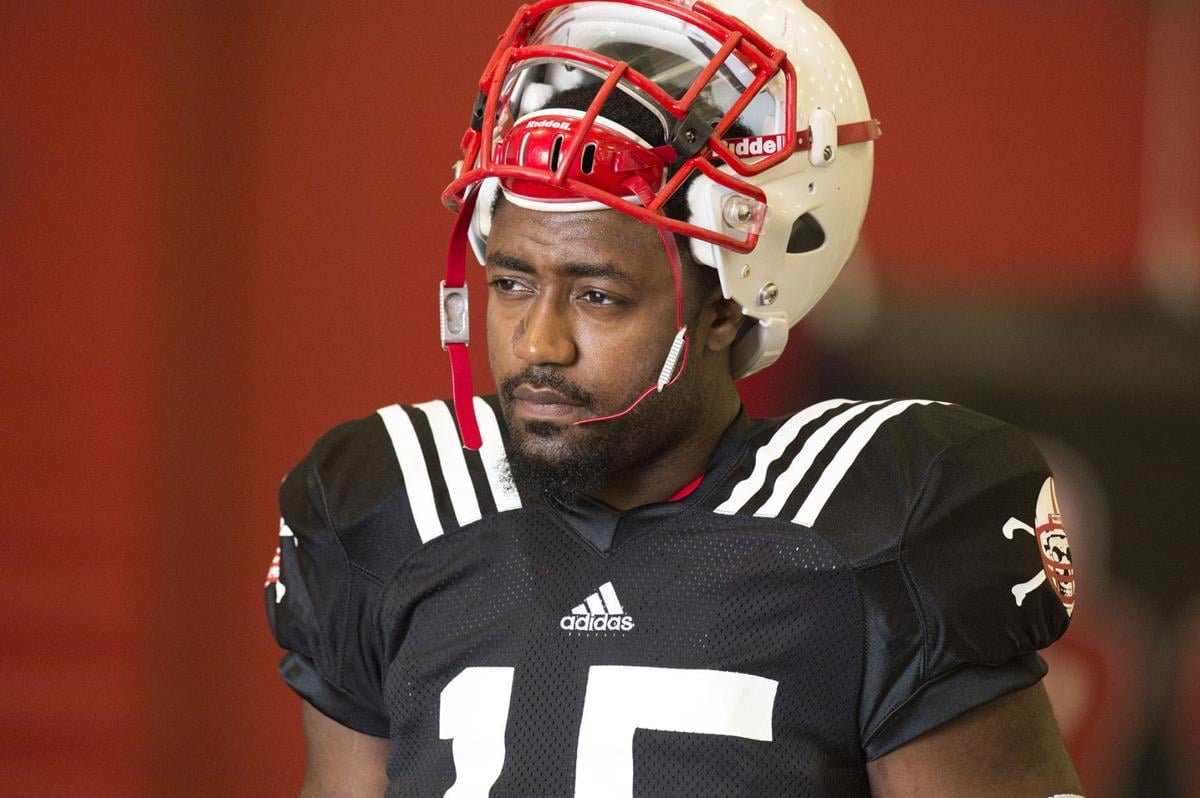 Fresh off a workout on a Friday morning in June, the daily trip to the scale having just revealed him to be 14 pounds less than his playing weight last year, Michael Rose-Ivey wasn't about to short you on some candid self-analysis.
The Husker senior linebacker had just been asked how he would describe his career in Lincoln to this point.
He thought about that a few seconds, then said, "I'd say underachieving, just because I had a lot of high expectations as everyone does when they come in to school. There's been the injuries and whatnot."
That was Part I. This answer had two parts, though, and it's Part II that has been Rose-Ivey's driving focus for the last six months now.
"That's the beauty about this last year," he added. "I have a chance to rewrite it."
Atop his Twitter account, he has pinned a tweet he posted on Christmas Eve last year, two days before the Huskers pushed past UCLA in the bowl game.
"Thinking on this past year, 2015 was definitely a storm so I know 2016 will be the sunshine after the rain."
A year after missing all of his 2014 season due to a fall camp knee injury, Rose-Ivey played in just seven games last year because of a nagging groin injury and a one-game suspension to start the season.
When Rose-Ivey did play, he showed flashes of the thump he could bring to the Husker defense, like when he racked up 10 of his 27 season tackles while at full speed early in the season against South Alabama.
Then came that groin injury halfway through the Miami game. He had to watch the end of that overtime loss as a cheerleader on the sideline. He missed five of six games in the middle of the season due to it.
"The main thing was the losing," Rose-Ivey said of those 2015 storm clouds. "Being a competitor and being a guy that plays this game to win, it was tough watching that, and not being a part of every game. … Coming off that last season when I didn't play, it was like, 'Man.' It kind of snowballs I guess in your head. Mentally, you start to think things are tough."
If Rose-Ivey's tweet back on Christmas Eve hinted on someone ready to turn the page to a new year with a positive outlook, trust that the mood hasn't changed now as July arrives and his senior season inches that much closer.
When he did have some tough times, Rose-Ivey said he always tried to keep it in the proper perspective, something that was helped through the encouragement of his family.
You have free articles remaining.
"You look at what a lot of people are going through and what I'm doing now isn't as bad as what someone else may be going through. So I'm trying to take that positive mindset. … Taking the lows for what they are — lessons. And always celebrating the highs and enjoying people around you who are supporting you while you're going through those situations."
He also dedicated himself to changing his body. Eating better. He's gotten creative at cooking alongside his girlfriend, trying to get as close to the Nebraska training table experience as he can when at home.
The week always starts with grilled chicken breasts on Mondays. Whatever he's been eating, he's getting the right results.
This past Friday, his weight was at 226 pounds. That's pretty much what he'd like to carry when he steps on the field this fall. Last year he was at 240 or just above.
"Definitely I felt as this new year was coming in, and starting off this winter conditioning and spring ball, that I wanted to take a different approach," Rose-Ivey said.
It's perhaps necessary to separate yourself from the pack.
While Rose-Ivey and Josh Banderas are the two seniors in the linebacker room, the competition at the position is hot. Trent Bray said in the spring he feels like he has five starters. Sophomore Dedrick Young started more games (11) than any backer last year. Juniors Marcus Newby (six starts) and Chris Weber (four) also played a similar amount of game reps to Rose-Ivey in 2015.
Fall camp isn't here until Aug. 4, but Rose-Ivey said these weeks ahead are big ones for this team.
"It's kind of a preview of the season, really," Rose-Ivey said. "It's really important to establish as a team that everyone's going to be a leader and hold everyone accountable."
"I think the main thing is we're matching the intensity of the workouts, what they're asking us to do. Guys are coming in there and working. There's not a lot of playing around, so that's a good sign for us."
Rose-Ivey is eager to see how all that work translates for him and this team come the fall.
And as a senior, he wants to set the right expectations for all those Husker newcomers, the young dudes who will carry the torch after him.
"The seniors definitely want to help be that building block for them be better than we were."