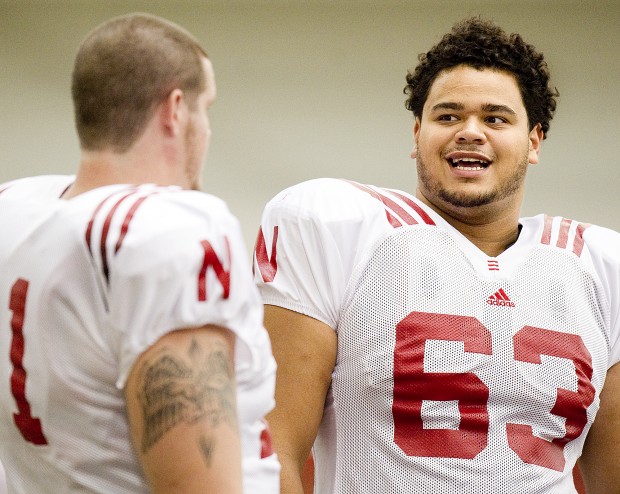 He leaned against a wall, sweat dripping from his forehead, wearing the look of a man content from a quality day's work.
A week-and-a-half before the first game of Andrew Rodriguez's last season as a Husker, you find the senior offensive tackle in this place -- happy, reflective, motivated.
Football is supposed to be fun. It isn't always.
"In previous years, it was just a different level," Rodriguez said. "The tempo of the game, especially our tempo of the game, just taking that in and thinking about the play and what I'm doing, looking at the blitz and what the defense is doing, I think it's slowed down for me now. And when it slows down, it becomes a fun sport. You get to love it again."
Get to love it again and you start to hear Bo Pelini say things like he said after Tuesday's practice. That's when the head coach told everyone Rodriguez was "probably playing the best football of his career."
This is August chatter, mind you. The 6-foot-6, 330-pound Rodriguez understands he needs to make those words mean something in October and November.
But he also understands this: He's in a better place than he's been.
"When I looked at myself, I'm like, 'Is it my effort? What is it?' Once you figure it out, then you start to see the positive things ... and it becomes good," he said. "It's smooth sailing from here."
But Rodriguez isn't afraid to revisit those rough patches, either.
You'll get a smile out of him when talking about that uptempo offense Nebraska plays. He'll admit it hasn't always agreed with him.
"It's getting better, though." Repeat. "It's getting better."
Things started getting better after a post-bowl game meeting with offensive line coach John Garrison.
Rodriguez says Garrison is like "a big brother," the kind of guy who won't give up on you reaching your potential when maybe some outside the program walls have.
The lineman doesn't form close connections with just anybody. But Garrison won him over.
"I'm an introverted person, so the other person I was really close with was Coach Bo," Rodriguez said. "But through the years, Coach Garrison he's been one of my best coaches to be around. He knows how to communicate with you on an individual level.
"He has so much passion. You would think the way he's coaching out there he wants to put on the pads and play because he's just so passionate about the sport. When you have a coach like that and Coach (Barney) Cotton, you just have great support."
Given that relationship, Rodriguez was receptive to what his position coach had to say during a straight-talk session after last season.
Rodriguez had come to Lincoln in 2010 with all the hype on his shoulders — a four-star, in-state recruit who was going to be the next great Husker bulldozer.
He'd played as a true freshman, started seven games in 2011 as a guard, and was the third guy in the tackle rotation in 2012.
Inconsistencies bogged him down. The narrative grew that he was a player who hadn't reached the potential his physical gifts allow him.
Of course, a year remains to touch that ceiling.
"Coach Garrison just told me that it's time to let people know what you're about," Rodriguez said. "When he told me that, I was just like, 'He's right. It's my last year. I have nothing to lose, honestly.' It's the last year I can just have fun with the seniors, the teammates I came in with. Have fun. That's what it's about. Playing the game you love."
And early in fall camp, Garrison made it known publicly the high level of belief he still had in Rodriguez.
"The ultimate goal, I want Andy to be the starter, to be the guy, he takes 80 snaps a game. And that should be his goal," Garrison said. "If we feel like he can't do that, obviously we'll have somebody to be able to do that for him. Ultimately, there's still a competition going on there. But we want a guy that can handle that. And if he can do 80-plus snaps a game, let's do it."
Rodriguez had made the most of that challenge, putting himself in position to possibly win the starting right tackle job for that Aug. 31 opener.
He'll have to play well when it counts to keep his snap total high. Nebraska has as many as five players who are capable of contributing at the two tackle spots -- including fellow seniors Jeremiah Sirles and Brent Qvale, and also JUCO newcomer Matt Finnin and sophomore Zach Sterup.
The talk with Garrison was one kind of motivation. The addition of Finnin to the O-line room was another.
"My freshman year, I was looking to take a spot," Rodriguez said. "My senior year, I'm looking to keep a spot. No matter what time, what day, I'm always competing."
Looking back at his career, Rodriguez says he doesn't think he always really understood what he was missing out on.
But there's urgency that comes in those months before a senior season. The realization that there are so few Saturdays left of running through a tunnel can be as powerful a driving force as any.
"Now, it's like, 'Wow, I may never play this game again … this is my last year,'" Rodriguez said. "Whether or not I go on to the next level, this is my last year at Nebraska. There's nothing better than Nebraska football. So I'm thinking about this year, this moment, today, right now."