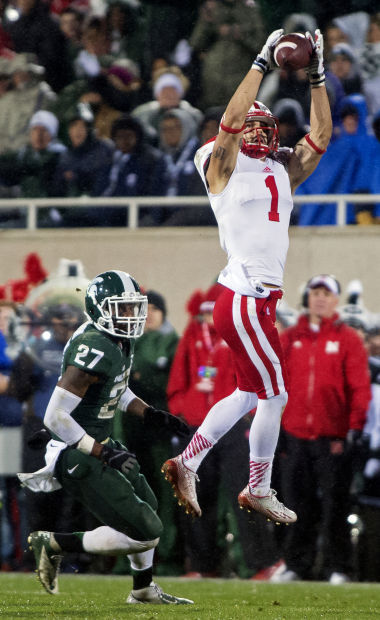 Mike Riley has love for all models of receiver.
"I mean, we've had James Rogers, who is 5-7 and caught 91 balls and gained 600 yards (in 2009) running the fly sweep," the Husker head coach said on Signing Day.
Riley spoke with equal fondness of the other type of receiver, which he describes as "that bigger body, great target who (you) like to throw that intermediate, curl-type stuff … that guy that's going to be a hard, physical matchup: a 6-3 next to a 5-10 guy."
Riley had success with all types during his time at Oregon State. Like Brandin Cooks. He's 5-10 and plays for the Saints now. Or Markus Wheaton. He's 5-11 and plays for the Steelers.
"They played together on our team," Riley said. "So their ability to run the post, run the screens, run the reverse, run the fly sweep — you've got weapons."
There's good reason Riley spent a year recruiting recent Husker signee Lavan Alston. Aside from the obvious skills Alston possesses as a downfield receiver, Riley mentioned another trait he liked. He saw a player who might "be a good sweep guy."
So it figures Riley and wide receivers coach Keith Williams will see possibilities for all the various types of receivers on the Husker roster — from the most diminutive (5-9, 155-pound Glenn Irons) to the tall men's club (Taariq Allen, Sam Burtch, Lane Hovey and Jariah Tolbert are all 6-3 or taller).
Possibilities for those who earn the opportunity, that is.
"You're obviously looking for that rare combination of size and speed," Williams said last week. "But you'll take anybody with a skill set that you think can help you to win games. So if it's a big-bodied guy that is sure-handed, who can use his body to make plays. Or if it's the smaller, quicker guys that you can use his ability to make people miss to make plays. You don't mind either one."
Williams has a group that no longer includes Kenny Bell — busy at the NFL Combine this week — but does have a good place to start with junior Jordan Westerkamp and sophomore De'Mornay Pierson-El.
Westerkamp had just three fewer catches (44) than Bell last year, and only 41 fewer yards (747). And by season's end, Pierson-El had emerged as much more than a dynamite return man, recording eight of his 23 catches for the season in the Holiday Bowl for 102 yards as his new head coach looked on from the stands.
As far as those with game experience, there's also Brandon Reilly, perhaps the fastest receiver of the bunch, Alonzo Moore and Hovey, to go with Allen and Burtch. The senior Burtch had a torn ACL derail a year that began with the belief he might have a regular role in the starting lineup. Add in Jamal Turner, who has one more season after suffering a torn Achilles tendon in Week 2 last season.
There's also sophomore Kevin Gladney, and redshirt freshmen Tolbert and Irons, all trying to make a move. Incoming recruits Stanley Morgan (who Williams knows well from recruiting him at Tulane) and Alston show up in the summer.
With a new staff comes new opportunity for everybody.
"I know that there are some guys that have already played, so, obviously, you think you have a good feel about them," Williams said. "But the guys that haven't played much at all, it's a clean slate. So whatever you did, you have to do it again. And if you haven't done it, you got a chance to do it."
Williams said he's already talked to all of the receivers multiple times. And now that "the rat race" to Signing Day is complete, there's more time to better familiarize himself with the roster.
"I'm anxious to see what all these guys can do," said Williams, who will get his first on-field look when spring practice begins March 7.
Carlton Connor, the head coach at San Jose (California) City Community College, had Williams on his staff from 2005-08. He figured then Williams would climb the coaching ladder to a place such as Nebraska soon enough.
Truth be told, Connor was happy to have Williams for as long as four years.
"He has a personal connection with each and every one of his players, from the starter to the last guy in the lineup," Connor said.
A graduate of Millard North, Connor also knows plenty about Husker football. He expresses confidence Williams will make the most of each player's talents.
Williams has said wide receiver isn't just a position to him, it's a lifestyle. Connor said it shows in the way Williams teaches it.
"He believes there's a certain way to play the position. It doesn't matter if you're 6-5. It doesn't matter if you're 5-10. As a receiver, your job needs to beat the DB and get the ball."
Be the first to know
Get local news delivered to your inbox!