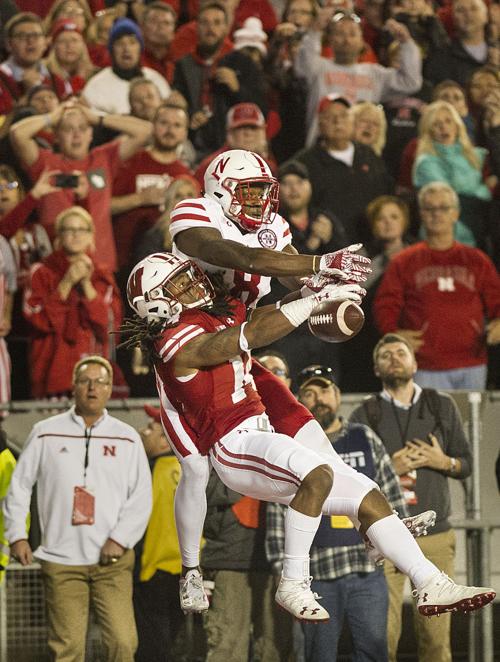 They're split-second decisions made in the heat of competition with 80,000 fans screaming their lungs out and all kinds of implications riding on the outcome.
In other words, life as a college football player isn't easy.
But a few moments from Nebraska's loss Saturday at Wisconsin caused Husker coach Mike Riley to use a word appropriate for his Halloween news conference.
"Our opportunities lost are somewhat haunting," Riley said Monday. "They could be disappointing and also make you mad; all those things together."
Three of Nebraska's four plays in overtime stood out:
First-and-10 at the Wisconsin 25-yard line: Tommy Armstrong gives the ball to Terrell Newby on a zone-read. Had Armstrong pulled the ball out of Newby's belly, he appeared to have running room on the left side of the formation. Both fullback Luke McNitt and receiver Alonzo Moore have their men blocked, and Wisconsin safety D'Cota Dixon had crept up to the line of scrimmage in run support. There were no other Wisconsin defenders on that side of the field. It's possible Dixon could have peeled back to make a play. Armstrong ran for 10 yards on a similar play from a similar formation to start the fourth quarter, and scored nearly untouched from 2 yards on a zone-read two plays later.
You have free articles remaining.
"Tommy ended up giving the ball, but, boy, it had great capabilities if he had kept it, with the positioning we had and the blocking on the edge," Riley said. "That's tough to look back on."
Third-and-8 at the Wisconsin 23: The play that had many howling. Armstrong throws over the middle for Jordan Westerkamp, who is knocked to the ground by a pair of Wisconsin defenders. No flag. Westerkamp said Monday he felt he could have gotten to the throw had he stayed upright. Meanwhile, Moore, split wide-right on the play, appears to have inside position on his defender on a post route.
"That's one choice and then he (Westerkamp) got beat up in the middle of the formation," Riley said. "I think if we had been a little earlier (throwing the ball) to him, or waited just a hair longer, (Moore) was going to be in great shape on that."
Fourth-and-8 at the Wisconsin 23: Nebraska receiver Stanley Morgan gets behind Wisconsin corner Sojourn Shelton on a double move. Armstrong lofts a pass, and Dixon comes over to break up the play.
"A little bit wider ball on that — Stanley beat the corner pretty good — throw it away from the safety just a little more, and we strike up the band," Riley said.
Three snapshots from a game full of pivotal moments. Yes, hindsight is 20/20. But Nebraska certainly appeared to have its chances.
"They become bang-bang plays that you've got to make," Riley said. "And we didn't make any of them."