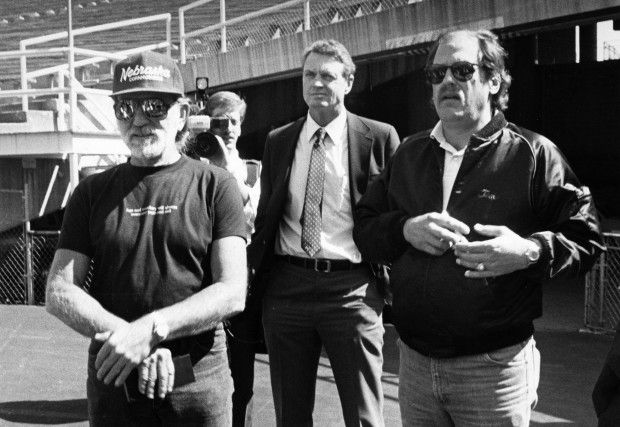 The night's outcome has already been decided, so make yourself comfortable. And if you might honor requests, put on some of that old Willie Nelson. "The red headed stranger from Blue Rock, Montana, rode into town one day …"
Mike Riley hears those lyrics and thinks of a house full of football coaches after a game. This is a beautiful memory. He was more "Mike" than "Coach Riley" at the time, growing into the profession, saturating himself with any bit of knowledge about the game he could obtain.
This was when his father, the late Bud Riley, was a head coach. Bud led high school football teams in Idaho, eventually was an assistant at Oregon State, then a head coach in the CFL at Toronto, Winnipeg, Hamilton and Calgary.
Mike watched it all with a keen eye, learning, learning about football. Learning that, win or lose, Willie Nelson is always there.
"Some of my favorite times later on in life, as we got a little bit older, and when (my dad) became a head coach, were after the games when the coaches and their wives and their families would come to the house," says Nebraska's head football coach. "All I liked to be then is in the room and be a fly on the wall listening to the coaches talk about the game. Loved that. Loved being around all that.
"Part of it was football. Part of it was fun. There was one coach, he was always putting on Willie Nelson records. I remember this was a long time ago. He introduced me to the 'Red Headed Stranger' way back then. So I haven't forgotten that, right? It's memorable times. All these people at the house after the game. Sad after you lose, everybody's mad. Happy when you've won. Life. Just life. It was an awesome way to grow up."
"Don't cross him, don't boss him / He's wild in his sorrow / He's ridin' an' hidin' his pain / Don't fight him, don't spite him / Just wait till tomorrow / Maybe he'll ride on again."
Maybe the song wasn't specifically talking about how to move on from a lost football game, but it might as well have been.
Yet with all respect to the "Red Headed Stranger," Riley's greatest lessons about coaching were learned when the music was turned down, when he was asking questions about the game, watching how others taught it and commanded a team.
Whether he was watching Dad, The Bear, a John Robinson locker room speech or the technical brilliance of a coach you maybe don't know from a town you maybe don't recognize, all those lessons have traveled with him to Lincoln, ready to be put to use in the pursuit of a championship.
Begin at home — wherever home was at the time. Lewiston, Idaho. Moscow, Idaho. Corvallis, Oregon.
Mike Riley grew up in all those places watching his dad coach.
"My dad loved football," Riley says. "If you ever asked anybody that worked with him, they'd say he was always watching film. He loved the game. And the other thing, he loved the game and the job. It wasn't really a job to him. He really enjoyed being a coach."
What Riley remembers as much as anything was how much his father loved his players. That doesn't mean he was easy on them. Far from it.
"My dad was old-school, now. He was tough. Scared us and scared his players, I think," Riley says with a laugh. "But he was also really diligent in his job and he loved the players. I mean, he would talk about those guys around the dinner table like we're talking about family. I think I just grew up in that and I think that's really led me to the point (where) I never really thought about anything else. That's what I was going to do. I didn't even know there was anything else to do."
Riley remembers being 6 or 7, riding the bus to games, being in the locker room after practices, being on the sideline during games.
When Bud became an assistant coach at Idaho, and then Oregon State, his son's questions about the details of the game became more frequent.
"We had Saturday evenings, after the Saturday afternoon game, I know I bugged him to death about the game," Riley says.
What happened on this play? What'd you think about how Jack O'Billovich made that tackle?
Bud lived to be 86. He died in August 2012. When that day came, Riley told the Coravllis newspaper: "He taught me to be myself, that's the most important thing is not being someone else."
You have free articles remaining.
Then there was the famous man in the famous houndstooth hat. Riley played for that man.
He was a defensive back for Paul "Bear" Bryant's Alabama teams from 1971-74, with the Crimson Tide voted UPI national champion Riley's junior season.
"The thing about playing for Coach Bryant that I got was I was not a good player," Riley says. "I might have been a good player, but there were great players at Alabama, so great players played and I watched. Or played on scout team, right? But one thing about being in that program, he treated everybody the same. It wasn't a star system at all. Everybody was an Alabama football player, and you felt a part of it."
That stuck with Riley as he became a coach himself. The players down on the depth chart? He can relate with them.
He also sees how important they are to a program having success as a whole.
"Here I'm a guy that hardly ever played, and I was engaged (in the program)," Riley says. "So for me, that's what I wanted. I wanted that guy that's me on my team to feel like that. Because I think the strength of a team is built from that way upwards.
"It's not hard to coach the guys that are the stars or play a lot. If you get everybody else engaged in this thing going forward, then first of all, you're going to find more players, and there's a lot of energy. There's a lot of commitment. It's not just from 22 starters. It's from 100-some guys. I think that was Coach Bryant's deal all the way."
While Bryant is the most legendary coach Riley cites as an influence, those lessons are not any more important than the ones the Husker coach gained from the man he worked for at Linfield College in McMinnville, Oregon.
Ad Rutschman was, in Riley's view, "the best teacher of sports I've ever been around in my life."
He led Linfield, where Riley was defensive coordinator from 1977-82, to three NAIA Division II football national championships. He also coached the school to a baseball national championship. Riley was his assistant coach in both sports.
Rutschman was one of the few coaches Riley has ever been around who could teach kids technique, and teach it well, at any position, whether it was an offensive lineman's stance and first step, or a defensive back's backpedal.
"He had a thought and a philosophy about every position that way. And he made us as coaches learn, and then be able to teach in a sequence," Riley says. "This is how you do something physically. He taught hitting (a baseball) like that. Not too many guys are structured in hitting. … He had specific technique in hitting he taught. Could coach pitchers. Shortstops. All the different plays and throws they could make, he had them all categorized, had drills for every one."
If you were going to step on a field and coach for Rutschman, you better be prepared to coach the drills as he expected.
"He would spot you at the end of the field and yell at you and remind you about coaching," Riley says. "Probably the greatest thing in the world for me was to be at that age with him."
This only scratches the surface in naming the coaches who have influenced Riley.
He mentions Mike White, "an offensive genius, just about," who was coaching at California when Riley was a grad assistant there. White went on to be the head coach at Illinois and the Oakland Raiders.
He mentions Hugh Campbell, who won five straight Grey Cups in the CFL, tutoring Warren Moon along the way. "Best people person," Riley says of Campbell. "He had just a great way of dealing with people. Sincere."
He mentions Cal Murphy. Murphy was the GM of the Winnipeg Blue Bombers when Riley was named the CFL team's head coach in 1987. Riley won two Grey Cup titles in his four years there.
Riley credits Murphy for the way he put the team together. "I think he was a genius at that," Riley says. "I walked into my first head coaching job with a really good football team, which was the key to the beginning of my career."
He mentions Robinson. Riley was Robinson's offensive coordinator at USC from 1993-96. Riley has seen few coaches who can get a team going like Robinson could.
"The best person in front of a team that you will ever see. The players loved John Robinson. He was a players' advocate. When he got up and he spoke to a team, it was captivating."
But there was more to it than that.
Riley remembers a clinic in which Robinson took a group of coaches on the field and began running through the intricacies of USC's famous "student-body-right" sweep play.
"It was impressive. The coaching points. He was just enthusiastic in coaching it. Because that was their signature deal, right? All those tailbacks and that play."
Just another lesson for Riley's ever-growing file.
He soaked it all in, no different than when he was a kid asking Dad about Jack O'Billovich, or those nights in the house when Willie stopped singing and the old coaches began to talk football.