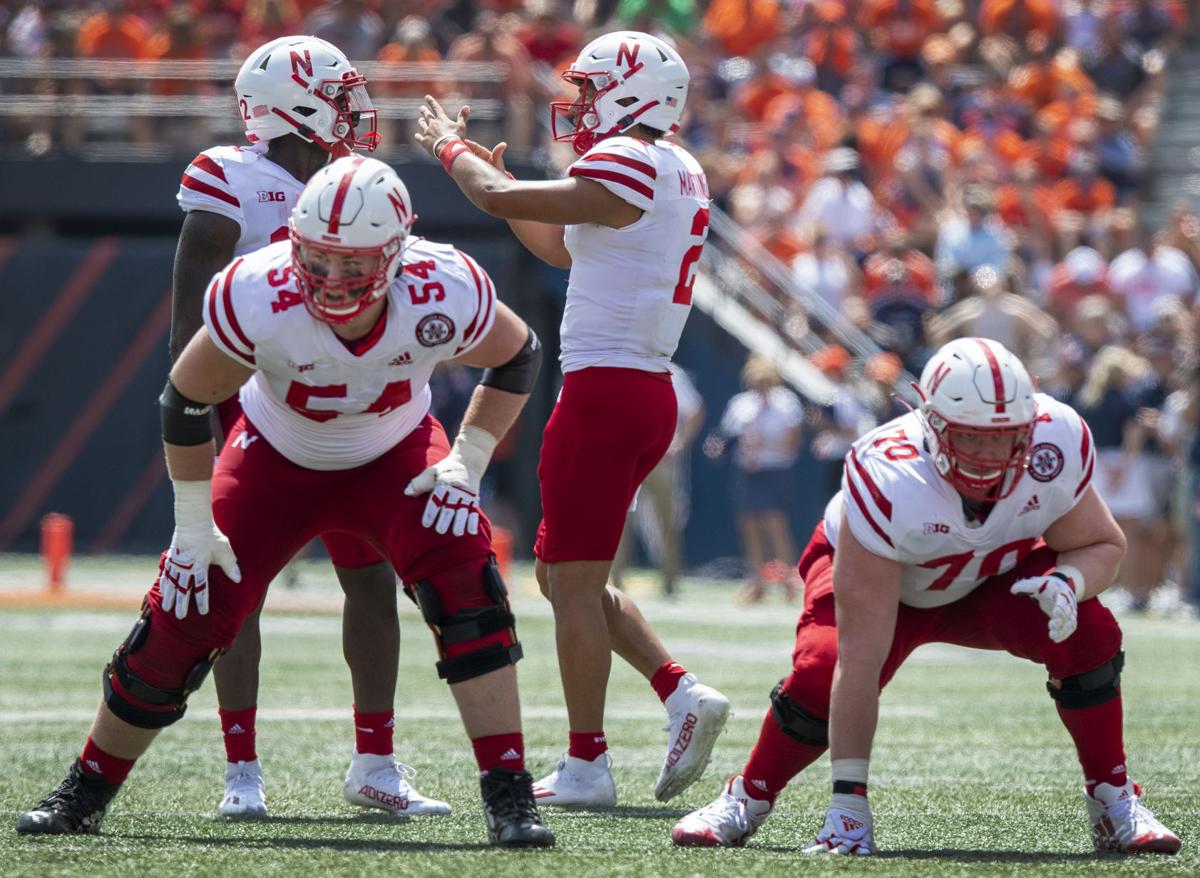 CHAMPAIGN, Ill. — Committing to being something, to establishing an identity and then leaning on that identity, takes work.
Most of the time, that process is not easy. Your mettle gets tested, and when that happens, as Nebraska inside linebacker Barrett Ruud said earlier this month, you either fall back into good habits or fall back into bad habits.
The Husker offense said this offseason that it wants to have a powerful rushing attack. That it wants to be a downhill football team.
One week into Year 4 under Scott Frost, Nebraska is not that kind of team. The identity is not formed yet, the habit is not there for NU to trust fall into, and it showed Saturday in a 30-22 loss to Illinois.
"That's what we wanted to have happen," Frost said. "But that's this league. When one team gets ahead they can run it and the other team has to do other things."
It is hard to commit to sticking with the run game when you're trailing 23-9 and your opponent just grounded-and-pounded 8 minutes, 4 seconds off the clock to open the second half. It takes discipline and commitment to not abandon it right then and there.
NU didn't look like a team that thought it could stick to the plan it laid out for itself in camp. It looked more like a team led by a coach who once said playing against Stanford was frustrating because he felt like he could go eat dinner while the Cardinal had the ball and return to the coaches box by the time Oregon got the ball back.
There's a difference between hurrying and impatience and, in football, it can be a fine line. Against the Illini in the second half, NU responded to Bret Bielema's game of keep-away with impatience.
Nebraska's first drive of the third quarter went like this: Incomplete pass; called pass that ended with junior quarterback Adrian Martinez scrambling; another scramble from Martinez that was negated by a Brant Banks hold; seven-yard sack of Martinez on third-and-13 back to the NU 10. Punt. Three plays, minus-10 yards, 1:41.
Illinois, which ran the ball 10 times on its 14-play march to open the half, smelled blood in the water and got a perfect throw from Artur Sitkowski for 45 yards to Deuce Span to set up a touchdown that put Illinois up 30-9 with now 19:01 remaining in the game.
Illinois certainly did impose its will against Nebraska in the middle of the game, but the Huskers also went 21 offensive snaps from the 10:54 mark of the second quarter to the final minute of the third quarter between carries for a running back.
NU didn't get the type of movement it expected to early on in the game — Frost said Nebraska "guessed wrong" about what kind of looks they were going to get from the first-year Illinois defensive staff — and junior tight end Austin Allen said, "We prepared for odd, they gave us even. We've just got to adjust more and our adjustment period took a little bit longer than we would have liked today."
On Nebraska's 19-play touchdown drive in the fourth quarter, the Huskers did mix in the run more. Overall, though, statistics can be deceiving. NU ran 71 plays on Saturday and the box score shows 39 rushes and 32 pass attempts. Right about the kind of split that looks good in a Big Ten West game.
Factor in five sacks and, by the Journal Star's count, eight designed passes that Martinez scrambled on, and suddenly you've got 26 rushing plays and 45 drop backs.
Of those 26 rushing plays, Martinez got three early designed runs — including a couple of effective counters to try to keep Illinois' linebackers honest — and kept a couple on plays that looked like zone read. NU's running backs combined for 19 carries and 54 yards.
"Bottom line is we've got to run the ball better early and then when once we got behind," Frost said. "We weren't able to commit to it as much."
They chose not to, at least.
Offense in its own way
The two personal fouls on the same play against Caleb Tannor will draw a lot of the conversation, and it was a clear turning point, but Nebraska made a cascade of errors that spanned its personnel offensively.
After two punts and a touchdown drive during the sort of feel-out, early portion of the game, Nebraska had eight offensive series before its last-ditch, last-minute turnover on downs.
Drive 1: Martinez missed a wide-open Wyatt Liewer in the end zone to his left for a sure touchdown and NU settled for a field goal.
Drive 2: Junior back Markese Stepp — working on the left edge with LT Turner Corcoran — missed a blitz pickup off the edge and Martinez was sacked on second-and-10. Punt.
Drive 3: With good field position (own 39) in the final minute of the half, Martinez missed Hickman — again to Martinez's left — wide open on a crosser. Hickman isn't a burner, but it was 20 yards minimum. Maybe double that. Two plays later, Martinez was sacked, fumbled and Illinois's Calvin Hart returned it for a touchdown. Oh, what could have been if the first-down play converts. Hart, a North Carolina State transfer, is a load. He gave Nebraska all kinds of problems before going down with an injury in the fourth quarter. 
Drive 4: Hard to explain why Nebraska snapped the ball with 1 second left in the first half after handing it off on the first play. The Fox halftime show summed it up succinctly.
Reggie Bush: "Don't hike the football. What's the point? I don't understand, how does that help you in that situation, that scenario right there? Adrian Martinez is already walking on egg shells probably because he just turned it over. Just got hit again."
Rob Stone: "Another example of poor execution and performance by Nebraska in the first half."
Drive 5: Nebraska opens the third quarter with two incompletions, a hold by Brant Banks and a sack. Punt.
Drive 6: Martinez goes 75 for a touchdown on the first play.
Drive 7: NU gets 36 yards but doesn't score, in part thanks to an offensive pass interference on Oliver Martin, a hold on Cam Jurgens, left guard Ethan Piper getting beat for a sack and then a ball on third-and-16 that Martin should have perhaps caught to set up fourth-and-manageable. Punt.
Drive 8: NU overcomes a minus-14 on a bad snap by Jurgens to score a touchdown on a 19-play drive.
In eight drives, Nebraska had at least one major execution error on seven and only overcame them in one instance to put points on the board.
Personnel notes
* Banks started at left tackle, but split drives roughly evenly with freshman Corcoran, who was limited in camp with some sort of injury issue that offensive line coach Greg Austin deemed minor. Corcoran played the majority of second-half snaps.
* The only rotating secondary coach Travis Fisher really did was to get Myles Farmer a few series at safety. Quinton Newsome played the whole way at corner for NU. Tyreke Johnson didn't appear to get a snap defensively or on special teams.
* Nick Henrich and Luke Reimer started at inside linebacker and played the majority of snaps. They were joined by Chris Kolarevic in the rotation — who played less — but Ruud didn't go deeper than his top three.
* NU played a lot of its four-man defensive front and appears to like its personnel better that way, though that could change a little once defensive lineman Casey Rogers is back in action. The outside linebacking trio of Garrett Nelson, Tannor and Pheldarius Payne gave Erik Chinander and company enough at the line of scrimmage that the Huskers didn't have to go much past a four-man defensive line rotation (Ty Robinson, Ben Stille, Damion Daniels and Deontre Thomas). DT Jordon Riley picked up a few stray snaps.
* Connor Culp had a no-good, very bad day kicking. The reigning Big Ten kicker of the year pushed his first extra point attempt to the right — a tendency he talked about working to break last year — and then almost did it again on Nebraska's second touchdown drive late in the third quarter. On the third attempt, he appeared to over-correct and hooked the ball left.
Recap Week 0 with the Journal Star crew. Here's all of our Huskers content, in one spot
Analysis, commentary, photos, videos — it's all here. Here's your one click for the Journal Star's output from a trip to Champaign, Ill.