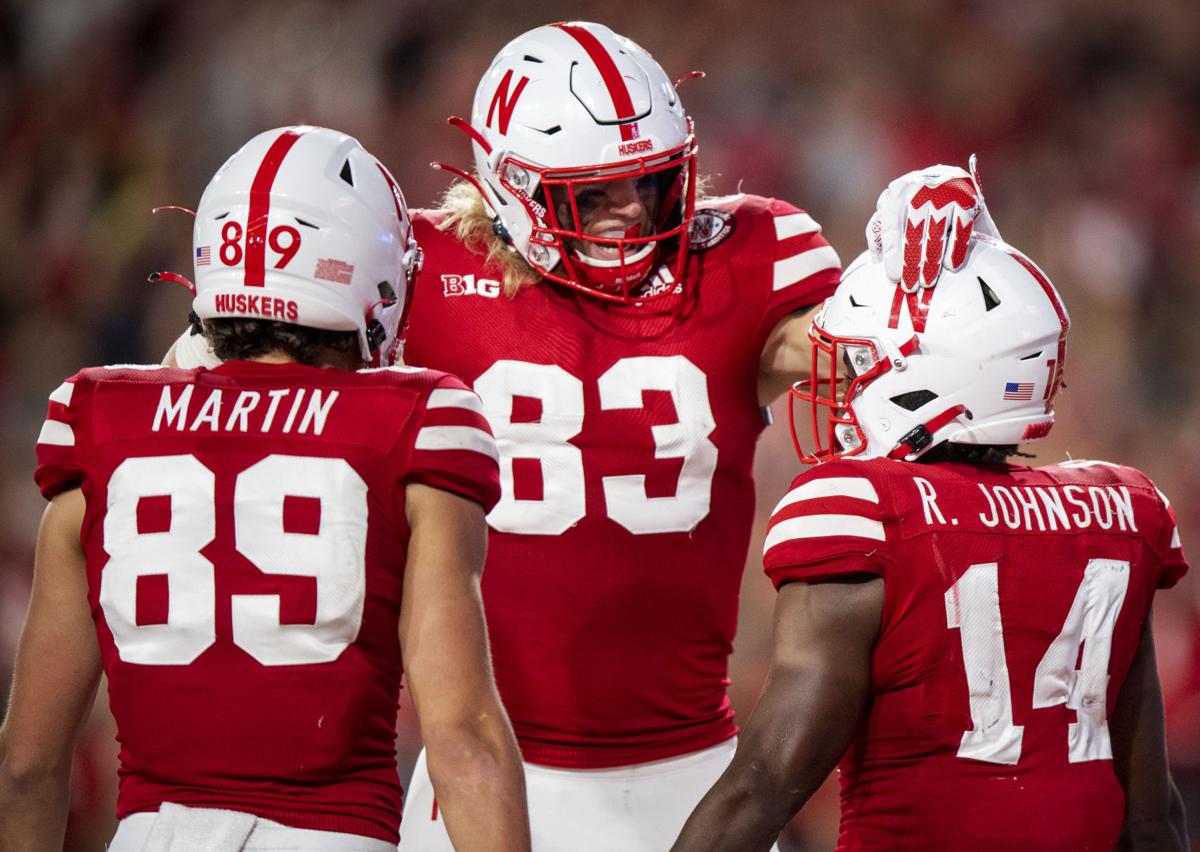 To distill Nebraska's night offensively against Michigan, take the first four offensive snaps.
The Huskers began the night with a beauty of a screen that included orbit motion from receiver Samori Toure and looked like their triple-option package. They leaked Rahmir Johnson out to the left and he rolled down the sideline for 43 yards behind a convoy of Matt Sichterman, Cam Jurgens and Teddy Prochazka.
On the next three snaps, Johnson ran the ball between the tackles for 4 yards, 0 and 0.
The wrinkles, derivatives and creative stuff? Nebraska made a lot of hay. The base package? Much tougher sledding. That's a generalization, of course, but head coach Scott Frost spoke to the sentiment after the game when asked what changed in the second half when the Huskers reeled off four touchdown drives in their first five series.
"We needed to be running a little bit of the 'answers' to our option plays because the base stuff, they weren't giving us the pull and the ability for Adrian to get on the perimeter," Frost said. "So, we had to kind of manufacture that, popped a few things in the run game. Thought there was a great job by (offensive coordinator Matt) Lubick scheming a couple things up that gave us big plays."
The good news for Nebraska looking ahead to its final five games is that the offense appears to have more answers now than it did at the beginning of the season. The proliferation of the option package and what the Huskers have been able to build out of it — along with the emergence of Johnson at running back and the playmaking ability of NU's receivers and tight ends — should make them a handful for the remaining five teams on the schedule.
Martinez's touchdown pass to Austin Allen to open the third quarter was just good old-fashioned play-action, but UM's linebackers wouldn't likely have bit so hard if the Huskers hadn't stayed committed to running the ball in the first half.
The touchdown passes to Johnson and Levi Falck, like the opening screen pass, each came on derivatives of NU's option looks and motions. Even Martinez's fourth-quarter touchdown drive was a slick design. Both Allen and Travis Vokolek, stacked to the left of the formation, both released outside, dragging two Wolverine defenders with them. That put UM star defensive end Aidan Hutchinson on a big island with a decision to make between Martinez and Johnson in the read game. Martinez pulled the ball and scored easily.
Nebraska is going to face several talented defenses down the stretch. In terms of total defense, Wisconsin is first, Iowa is second and Minnesota is fourth. They are the top three rushing defenses in the conference, too, as UW allows 41.1 yards per game, UM 77 and Iowa 90.5.
After Nebraska's past two games, one against a bad defense and one against a good one, Frost's team looks better equipped to cause headaches for those groups than it did earlier in the fall.
Notes
Third-down killers: Michigan is a big, physical offense with a rugged run game that was going to give the Blackshirts a handful on Saturday night. Erik Chinander's crew won't be satisfied with having allowed 204 on the ground or 459 over 81 snaps. What will really stick, though, is Michigan's third-down conversions. On the night, UM converted a modest 6-of-15, but nearly every one of them was pivotal. Three times, Cade McNamara hit his tight ends over the middle for gains of 24 (Luke Schoonmaker), 14 (Erik All) and 12 (All). Those came with 10, 8 and 9 yards to go and the final two were in the fourth quarter. Those two fourth-quarter drive-extenders preceded a touchdown and a field goal. Blake Corum also got 26 on a draw right up the gut on third-and-10 in the second quarter. That also preceded a touchdown. 
So, Nebraska's defense won nine of 15 third downs, but Michigan picked up third downs of eight, nine and 10 on drives that led to 17 points. 
Martinez brilliant, then not: The Martinez fumble was well-covered Saturday night. On review, Martinez looks like he's still trying to churn his legs for yardage. Could it have been blown dead? Certainly, and officiating crews often are quicker to the whistle in that scenario with a quarterback running than a running back. Even still, it's on Martinez to not give up the ball in a scrum like that under any circumstance.
When Martinez completed a 7-yarder to Falck two plays earlier, he was 11-of-12 for 172 yards and three touchdowns in the second half plus key first-down runs of 20 and seven and the five-yard touchdown run. The junior played brilliant football until the one big mistake.
He'll want a throw on NU's final drive back, too.
Late pressure: When the rubber met the road on Nebraska's final drive, Michigan defensive coordinator Mike McDonald brought pressure. He got Dax Hill as a free runner at Martinez on a second-and-10 five-man pressure where Martinez had Falck wide open with room to run. Martinez overthrew the senior, who might have put NU in field goal range.
Then on fourth-and-10, McDonald brought the house. He sent seven at Martinez and left his four defensive backs one-on-one against Nebraska's three receivers plus senior tight end Austin Allen. Martinez tried Toure up the sideline against Hill, but the former five-star recruit had good coverage and the ball was too far inside for Toure to really make a play on it.
Consistency matters at RB: Johnson played the best game of his Nebraska career to date, finishing with 172 total offensive yards (including a career-best 105 receiving on six catches) and a touchdown. He ran hard between the tackles — no easy task on this night at his size and against that Michigan defense — and showed his speed consistently.
The other thing about Johnson: He's consistent. Last year, he didn't play much and running backs coach Ryan Held said it was because he lacked consistency. NU's had issues in that department this year, too, with Markese Stepp and, on Saturday night, with Jaquez Yant. The freshman is a bulldozer, but if you want to know why he wasn't in the game in critical situations including short-yardage, late in the game, a couple of plays will tell you why. He missed a pass protection in the first half and, in the third quarter, went the wrong way on a second-and-2 snap. That led to Nebraska's lone punt on its first five drives of the second half.
"We had a second-and-1 in our territory in the third quarter and our back went the wrong way. I think we would have picked it up," Frost said. "Then we didn't get it on third. That was a big play."
Big question on Prochazka going forward: After the game, freshman left tackle Teddy Prochazka made his way, in street clothes, across the field to the locker room on walking crutches with a wrap over his left knee. Frost said after the game that he didn't have any update on Prochazka's status. If it's a serious injury, the head coach will likely confirm it on Monday. That would be a big blow not only to the Huskers, but to the freshman from Elkhorn South, whose rapid rise to the top of the depth chart has been one of the season's most compelling storylines so far.
Bryce Benhart stepped in and played the rest of the way and mostly held up OK against the athletic Michigan front. UM got pressure, including against him, on the night, but there wasn't a noticeable drop-off in play and, not only that, but he was on the field for all four of NU's scoring drives in the second half.
He got put in a tough spot on his first snap of the night when David Ojabo rushed from far off NU's right edge. Martinez stepped up well into the pocket because of Aidan Hutchinson's pressure around left tackle Turner Corcoran and Ojabo was able to undercut Benhart. Odd look, and not a pass-set that a tackle is used to. The shame of it, for Nebraska? Samori Toure came open over the middle of the field and might have scored had Martinez had just a little extra time.
Disconcerting signals: The delay of game penalty called against NU sophomore linebacker Luke Reimer for "disconcerting signals" – meaning he mimicked the offense's cadence, resulting in a Michigan offensive lineman moving before the snap — was actually set up earlier in the game.
On a previous Michigan false start, NU defensive lineman Ben Stille clapped to get Damion Daniels' attention up front and the Wolverines wanted the penalty called on Stille. It didn't go that way, but they got the call the next time. Reimer, a good 5 yards off the line of scrimmage, looked to fellow linebacker Chris Kolarevic and clapped to get his attention. A UM lineman flinched, but the umpire immediately threw the flag at Reimer's feet. Here's betting the Michigan sideline told the crew to watch for Nebraska defenders clapping after the first instance and the crew obliged.
Przystup answers the bell: Punter William Przystup had one bad punt Saturday night (a 32-yarder that didn't even make it inside the UM 20), but otherwise hit three really good ones. He only netted 30 on a 50-yarder that trickled into the end zone, but the gunners should have downed it. Hard to blame the punter on that one. The coverage, particularly from freshman CB Marques Buford was much better on Przystup's other two punts, which traveled 53 and 55 yards and led to returns of minus-5 and minus-3. 
Buford made a great stop on UM's talented punt returner A.J. Henning on the first and then reserve DB Phalen Sanford nearly came up with a Henning fumble on the second. He appeared to have his hands around the ball at the bottom of the pile, but a Michigan player got enough of it for the officials to rule it as "joint possession." The rare "tie" goes to the receiving team. Big break, too, as NU would have taken over at the UM 9-yard line early in the third quarter and instead the Wolverines went 91 yards over 10 plays for a touchdown. 
Disconcerting signals and joint possession on the same night. You never know what college football is going to throw you.