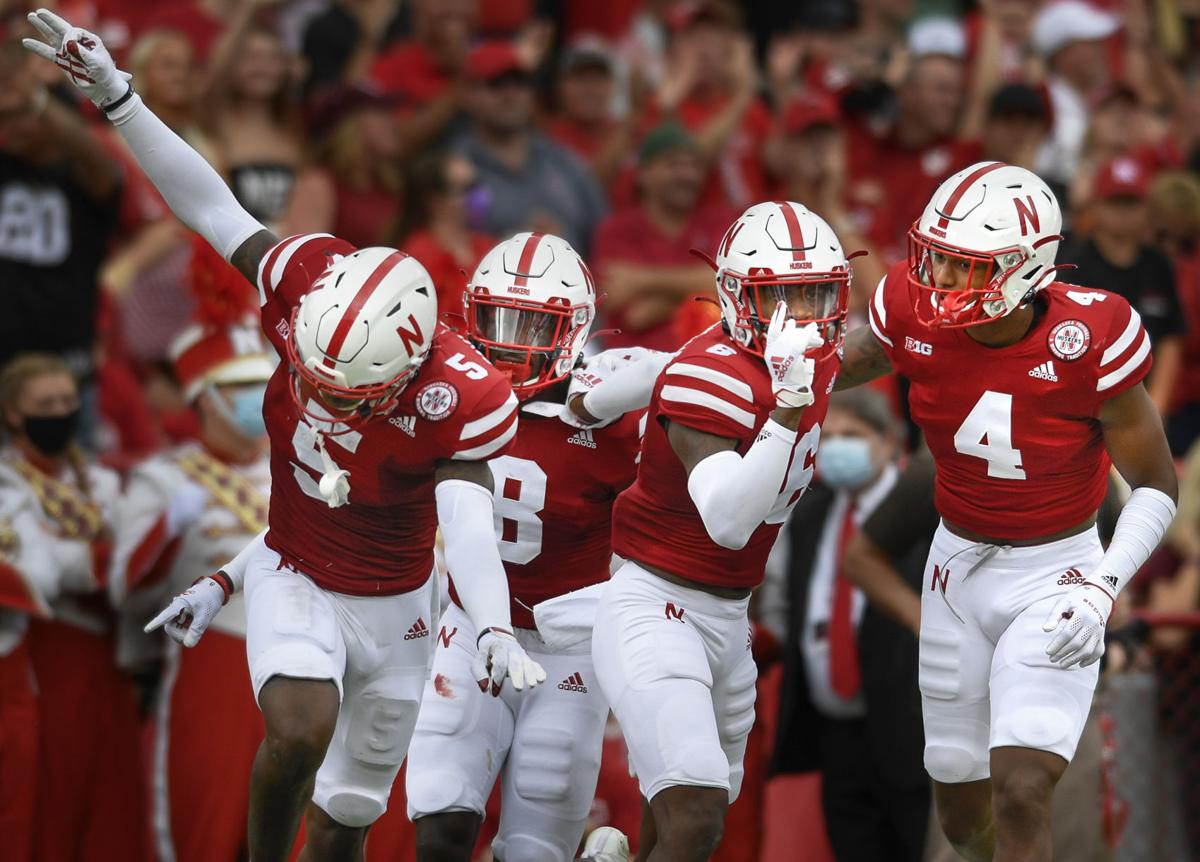 Nobody is going to claim that a lopsided victory over an FCS team — albeit a game one in Fordham and despite the feel-good nature of fans returning to Memorial Stadium for the first time in 21 months — is the cure for all of Nebraska's ills.
If you wanted to take the glass-half-empty approach, you could wonder if Texas-San Antonio waltzing into Champaign, Illinois, on Saturday night and ripping the Illini for 495 yards, 37 points and a win one week after NU accomplished none of those things is as illustrative of where the Huskers stand coming out of Labor Day weekend as anything that happened in Lincoln.
If you'd rather look at the glass as being halfway home rather than halfway gone, you're looking at a 52-7 victory for Scott Frost's team as one step toward what it wants to be, rather than what it is right at this moment.
Asked if he thought Saturday represented progress, Frost responded, "I would say so. We won a game. I thought we did a lot of really good things."
The question, which may well need answering against Buffalo or Oklahoma but may not truly be put under the microscope until the Huskers take the field at Michigan State on Sept. 26, is whether Nebraska can bottle up the good stuff that happened on Saturday and use it when the rubber really hits the road.
The Blackshirts? They were shaky early against the Rams, who spread them out, counted numbers and picked their spots — particular working against No. 2 cornerback Quinton Newsome early in the game.
Can Nebraska bottle the adjustments it made in the second half, when the defense allowed not a single first down in Fordham's first six possessions until the waning moments of the game.
The offensive line? Adrian Martinez said he and his guys got after each other a bit early in the game, and with good reason. A third-and-2 pressure clean through the left side was just one example of a rocky start that was part of the reason for NU punting twice in its first three possessions.
Can Nebraska bottle the feeling of leaning on an opponent and dominating as the game went on? The Husker offensive line, to its credit, did exactly that. Future opponents will have more in the tank than Fordham did, but NU players — and, just as importantly, coaches — have to believe they can impose their will again as the competition level ramps up.
The quarterback? He missed a couple of throws early — an airmail to Samori Toure in the flat and a ball thrown with a little too much heat down the field to Wyatt Liewer for a potential touchdown — and at times looked like he was expecting pressure even when he didn't get it.
Can he bottle the calmness he said he found during the game? Once the pass protection settled in, Martinez looked like he trusted the pockets created by his line and his backs, and he diced up the Rams down the field, including six completions of 23 yards or more.
"(Quarterbacks coach Mario Verduzco) does a great job of mixing in different drills during the week, and one of those things is moving within the pocket and finding space to throw the ball," Martinez said. "It's a fine line, knowing when to take off and knowing when to maneuver and make a throw downfield." 
Under ideal circumstances, paying Fordham $500,000 to come to Lincoln has immediate, intermediate and long-range benefits for Nebraska.
On Saturday, the Huskers got the immediate: a win and a ton of players on the field.
In the long run, that experience for backups and young guys can pay developmental dividends.
The intermediate, in this case, is maybe the most interesting. Frost has talked about momentum and "wind under the wings" for quite a while. Nebraska in 2020 didn't handle success well when it found a little bit. Whether it's Saturday against Buffalo, Sept. 26 against Michigan State or sometime else this fall, the real benefit of beating up Fordham will be realized or lost by what Nebraska does with the dopamine and all that good teaching tape.
"We had such a good camp and going into that first game, we had high hopes," Frost said. "And I think that the kids really believe how much progress they've made and how much better of a team they are. Then Game 1 didn't go the way we wanted it to, but that doesn't change the progress that we've made."
Notes 
* Nebraska had success running the option and it paints a picture of how much the Huskers can do with Martinez in the designed run game.
One question, of course, is how much should Nebraska responsibly subject Martinez to in terms of hits.
Three times he pitched the ball to Toure for a total of 35 yards and a touchdown. The pair kept a really nice pitch relationship and Toure, a receiver his whole career, looks comfortable doing it. Martinez did take a big shot on the final one, which Toure took 8 yards for a touchdown.
"I don't want to get too into the weeds with that, but I will say that coaches are looking for a specific look and it is traditional, in a sense, (like) some options we've ran in the past," Martinez said. 
Smothers got a nice gain out of a similar look, too, though he fumbled at the end of a 15-yard pickup.
Two weeks in a row, Nebraska's had effective designed runs for Martinez. They countered some of Illinois' aggressiveness early with a pair of counters and showed the option look, too.
They are more wrinkles than staples at this point, but it will be interesting to see how the usage looks going forward.
* Here are some numbers on Nebraska's quarterback run game:
The Huskers had more success protecting Martinez and getting open down the field, and the numbers reflect it in Martinez's rushing stats.
Based on Journal Star numbers, Martinez's rushing production against Illinois looked like this: Five designed run plays for 13 yards, five sacks for minus-35 and seven scrambles on designed passes for 133, including his 75-yard touchdown.
Against Fordham: Four designed run plays for 22, one sack for minus-2, the fumble credited to Martinez on the second play of the game (minus-10) and just two scrambles for 23 yards.
Through two games, Martinez has 144 net rushing yards on 25 carries. That looks like this: Nine carries for 156 scrambling and nine for 35 on run calls before the negative yardage for sacks and the fumble.
Sack-adjusted rushing through two games for Martinez: 19 carries for 181 (9.53 per attempt).
* Just to give an idea of how many players got on the field, here are a couple of defensive front lines from the final drives for the Huskers:
First, Jordon Riley and Nash Hutmacher played inside with Jimari Butler and Tate Wildeman as the outside linebackers. Then, Blaise Gunnerson got in on the action at outside linebacker on Fordham's final drive, with freshmen Ru'Quan Buckley and Jailen Weaver in the game up front.
Wildeman dealt with injuries for much of his first three seasons at Nebraska and played in just his third career game.
* One week after starting at left tackle, redshirt freshman Brant Banks played only guard and only in the second half for the Huskers. He's worked both sides — primarily right guard with Matt Sichterman through the spring — but played left guard down the stretch against Fordham. Perhaps NU wants to see if he can push Ethan Piper for that spot if Piper's inconsistent play continues. To Piper's credit, he settled in after a shaky start and played much better.
* That made freshman Teddy Prochazka the second man in at left tackle. Now, the real test would be who plays that spot if Turner Corcoran were to go down with an injury. The Huskers really like what they have in the 6-foot-9 freshman from Elkhorn South, however. Those game reps, like they are for all young players, could prove extremely useful for Prochazka down the line.