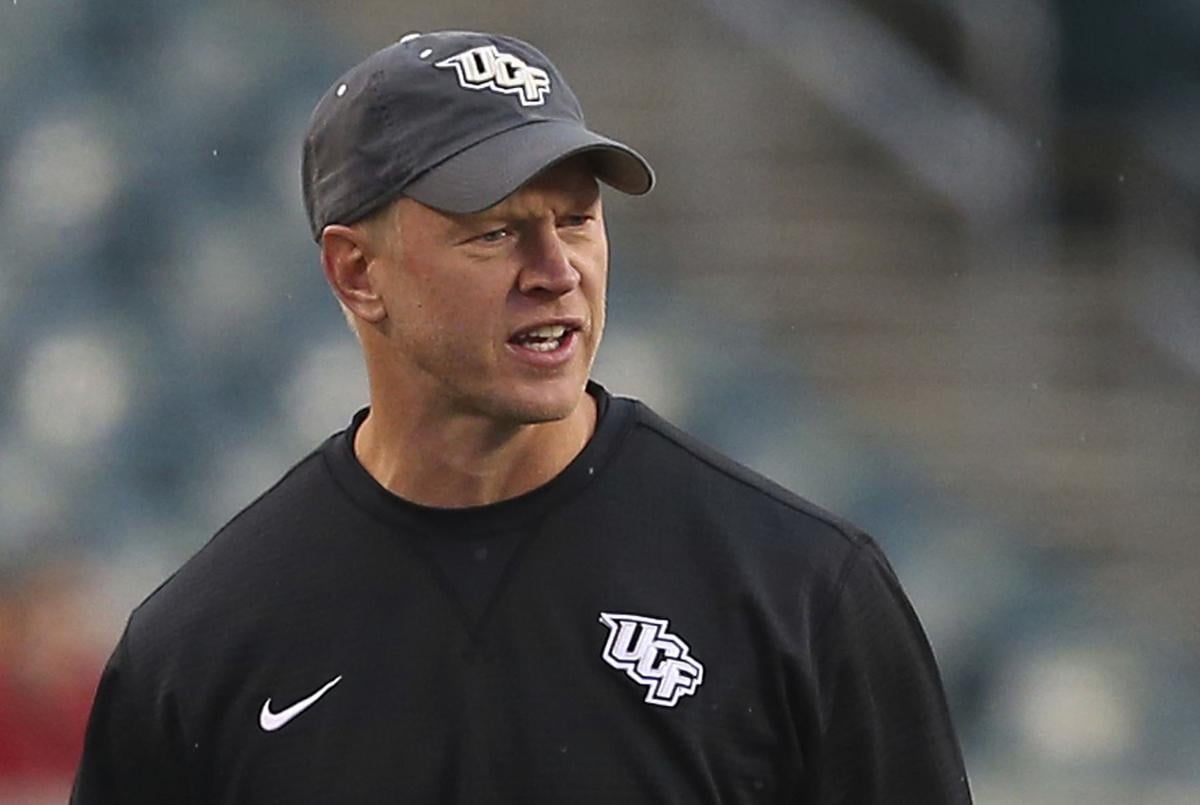 Central Florida celebrated an impressive 49-15 victory against Temple on Saturday in Philadelphia.
Afterward, coach Scott Frost was asked about reports of a deal already in the works to become Nebraska's next head football coach.
"That's just totally false," Frost told reporters. "I haven't paid any attention to all of these whirlwind rumors and everything and I'm not going to. I got an unbelievable team I'm coaching and I can promise you that no decision has been made."
Scott Frost on Nebraska coaching rumor: It's totally false.

— Shannon Green (@osknights) November 18, 2017
Frost's UCF team is 10-0 and one victory from reaching the American Athletic Conference Championship Game. The Knights were 0-12 two seasons ago.
On Friday night, Lars Anderson of Bleacher Report tweeted that a seven-year, $35 million deal between Nebraska and Frost is "close."
Anderson defended his reporting Saturday.
So this about Nebraska coaching situation: I'm from Lincoln. I'm also a writer. I know how to fly close to the sun of NU decision makers.

— Lars Anderson (@LarsAnderson71) November 18, 2017
Frost has been the most prominent name attached to the current coaching situation at Nebraska. The Huskers are 4-7 under Mike Riley.
Many Nebraska fans have made it known they want to see Frost, a Wood River native, return to lead the program.
There were Nebraska fans at the Temple game, sitting right next to the UCF tunnel that led to the field, with signs that read, "Scott Come Back Home." Not to be outdone, another group of Tennessee fans had signs that read, "We Found Our Coach" and "There's Frost In Our Forecast."
The No. 15 Knights (10-0, 7-0 AAC) turned three Temple turnovers inside the Owls' 25-yard line into 17 first-half points, taking a 31-10 lead when Gabriel Davis stretched across the goal line for a 5-yard touchdown reception with 2:36 left in the second quarter.
Tre'Quan Smith, who had a remarkable one-handed catch, tippy-toeing the sideline to set up a touchdown in the first half, said the coaches were stressing all week that they had to play without long sleeves. So the receivers took it a step further, warming up before the game with their shirts off.
Be the first to know
Get local news delivered to your inbox!