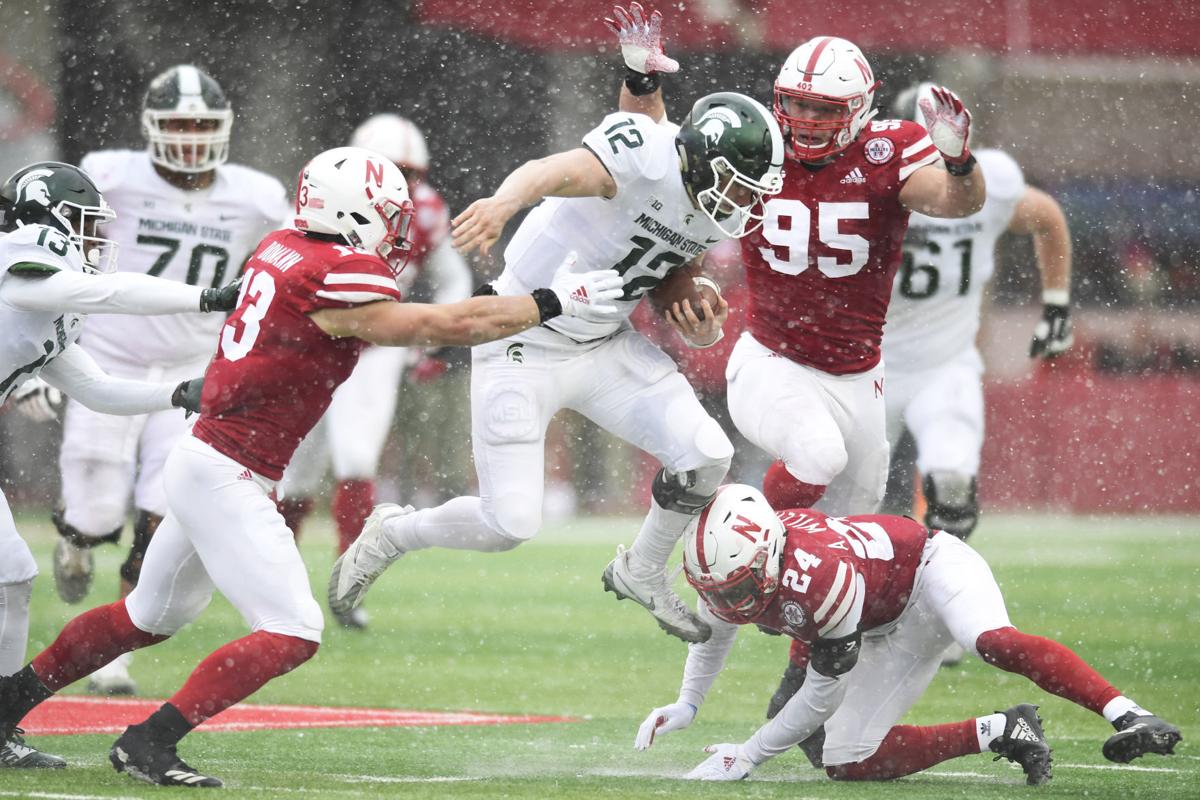 Jahkeem Green makes a good first impression physically. 
The junior college defensive lineman arrived in Lincoln on Sunday and signed his tender, officially becoming a member of the Nebraska football team in the process. He hasn't been cleared for practice as of Tuesday at about 11 a.m. — that process involves passing medical and conditioning testing — but he's already getting to know some of his teammates. 
"That's a big dude. A big, stout dude," senior inside linebacker Mohamed Barry said. "I'm going to call him The Triplet. He's like another Davis twin. He's a good dude."
Green played the past two years at Highland (Kansas) Community College and is originally from Sumter, South Carolina. He likely would have ended up in the SEC if not for a quirky academic rule that prevented him from qualifying academically in that league. 
Now officially part of the NU program, Tuesday was the first day coaches and teammates could talk publicly about the 6-foot-5, 300-plus pounder. 
"I'm sure he'll challenge for a starting role," defensive coordinator Erik Chinander said. "Just because he got here late doesn't mean he can't be in that thing. He's got to earn it, just like everybody does. But he's definitely depth, definitely an inside guy that gives us some pass rush and some help against the run, I think, is where his value's at." 
Green could potentially be added to the 110-man camp roster on Wednesday, but it could also take slightly longer than that to get all of the clearances needed to start practicing. Once he does, the Huskers have a plan for how to get him up to speed. 
"Once he can get with us we're going to try and use as much time as we can," defensive line coach Tony Tuioti said. "Obviously right now it's to our advantage because we're not restricted by the 20-hour rule, so this is a great opportunity for him to try and catch up as much as he can and close the gap on the guys. The first thing is to get himself in shape, but then he's got to learn the playbook and the technique. He's got a lot of work to do to catch up. There is a lot of practices that he's missed.
"But we've got everything in place to try and help him close the gap so he can help us, because he's definitely big and he's athletic. He's someone we can definitely use."
Blackshirts benefit from scrimmage: Nebraska is a 4-8 football team until the Huskers prove they aren't.
That's the message NU defensive coordinator Erik Chinander is trying to drive into his players as fall camp rolls on. And that was a big part of the value in Sunday's scrimmage that matched 1s against 1s, 2s against 2s, etc.
"I'm trying to instill in them, we're 4-8 until we prove differently. So you guys better play with a chip on your shoulder and we better not come out flat," Chinander said Tuesday. "Because until we win on October 31 or September 7 or whenever the games are, we're still a 4-8 football team and that's what everyone perceives you as right now and it's up to us to prove them wrong."
The Blackshirts took a shot early Sunday, as Adrian Martinez and the top offensive unit delivered the opening blow. But, things got better. That's a good step for a unit that finished 88th nationally last season in points allowed.
"The overall theme for the defense was, when we had busts, assignment errors, communication errors, the offense was very productive. When we were all on the same page we were pretty salty," Chinander said. "I thought the first group tackled well, second and third groups need to get a little better. I thought we were physical when we needed to be."
You have free articles remaining.
Nebraska may never be a lock-down defensive unit. The way the Huskers want to play simply won't allow it most days. But what NU can do is adjust when things start to go sideways, and that trait appears to be coming out this August.
OLB updates: Junior outside linebacker JoJo Domann has rejoined the team after taking more time in the offseason to recover from an undisclosed injury.
He returned to practice Friday, and was there for his fourth practice on Tuesday morning. Outside linebackers coach Jovan Dewitt said Domann is doing well. Domann will add a lot to the position when he's able to return to full practice, DeWitt said.
"He adds a huge dimension to us defensively in terms of we don't have to change very many personnel groupings to get in and out of different types of defenses," Dewitt said. "So he's a little versatile at outside backer with his (defensive back) background. And he's gained the weight that you want a linebacker to be at. He's no longer a DB playing linebacker. He's become more of a true linebacker for us, so that's been really good."
Outside linebacker Alex Davis has also missed practice time, which has allowed for younger players such as true freshman Garrett Nelson from Scottsbluff to get more playing time in practice.
"He's done really well," said Dewitt of Nelson. "He's such a physical kid by nature, and I think it really plays into his strengths. Does he make some mistakes? For sure. I don't see him just flat-out getting beat quite a bit. I'm excited about his tenacity for getting to the football combined with the physical nature he plays has really worked out well for us, and for him."
Henrich likely out for preseason: Nebraska freshman inside linebacker Nick Henrich is unlikely to participate during preseason camp, according to his position coach, but is still expected to play — perhaps extensively — this fall.
The Omaha Burke standout had shoulder surgery during spring ball and has made progress in the months since, but likely will not be added to the 110-man camp roster.
"We won't get him for camp, I'm pretty sure of that," inside linebackers coach Barrett Ruud said. "He'll be back this season for sure, it just depends on how that shoulder goes and how strong he gets."
Ruud said recently that Henrich looked like a player ready for an extensive role before his injury and the staff remains very high on him. Assuming he isn't added to the camp roster, the 6-4, 220-pounder can be present at meetings and practice when classes start Aug. 26.
"We're going to be smart with him, too," Ruud said. "Coming off a shoulder surgery, we're not going to do anything that would jeopardize his rehab. He's got a big future here and we're going to make sure we're smart about it this year."
Thompkins added to camp roster: Freshman running back Ronald Thompkins (knee) has been added to NU's camp roster, a school spokesman confirmed to the Journal Star on Tuesday
Thompkins, a 6-foot, 195-pound back from Grayson, Georgia, was eased into college work after he tore the ACL in his left knee at the beginning of his senior season and suffered an ACL tear in his right knee halfway through his junior year.
On Tuesday, he was seen coming off the practice field with no pads on and sporting a green noncontact jersey. Players must go through two days with no pads on and two days in shells before they can participate in fully padded practices.
The following players also were seen with no pads or not in uniform: senior outside linebacker Alex Davis, freshman safety Myles Farmer and sophomore defensive lineman Chris Walker.