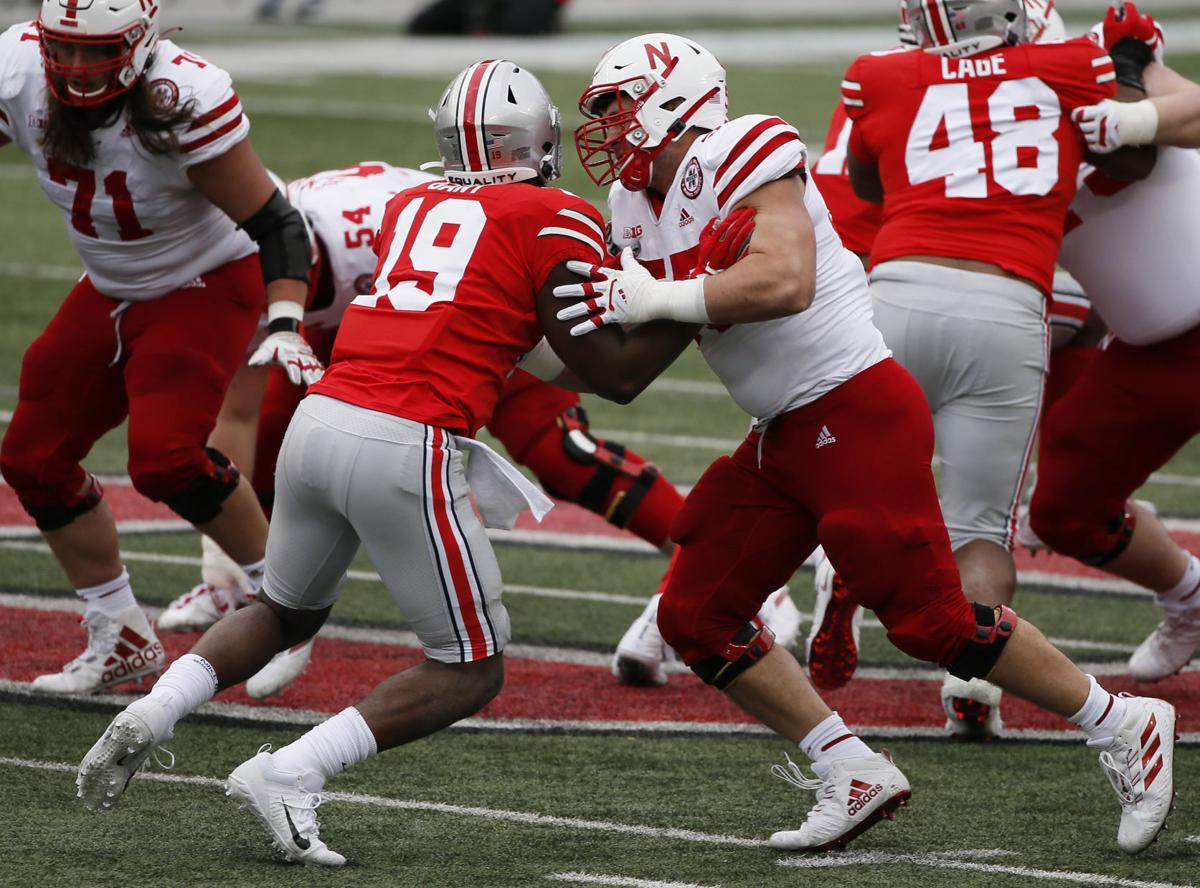 The general consensus coming out of the Ohio State game was that Nebraska's rotation of senior Boe Wilson and redshirt freshman Ethan Piper at left guard was an effective one.
The man who coaches both players agreed, saying the two would continue to share time at the position in the Northwestern game.
It's a situation that benefits both, offensive line coach Greg Austin said.
"We've got some young promising guys, and we've got some guys that have a lot of snaps under their belt, and it's all in an effort to continue to evolve the young guys, but then also keep the old guys healthy," Austin explained. "And that's what you saw with Boe and Ethan Piper a couple Saturdays ago with the rotation of those guys.
"So that's our intention is to continue to filter in the young guys that have a lot of promise to them and can do the job, and get those guys some live game reps, because we have a lot of confidence in them, as we do the old guys as well."
Wilson is a known commodity, having started 22 consecutive games. The Ohio State game marked his first career start at left guard after spending the 21 previous starts at right guard.
Piper came to Nebraska from Norfolk as a defensive lineman and quickly made the move to the other side of the ball.
"He's an athlete. And that's what we try to recruit here at Nebraska. We want to recruit big athletes," Austin said. "Obviously a local Nebraska kid, big hands, strong kid, good body leverage. Piper is another guy that is a really good player that's going to be one of the best in the conference and the country here soon.
"I can't say enough about the athlete the kid is. He's an aware kid, he's continuing to elevate his football knowledge and his football instincts, etc., and all those things come with snaps."
Run game responsibilities: The Ohio State game marked Austin's first as Nebraska's run game coordinator, a title he added to his résumé in February. Austin's role from past game days with NU didn't change much, he said, but there's still value in the role.
"The flow of the game, as we go throughout the season, there might be a little bit more of an expanded role, but not very much change from seasons past to what we did on Saturday, functionalitywise," Austin said. "Again, the run game coordinator is more of a title than an actual in-game direct responsibility. Certainly, there's an ownership there, but it's making sure that we're keeping the main thing the main thing, that we're not going and straying off to other places in the run game."
Nebraska rushed for 220 yards and averaged 5.8 yards per carry against Ohio State, with Austin's offensive line paving the road.
Improved Northwestern attack: There was really nowhere to go but up, but through two games, Northwestern's offense has indeed shown improvement under new offensive coordinator Mike Bajakian. 
The Wildcats lead the Big Ten in rushing yards per game and total carries while ranking second in time of possessions. Most importantly Northwestern is 2-0 thanks in part to an offensive unit that put Maryland away early and stayed patient against Iowa.
One year after Mick McCall's spread attack produced one of the worst offenses in Division I, Bajakian appears to have the Wildcats trending in a better direction.
"I think it's a good mix of pro-style and college football offense, because they do implement some of the quarterback run game, but then they're going to come back and have two tight ends and try to smash the ball a little bit, and they have a lot of pro-style passes mixed in there with a little under center as well," Nebraska defensive coordinator Erik Chinander said. "I think that Coach Bajakian has done a good job of using the personnel that they have, and getting those guys in the right positions and letting them make the plays that they're able to make, and using their quarterback correctly."
OLBs playing multiple roles: Nebraska's outside linebackers filled dual roles against Ohio State, both as traditional backers in Chinander's 3-4 defense, and as pass rushers out of a three-point stance when the Huskers used different fronts.
Expect that trend to continue, Chinander said, especially as those players get more comfortable in their roles.
"I think that group has done a good job right now of embracing the fact that when we're in base personnel, they're outside backers, and when we're in nickel personnel, they're defensive ends and they still have some dropping responsibilities, but they can put their hand down a lot in the ground," Chinander said. "A lot more four-down spacing, whatever you want to call it — 4-2-5, 4-3 defense. Those guys have embraced that role pretty well. You have to find a way to effectively use your personnel, and the way to effectively use a lot of those guys is some hand in the ground and some standing up."