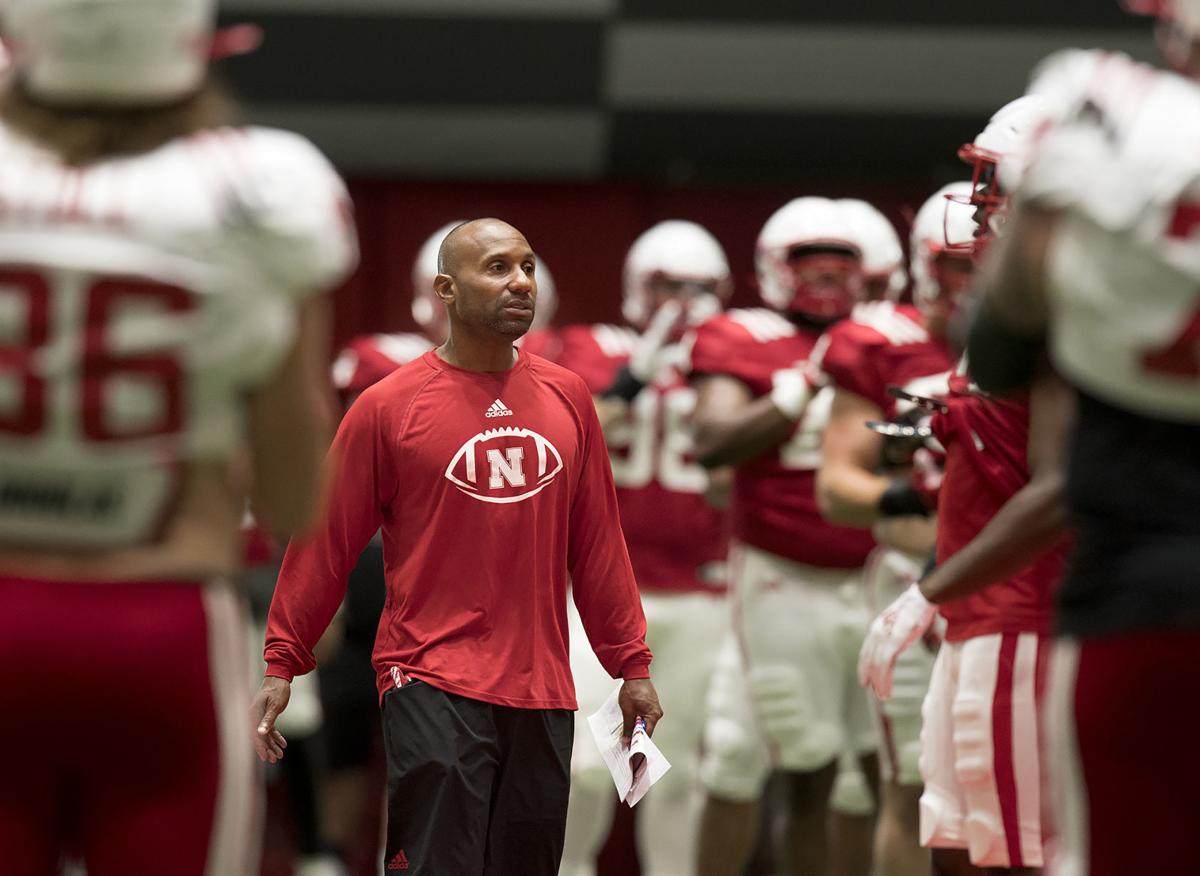 It would be fair if Nebraska coaches and players took some solace in the fact that the Huskers don't have to deal with star Ohio State junior pass rusher Chase Young again this season.
Young, a potential top overall pick in the NFL Draft next April, dominated in Saturday's 48-7 Buckeye win at Memorial Stadium, recording two tackles for loss, a sack and a forced fumble while affecting the offense seemingly at will most of the night.
Offensive coordinator Troy Walters, though, had a quick response for a Wednesday question about the fact that NU might not face another player like him this year.
"Well, we hope to play them again," Walters said of Young and OSU. "We hope to take care of business and get better and win our side and play them in Indianapolis if they make it."
Offensive coordinator Troy Walters talks about the team's wide receiver situation and the Northwestern defense on Oct. 2, 2019.
In order to make that happen, the Huskers will have to find ways to deal with other talented pass-rushers in the Big Ten West like Northwestern's Joe Gaziano, Minnesota's Carter Coughlin, Wisconsin's Zach Baun and Iowa's A.J. Epenesa. Epenesa is widely viewed as a surefire first-round NFL Draft pick and perhaps even in the top half of the first round, but Young seems to be putting himself in his own class.
"He's a tremendous player," Walters said. "We went back and watched the tape and, if we play them again, we're going to have to chip and do some things to neutralize his playmaking ability and make sure he's not disruptive and gets us behind the chains.
"Luckily we don't play him anymore or a guy like him, but hopefully we see them again in Indianapolis."
Keeping RB healthy: Running back Maurice Washington has been battling injuries for parts of the past two games, missing the entire second half against Illinois and seeing limited time in the second half as Ohio State pulled away.
Asked if he has seen any frustration from Washington when it comes to getting dinged up in games, Ryan Held said he couldn't speak for the sophomore, but added that Washington had a good week of practice.
"Obviously, we want to be able to get him to where he can be there when we need him in the fourth quarter," the Huskers' running backs coach said. "Just been kind of some annoying (injuries), but when he's healthy, you can see what he can do."
Washington had four rushes, all in the first half, for 9 yards against the Buckeyes. He caught two passes, including one for 10 yards in the third quarter.
Steve Sipple and Parker Gabriel share insights from Nebraska offensive coaches on wide receivers and Northwestern's defense on Oct. 2, 2019.
You have free articles remaining.
WR Warner re-injured: Walters said Wednesday that sophomore wide receiver Kade Warner aggravated an injury when he made his season debut against the Buckeyes. 
"He's day-to-day," Walters added. "I need for him to get to 100 percent. He's probably a 4.7 guy (40-yard dash time) as it is, so he needs to be 100 percent so he can play as fast as he can and he understands that." 
ABC reported during the game that the injury that kept Warner out from early in camp through the first four games was a fractured foot. 
Reviving the fullback: Held, a former Husker player, knows well the nostalgic feeling that fans have for the fullback position.
The fullback was alive when the Huskers rolled out their I-formation look in the first quarter against Ohio State.
"I'm sure some of the traditionalists looked at it, saw the fullback and were very happy," Held said. "You never know, when we got here everybody thought it was dead and it might have come back from the dead."
Held said it makes sense to have junior Dedrick Mills in the fullback spot. Mills played a similar role during his freshman year at Georgia Tech.
"Wyatt (Mazour) can do it," Held added. "He's really crafty at it."
O-line likes double-wing: One group of players that was very excited about the new wrinkle was the offensive line.
"On the field, everybody was, 'Keep on running it!'" offensive line coach Greg Austin said. "The rest happened, but nevertheless, it was good to see those guys have success with it."
Austin said a new scheme provides another learning curve for the offensive linemen, but it's more of a mindset.
"Techniquewise, you just run through angles, run through shoulders, whereas on the inside zone game you have to make sure you see the blocks, bodies on bodies, moving and adjusting to their moving," Austin said. "That type of offense (I-formation), it's a pin-your-ears-back, attack-type of offense."
Hickman gets his chance: True freshman tight end Chris Hickman (Omaha Burke) is expected to make his collegiate debut Saturday on the kickoff return unit. "He's looked really good this week on his assignments," said tight ends coach Sean Beckton. "Four games has been the plan for him. It just hadn't worked out so far. We wanted to get him in a little earlier in the season."
— Parker Gabriel, Clark Grell and Steven M. Sipple