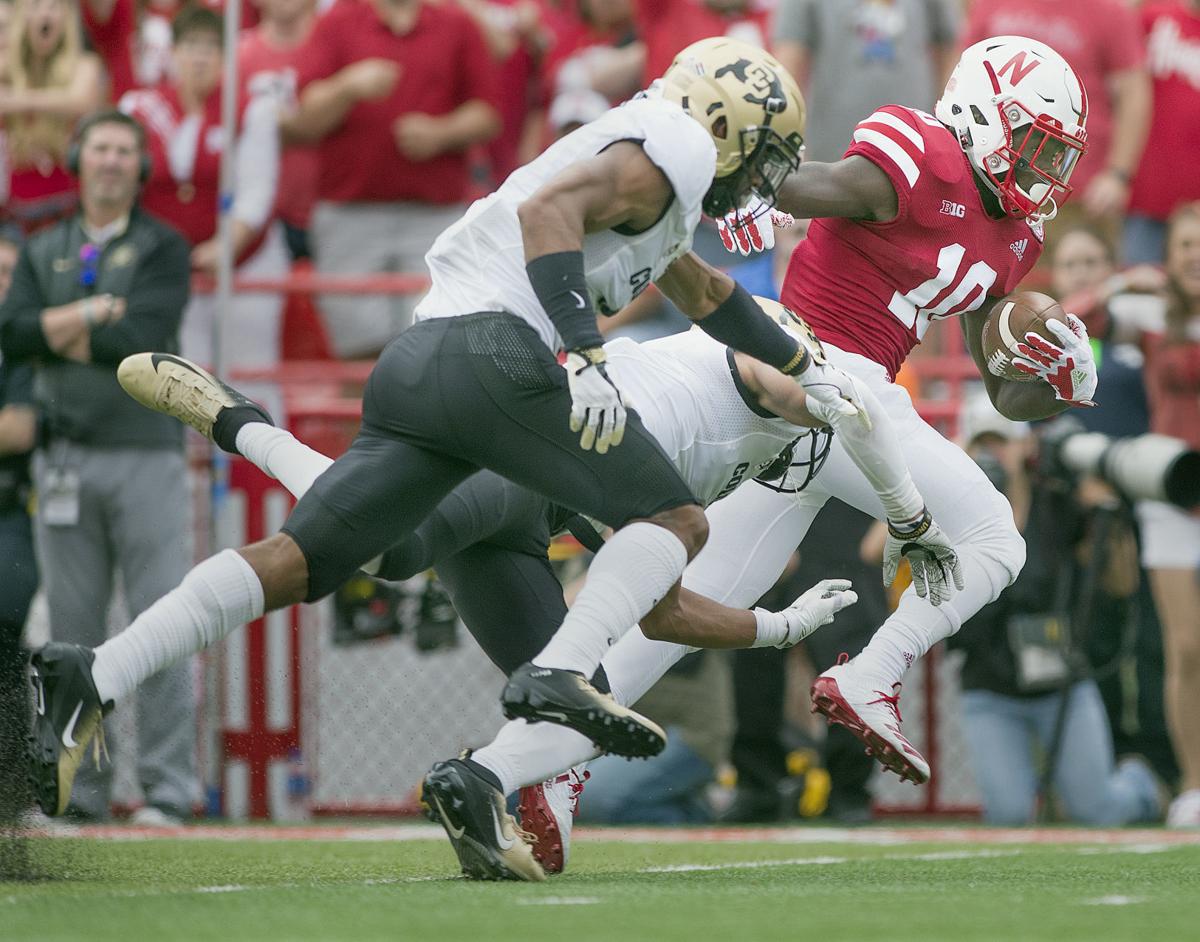 As the Nebraska football team prepares to cross the western border into Colorado for the first time in 10 years, the revival of a long-dormant rivalry will spark up once again after the teams renewed their series last season.
For the most part, those on the red side of things avoided saying much Monday to ignite either fan base.
"It's a target on their head basically," defensive back Cam Taylor-Britt said. "We are going to go out there and play Nebraska football."
Nebraska, of course, is looking for atonement after last season's 33-28 loss in Memorial Stadium. It will be the program's first trip to Boulder since 2009, a 28-20 Nebraska win in both teams' final season in the Big 12 Conference. 
"It's another football game. Week 2. We are playing our rivals I think. It should be a good game," said NU outside linebacker and Colorado Springs native JoJo Domann. "I know there is not a lot of love. Back in the day, both teams were pretty good and competing for championships. I think Nebraska got the better of them, so hopefully we can continue that trend."
Scott Frost played one game in Boulder, quarterbacking Nebraska to a 27-24 win in 1997. He's coached there on the staffs of Kansas State and Oregon. And the Buffs famously ruined his Nebraska coaching debut last season.
"It was a good game last year. I don't think we played real well, so if our players think we should've won, that's how they should feel. I know there's been a lot of really tough games and a heated rivalry between Nebraska and Colorado," Frost said. "I'm not crazy about using (past games) as motivation for our team. We should have motivation enough. I have a lot of respect for a lot of their players who played well on this field last year. They have a new coaching staff that has proven they can do a good job. This year is different, this team is different, their coaching staff is different, their team is different. But anytime Nebraska plays Colorado, there's a little extra juice on both sides."
Williams' status TBD: Nebraska navigated three quarters without junior safety Deontai Williams on Saturday against South Alabama, and it remains a question if the defense will have to do the same this weekend against Colorado's dangerous passing attack.
"Deontai's status is unknown right now," Frost said Monday. "The good thing is we had several guys come in and play well at that position. Cam Taylor(-Britt) played well and is capable of playing that position. We're going to have to wait and see on Deontai.
"I think our better depth this year compared to last year will help us out if anything like that happens."
Williams, a 6-foot-1, 205-pounder, was involved in multiple collisions in the first quarter and came out after hitting USA running back Tre Minter along the sideline late in the first quarter. He appeared to be favoring his left arm/shoulder.
Pickering, too: Frost wasn't going to delve into the particulars on what is ailing sophomore kicker Barret Pickering or how long he might be out, but said NU isn't concerned if freshman walk-on Dylan Jorgensen sees more duty.
"I thought his kickoffs were good, converted all the PATs," Frost said of the Lincoln Southwest graduate. "Obviously would have liked to have seen the field goal made before half. If he's the guy on Saturday, then we've got a lot of faith in him."
TEs performed well: Nothing about Nebraska's offensive output on Saturday was particularly impressive, except for maybe the production from the tight ends group.
They caught all four passes thrown their way for 74 yards, led by junior Jack Stoll's three for 66. Stoll also was effective in the blocking game. Sophomore Austin Allen made the other catch.
"A couple plays here and there, but those two guys both played at a pretty high level," Frost said. "Both of them look faster this year. I think both of them are more comfortable in the offense, and hopefully we can utilize those guys a lot more than we did a year ago."