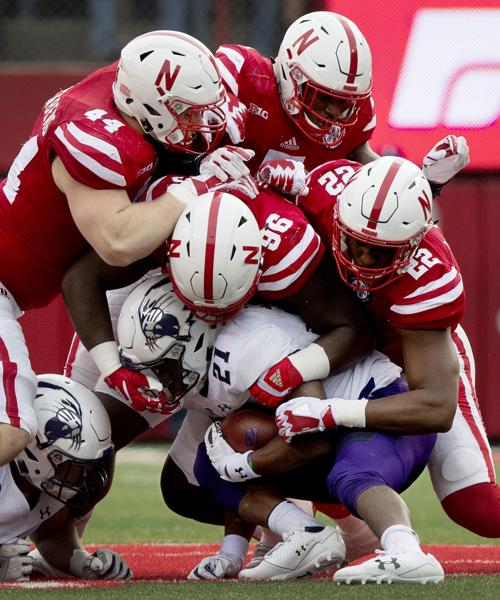 Mike Riley started Thursday evening's post-practice news conference with a joke about the latest mini-drama surrounding his Nebraska football program.
"We've had a good week of practice," he said, wry smile beginning to show. "It was good strategic work. A lot of technical work. Spent a great deal of time yesterday on rugby tackling."
That's what Banker and his staff taught a year ago. Riley said he, Banker and other coaches were looking for ways to teach tackling in a safe and effective way, and enlisted the help of Seattle-based Atavus to help in that pursuit after seeing a video made by Seattle Seahawks coach Pete Carroll. Diaco on Tuesday charged that the program was mandated by NU administrators despite coaches and players not believing in it, but hedged by saying, "Whether this is true or not I have no idea; this is just what was told to me."
Riley on Thursday denied that the move was forced.
"That did not happen," he said. "It didn't happen like that. We all looked into it and, with their support, we brought this company in."
The veteran head coach chalked it all up to a matter of preference on differing styles and techniques.
"For the most part, the same tenets hold true -- safe and better -- just a little different form," he said. "That's the way you're going to have it with coaches everywhere. It's really just, I think, a different idea about the best way to tackle that still maintains the safety of the player. And I have been, frankly, really impressed with the amount of teaching of tackling that our coaches have done since spring practice."
Even though Riley joked about the situation, he indicated that he thought Diaco should have just asked him rather than speculating publicly.
"I said, 'I can kind of explain the history of all that very easily, like I just did (to reporters),'" Riley recounted.
Bradley, Reed mending: Riley's usual injury status update indicated the Huskers may get several players back for Saturday's game against Minnesota.
Freshman running back Jaylin Bradley (ankle) has been practicing through the week and should be available. He missed last week's overtime loss to Northwestern after providing a second-half spark in the Huskers' Oct. 28 win against Purdue. The Bellevue native had 73 total yards in that game.
Junior safety Antonio Reed (knee) has practiced all week and is also expected to play, though junior safety Aaron Williams (neck) had a "bit of a setback," according to Riley. Williams will still travel with the team and dress and might be able to play in a limited role.
Neither safety played against the Wildcats.
Elsewhere, redshirt freshman defensive lineman/outside linebacker Ben Stille (groin) is expected to be available. Riley sounded hopeful on the status of senior inside linebacker Chris Weber (left shoulder stinger).
"Chris Weber has been held back for the week, but he has been working. He practiced today without contact," Riley said.
Sophomore cornerback Eric Lee (concussion) will not play for the second straight week.
Dismuke stepping up: Riley was complimentary of redshirt freshman safety Marquel Dismuke, who has played extensively in each of the past five games as the Huskers' secondary has continued to deal with multiple injuries to Reed, Willams and senior Joshua Kalu.
"I'm really proud of Marquel," Riley said. "From where he was a year ago redshirting to where he is today, having played significant playing time and being involved in special teams. He's very engaged as a team member this year in a much higher level. It's a great example of what happens in growth in an individual in a program."
Riley not worried about Spielman's return home: Redshirt freshman receiver JD Spielman will see a lot of familiar faces this weekend in his home state. The Gophers have seven of his former Eden Prairie teammates on the roster and UM's campus is just 20 miles from his hometown of Eden Prairie.
Riley is not worried about emotions running too high.
"I haven't said anything to him really about it," he said. "I haven't felt the need to give him a lot of advice on how to handle it. I don't even know if he knows where he is yet. I'm just going to leave him alone and let him keep playing.
"There may be an added picture to this, playing back in Minnesota, but I have been so impressed with that young man."
Asked if he would get the ball in Spielman's hands even more, Riley told an interesting story about his offensive coordinator days at Southern California.
"You know, I can remember a year with Coach (John) Robinson and we had just had a pretty good year. Keyshawn (Johnson) had caught 102 passes and Coach Robinson said to me, 'I wonder what would have happened if we would have thrown him the ball 25 more times.' I said, 'I'm not sure,' but I've always thought of that. It's good to feed those guys that are playmakers, for sure."
Weather watchers: The National Weather Service's forecast for Minneapolis has improved through the week and now calls for partly sunny skies, dry and a high of 42 degrees. That's music to Riley's ears.
"The offensive team has practiced outdoors for two days this week at probably about the same — well, yesterday was so warm — but we had good sessions with the offense and defense outside today," he said. "I think we'll be fine and both teams will be affected in the game if there's a significant wind. If there's not a wind that's more than 10 miles per hour, it'll be good weather for football."