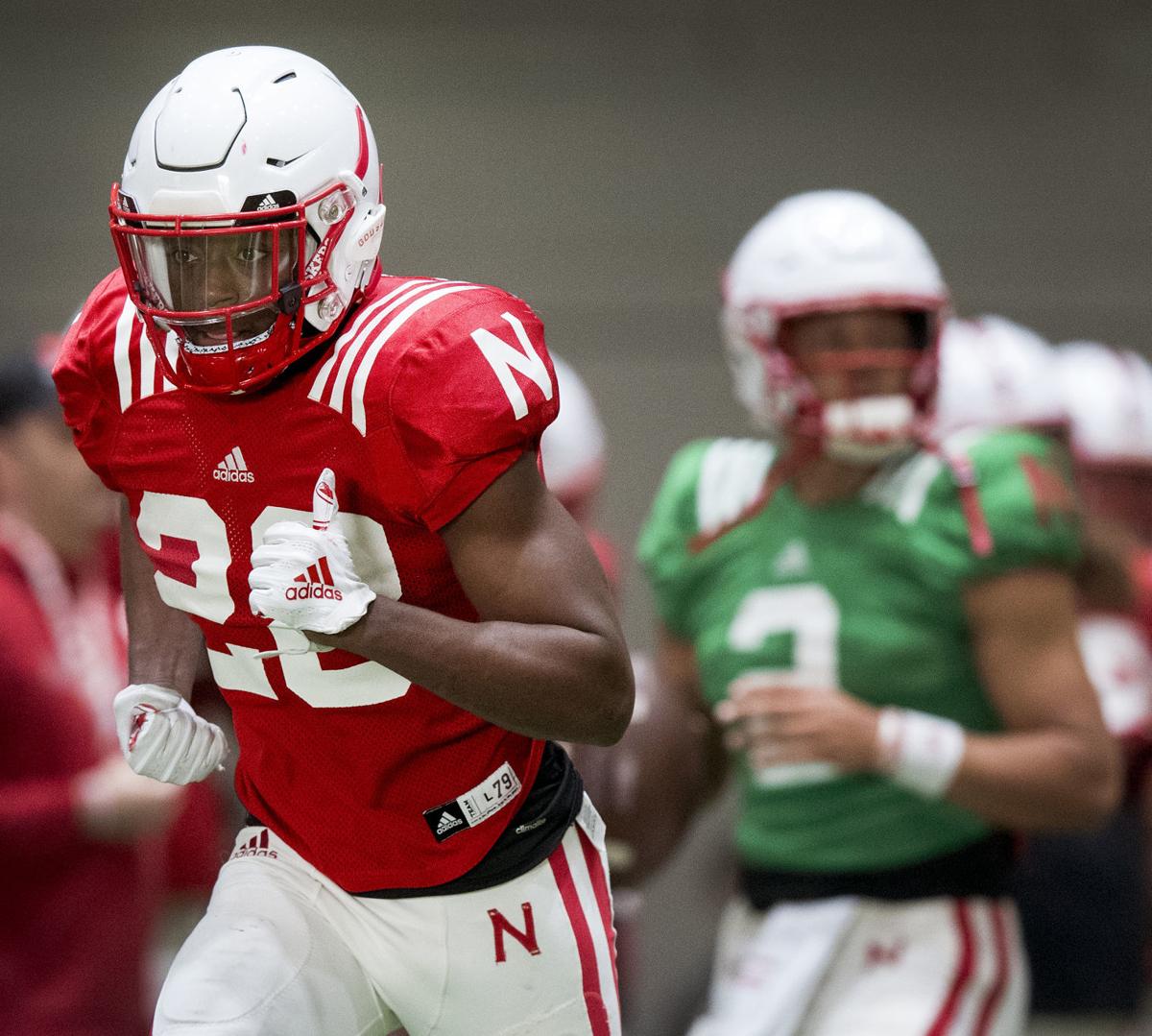 CHICAGO — Maurice Washington will participate in preseason camp with his Nebraska teammates, just as he's done over the course of the Huskers' summer workout program.
NU head coach Scott Frost said any determination about Washington's status for the regular season, though, will wait until Washington's legal proceedings in California are through.
"We're going to wait and see how it all turns out with Maurice," Frost said Thursday at Big Ten Media Days. "He's been doing a pretty good job in the weight room with the team. We won't make any decisions on status or anything until we know his legal problems are over.
"I don't think any decision would have to be made in terms of his legal situation being unresolved until before the first game," Frost said.
Washington's next scheduled date in Santa Clara County court in California is July 25, and that is only to formally enter a plea. The Huskers report for preseason camp one week later and their season opener is Aug. 31 against South Alabama.
Washington is facing two charges — one a felony — after he allegedly sent a sexually explicit video to a former girlfriend (who appears in the video and was underage at the time it was made), though Washington is not in the video and did not film it.
Washington was a limited participant in NU's spring ball and did not play in the Red-White Spring Game in April.
Jurgens health questions remain: Frost was not interested in divulging details about redshirt freshman center Cam Jurgens' current health status on Thursday.
Jurgens suffered a serious injury to his foot/ankle area in high school and then broke his foot last fall shortly after he transitioned from tight end to center. He reportedly reinjured the foot before spring ball, but participated in most of it and played in the Red-White Spring Game. Now another potential aggravation led to questions here.
"I don't want to talk about injuries right now and that's kind of our policy anyway and that's really for the player's sake," Frost said. "But Cam got hurt in high school and I think he's had a couple things with his lower body that may or may not be related and might be a result of (that).
"When he was healthy, I saw some really special things from him. I think he has a chance to be an elite player if he stays healthy and stays on the course he's on. It's important for us as a team to have him, particularly with our need on the interior of the line."
Piper moving to OL: In perhaps a related move to Jurgens' health — and certainly because NU has two open jobs on the offensive line — freshman Ethan Piper will begin his Husker career on that side of the ball rather than as a defensive lineman.
You have free articles remaining.
"He's been doing a really good job this summer," Frost said. … "Ethan will be an inside guy for us to start out. That may or may not be permanent, depending on how it goes, but he's going to be a guard/center/guard for us."
The Norfolk Catholic graduate played both ways in high school and is one of the more physically developed freshmen in the class. Strength coach Zach Duval recently tweeted a video of Piper squatting 585 pounds multiple times.
Marijuana citations 'a problem': NU has had three players cited for marijuana-related incidents this summer including two possession tickets and one for possessing paraphernalia.
"Yeah, it's a problem," Frost said. "Trust me, we've had a lot of conversations about it as a team and individually. It's going to continue to be a problem, not just with us but with college athletes everywhere, particularly with it being legalized other places.
"But our team understands that I don't care where it's legal and where it isn't. It's illegal according to the NCAA, and I don't think it's beneficial for guys that are trying to accomplish what our guys are trying to accomplish. We're certainly not unique in that we've had a few problems with that, but we're doing everything we can to try to help kids not do it, and we'll keep fighting that battle."
Waiver request for TE Vokolek TBD: The Husker staff still has not determined whether it will pursue a waiver for immediate playing time for Rutgers transfer tight end Travis Vokolek.
Vokolek left Rutgers in January and committed to NU in June. The Missouri native has family in Nebraska.
"We still have to determine with Travis if he's going to try to gain eligibility this year or not," Frost said. "I've been friends with his father for a long time. Certainly we're not going to be in the hunt for too many transfers in general. … This was a unique situation because we're familiar with him and his family.
"I think he's got a ton of talent and all you have to do is watch him walk down the hall to realize that he's got some special things about him."
No standardized injury report coming to CFB: Big Ten commissioner Jim Delany pushed hard for a weekly, standardized injury report in college football, but said Thursday he does not expect the idea to come to fruition. 
"The NCAA picked up on it, studied it, and at the end of the day, for a variety of reasons — and you can ask them what those reasons are — I pushed it pretty hard," said the outgoing commissioner, whose final day in office is Jan. 1. "Publicly I pushed it pretty hard. Internally I worked with the groups that were studying it, but for their own reasons they have decided not to do that." 
Recognition for Martinez, Spielman: The preseason recognition keeps rolling in for Nebraska sophomore quarterback Adrian Martinez. 
Martinez was one of 10 Big Ten players named to a preseason watchlist voted on by a media panel. 
Martinez is joined by fellow West division standouts Purdue wide receiver Rondale Moore, Wisconsin running back Jonathan Taylor, Iowa defensive end A.J. Epenesa and Northwestern linebacker Paddy Fisher.
From the East: Ohio State running back J.K. Dobbins and defensive end Chase Young, Penn State defensive end Yetur Gross-Matos, Michigan State linebacker Joe Bachie and Michigan State defensive end Kenny Willekes.
Spielman, meanwhile, was one of five Big Ten wide receivers and 50 players overall named to the Biletnikoff Award preseason watchlist. The Biletnikoff is given annually to the best receiver in the country.
'Exceptional offseason:' Throughout the offseason, Frost has lauded the work his defensive players have accomplished.
He wasn't backing down here.
"Really, I think our entire team's had a great offseason, exceptional offseason," Frost said. "I think the defense has had a little bit better than the offense. The mentality I see, the energy in the weight room and workouts that I see, the confidence that I'm starting to see build, I'm really excited about."
The changes, Frost said, have been both physical and psychological.
"I just see them believing it now," Frost said. "I think they were dipping their toe into that pool of belief last year. I think they wanted to believe that we were leading them in the right direction, but they've had a lot of coaches coaching them that have told them the right thing. They wanted to believe that the direction we're taking them was going to lead them to the things they wanted.
"I think they completely believe that now and I see a different team from a confidence standpoint, a swagger standpoint, an energy standpoint."
'Don't care' about expectations: Frost was asked for his thoughts about being a viewed as a favorite or a trendy pick to win the Big Ten West and, well, he wasn't really too concerned about it.
"I don't care who people are picking," he said. "There's a lot of really good teams in our league. A lot of teams that beat us last year that we didn't beat. I know we're better. We're better than we were a year ago. We still have to go out and earn it. Picks are picks. Guesses are guesses."
BTN planning for Black Friday: New Big Ten Network president Francois McGillicuddy said the network is planning "extended on-site coverage" of Nebraska's Black Friday home game against Iowa.
It's the first time the game's been on BTN, and McGillicuddy said the network is excited to have the game as part of its package this fall. 
"We have no doubt it will provide an exciting conclusion to our season," McGillicuddy said.