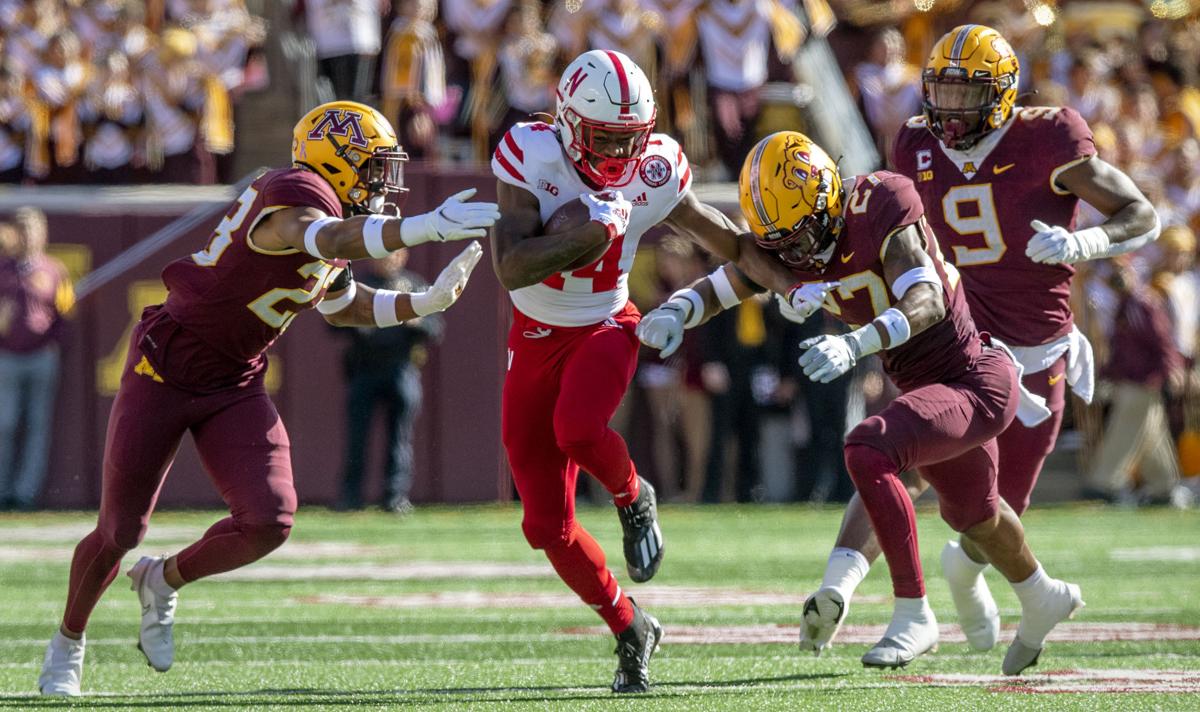 Nebraska should have its top running back in the mix when it hosts Purdue on Saturday.
Redshirt freshman Rahmir Johnson, who left the Huskers' loss at Minnesota on Oct. 16 with an apparent head injury, has bounced back well, according to running backs coach Ryan Held.
"Really good. He had to go through a protocol and he's back and ready to go," Held said Tuesday. "He was out there today at practice and had a good day."
The Huskers are last in the Big Ten in sacks per game. Saturday feels like a chance to change that, considering Purdue's pass-heavy scheme.
Johnson, a 5-foot-10, 185-pounder, was putting together the best rushing performance of his career against the Gophers when he took a vicious shot near the goal line and exited the game. At that point, he had 83 yards and two touchdowns on 11 carries.
Despite the early exit against the Gophers, Johnson is averaging 103.4 offensive yards per game in the five contests since he took over as Nebraska's top back. He's got 342 rushing yards and 175 receiving yards in that stretch and five total touchdowns.
Boilermakers stout defensively: Even during a year in which defense has largely ruled the Big Ten and college football, Purdue still has to be one of the most improved outfits in the country.
In 2020, the Boilermakers finished No. 56 in total defense (399 yards allowed per game) and No. 62 in scoring defense (29.8 points allowed per game). In 2019, Purdue was No. 100 in total defense and No. 86 in scoring defense).
This year? No. 12 (300.1) and No. 9 (16.3), respectively.
"They're much improved." Nebraska offensive coordinator Matt Lubick said. "They force a lot of turnovers. Against Iowa, I think they were plus-4 or plus-5. That's a big deal. They have a special player with (defensive end George) Karlaftis, but they're good across the board. … They create a lot of negative plays for teams, get you behind the sticks. We've got to stay out of negative plays. And, to their credit, they haven't given up a lot of big plays. Especially throwing the ball, they've done a good job of protecting themselves.
"So, they play really sound. We've got our work cut out for us. "
Safety depth tested: With senior Deontai Williams (knee) likely out this week, redshirt freshman Myles Farmer will step into the starting role beside senior Marquel Dismuke. 
Behind those two? Chinander said the Huskers have options. 
"You've got Noa Pola-Gates and obviously some other guys are training back there," Chinander said, mentioning walk-ons Lane McCallum and Phalen Sanford. "(Freshman) Marques Buford has been kind of rolling back and forth between corner and safety, so I feel good about the depth that we have back there." 
Recruiting work: NU coach Scott Frost said recently that the 2022 recruiting class may tilt more toward transfer portal additions and also potentially junior college players.
Defensive line coach Tony Tuioti is a good example of an assistant who will be in the market for an addition or two in this class. He could add a player from the high school ranks, the portal or a juco depending on the fit.
"Fortunate for us, we've got a lot of young guys that have a lot of reps for us that are going to be coming back, so we don't lose a lot," Tuioti said. "I'm being real selective in the guy that we need to add to our room so that guy can build and add value to our room and the culture that we've got right now. The worst thing you can do is bring a guy in that just doesn't fit the culture. We've worked really, really hard to build the culture the right way and we've got some great young guys that are going to be leaders for us in Ty (Robinson) and Casey (Rogers), those type of guys."
As Frost said, the Huskers will look for potential immediate impact-type players in the portal.
"It's the way of the world, of free agency to a certain degree, and you've got to be able to go and get through this season and, as we look at it, where can we maybe fit a guy in here that can give us an older guy that can help us next year or moving forward?" Held said. "Maybe it's a one-year deal, maybe it's a three-year deal or two years, depending on the position."
Spielman retires: Former Nebraska wide receiver JD Spielman is done playing football, TCU coach Gary Patterson told reporters in Texas on Tuesday. 
Spielman, of course, set several records during his three seasons at Nebraska before he decided to transfer ahead of the 2020 season. He is the only player in Husker history to log three 800-yard receiving seasons.
At TCU, he struggled to stay healthy. Spielman had five catches for 56 yards in three games last year and eight for 126 and a pair of touchdowns in four games this season.
— Parker Gabriel and Chris Basnett