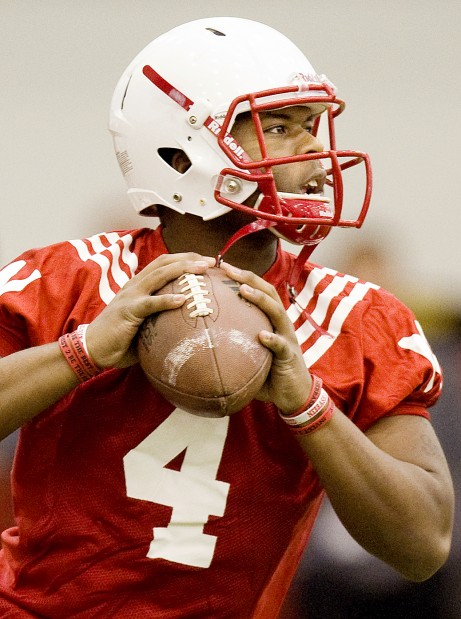 Tommy Armstrong likely will see plenty of action during the Red-White Spring Game on Saturday.
In what ways has the redshirt freshman quarterback most impressed Tim Beck this spring?
"His leadership," the Nebraska offensive coordinator said without hesitation. "He's just a tough kid, man."
The 6-foot-1, 220-pound Armstrong, of Cibolo, Texas, has the respect of his teammates, Beck said.
"I just think the team has a feel when he's in there. … I don't know, it's just a different feel," Beck said. "It's kind of hard to explain. You've got that guy with a presence."
Armstrong is competing for the backup job behind senior Taylor Martinez.
Beck said Armstrong is searching for consistency in all aspects of his game, including the leadership part. Armstrong got down on himself after a couple plays Monday.
"He loses that mojo, he loses that command," Beck said. "He gets mad at himself because he's a competitor. But it shows. You can't do that."
Armstrong last October underwent what Nebraska head coach Bo Pelini described at the time as "corrective (knee) surgery from something that happened in high school."
He's full-speed now, Beck said.
"I think he's back," the coach said. "I love the way he's running the football. He has a strong arm. He's getting better at knowing where to go with the ball. We just have to keep working with him.
"Like any young quarterback, he still has fundamentals and decision-making he has to work on. But he's improving."
* YOUNG BACKS: King Frazier, a walk-on running back, continues to draw praise from Husker coaches.
You have free articles remaining.
The 6-foot, 220-pound redshirt freshman from Lee's Summit, Mo., is "catching a lot of coaches' attention," Beck said.
Frazier is getting plenty of repetitions in the absence of injured Ameer Abdullah, the projected starter.
Beck also praised redshirt freshman walk-on Graham Nabity of Elkhorn.
"We've used all kind of guys back there," Beck said. "Mike Marrow has played some tailback for us, and had a really nice scrimmage (Saturday). Heck, we even threw Jano (fullback Andy Janovich) back there and gave him a couple carries just to see what he could do as a big back. I really like that group."
* MAKING IMPROVEMENT: Nebraska defensive coordinator John Papuchis on Monday echoed Pelini's comments Saturday about the defense's performance in Saturday's scrimmage. Papuchis said he saw improved energy, enthusiasm and effort.
"I think that's all a byproduct of knowing what you're doing," he said. "It's hard to play fast and enthusiastic when you're not quite sure what you're supposed to do.
"We made a big jump last week in terms of our general understanding of the defense. We have to keep doing that this week. This is a big week for us."
* McMULLEN RISING: Redshirt freshman defensive end Greg McMullen played well in the scrimmage, Papuchis said.
"He's a big, physical kid who's athletic," the coach said of the 6-3, 285-pound Ohio native. "When he turns it loose, he's hard to block."
Papuchis noted McMullen is in the early stages of development.
"I told Greg after the scrimmage, 'We've only really coached you for 11 or 12 practices,'" Papuchis said. "In the big scheme of things, that's not very much. He has to kind of understand, and so do we, obviously, that his development is going to take baby steps. I think he took a good step forward on Saturday just because he turned it loose."
* NO GOLD STARS: Papuchis saw improvement Saturday from a few other young defensive linemen.
"Nobody's handing out any gold stars from what we did," the coach said. "But I thought there were times when Vincent Valentine played better. I thought Aaron Curry played better. I thought Avery Moss did some things that were pretty good.
"Everybody did some good things. Everybody did some bad things, though, too. We're not a finished product by any stretch."
-- Steven M. Sipple and Brian Christopherson