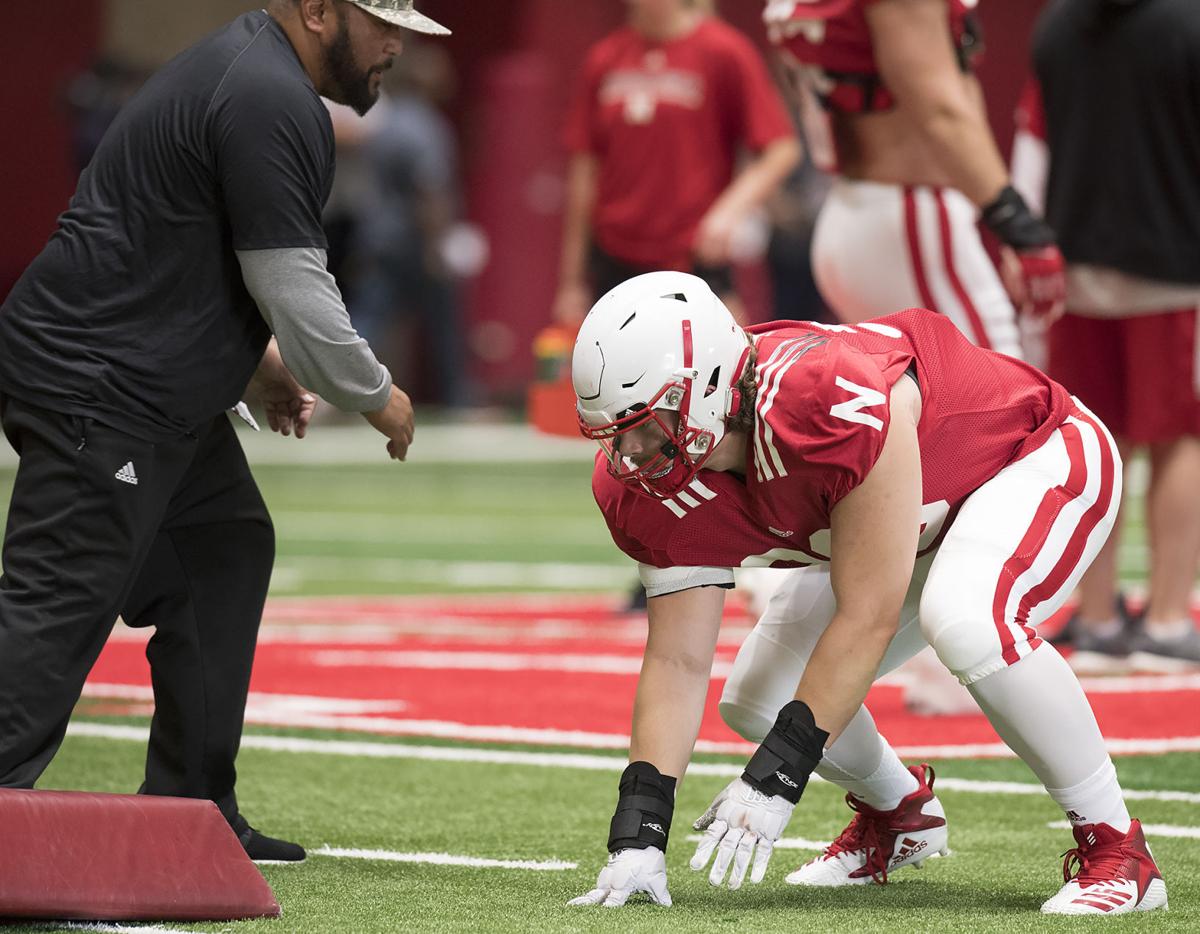 Nebraska's outside linebackers room entered preseason camp as perhaps the group with the most question marks on the defensive side of the ball.
That only became more the case when redshirt freshman Javin Wright said via Twitter that he was slated to have to have surgery Tuesday. The exact nature of Wright's injury, which according to a post on social media appears to be to his right knee, is not known, nor is whether Wright has a chance to return to action still this year.
At outside linebacker, NU has returning senior JoJo Domann, junior Caleb Tannor and sophomore Garrett Nelson along with junior college transfer Niko Cooper and a host of young players.
It also now has Pheldarius Payne. Defensive line coach Tony Tuioti said Tuesday that Payne, recruited as a defensive lineman, is working with Mike Dawson's group currently.
"We're trying to get him some reps outside because he does a good job with the rush off the edge," Tuioti said of the 6-foot-3, 275-pounder. "I think he puts stress on offensive tackles and can give us some edge rush."
In addition, inside linebackers coach Barrett Ruud said redshirt freshman Nick Henrich could play outside if needed, though the Omaha Burke graduate so far has mostly stuck inside.
"We thought about it a little bit for sure, just maybe as-necessary depth and as a way to get another really good football player on the field," Ruud said. "We haven't made any final decisions or anything like that."
DL Rogers trending up: Tuioti on Tuesday said he feels good about six or seven players in his room so far.
That group includes veterans Ben Stille, Deonte Thomas and Damion Daniels, plus juco transfer Jordon Riley, junior Keem Green, sophomore Casey Rogers and redshirt freshman Ty Robinson.
Rogers isn't exactly a surprise addition to the list, but it's clear he's made a big impression on Tuioti amid a crowd of guys who were expected to be in the mix.
"I really like how Casey has been able to grow and develop," Tuioti said, adding that the sophomore from Syracuse, New York, has made big strides even just in the past couple of months.
Offense looks "sharp": Ruud knows good offense when he sees it, given his standing as Nebraska's all-time leading tackler and subsequent lengthy NFL playing career.
He likes what he's seen so far across the ball during practice from Nebraska's offense.
"I think they've been good," Ruud said. "We talk about quarterbacks, Luke (McCaffrey) and Adrian (Martinez) have both been really sharp, not only throwing the ball but decision-making and pulling the ball in the run game, too. I think they're executing — it's always been a versatile offense, but I think it's becoming a little bit more precise as well.
"They're really getting good at their core plays that they're going to hang their hat on this year, and I really like what I see from the offense so far."
DL Thomas wants to harass QB more: Thomas is one of the veteran players in Tuioti's room and has contributed three straight years, but has yet to lock down a full-time role.
His path to that, he says, includes being more disruptive against the pass.
"The biggest jump for me is I have to get better pass-rushing," he said Tuesday. "The run game is pretty easy for me. I see the formation and I know what's coming, but for pass, the (offensive line's) slide and where it's going to go, that's what I have to get better at."
Live tackling ramping up: Senior inside linebacker Collin Miller said the amount of live tackling Nebraska is doing at practice is on the uptick as its season opener against Ohio State on Oct. 24 draws closer. 
"We're going live quite often now that we're in full pads," Miller said. "(Coach Scott) Frost does a good job of taking care of everybody and making sure that, when we're going live, we're going live. No tag-offs, no thud. Take them to the ground."
Watch now: Here's what Husker defenders — and their coaches — said Tuesday
Players Collin Miller, Ty Robinson, Deontre Thomas, Damion Daniels were joined by coaches Barrett Ruud and Tony Tuioti. Check it out.