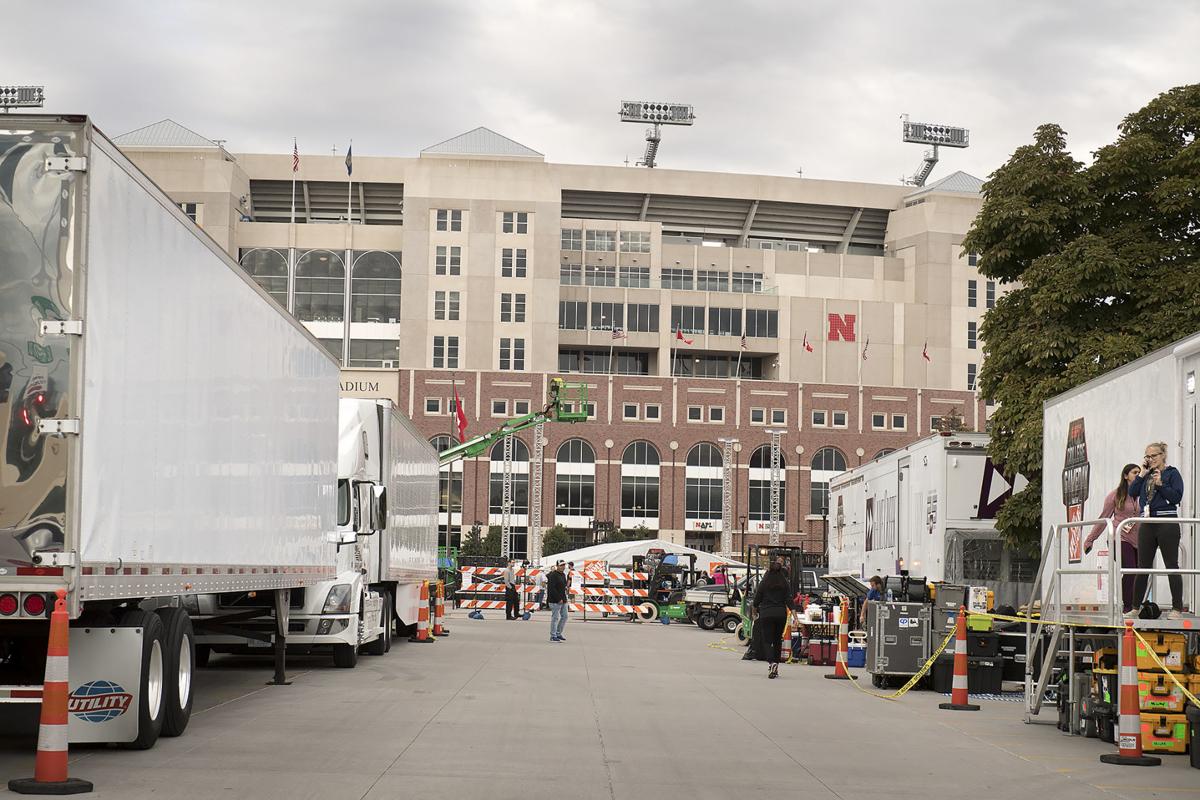 Nebraska football coach Scott Frost expects his team to be loose and ready to play Saturday night when the Huskers kick off against No. 5-ranked Ohio State to cap off a supercharged weekend on the NU sports calendar.
The Huskers are more than two-touchdown underdogs to the Buckeyes (4-0), and will have ESPN's "College GameDay" and a national television audience on ABC waiting to see how they respond.
"I don't think our guys have anything to lose this week but to go out and play. This is a really good team coming in; I don't think a lot of people are going to pick us to win (and) rightfully so," Frost said Thursday. "They've got one of the best teams in the country, I think, right now. They're playing at a high level. So there's no reason for us to be nervous or uptight. We've just got to go take our swings."
Parker Gabriel shares insights from head football coach Scott Frost after practice on Thursday, Sept. 26, 2019.
Last Saturday's win over Illinois, Frost said, represented his program clearing a hurdle. The 42-38 victory broke a seven-game road losing streak, and the Huskers had to hang on through some tense moments at game's end.
Games such as this Saturday's matchup, Frost said, present something new.
"Winning a big game against a good team is a hurdle we're going to have to jump over at some point," Frost said. "We've got a shot to do that Saturday. We'll see where we stack up with them."
At some point, Frost said, Nebraska will be in a position to regularly go toe-to-toe with the top teams in the Big Ten and nationally. As he's done before, the coach professed unwavering confidence in the direction the Huskers are trending. Now, he said, it's a matter of seeing how far NU still has to go.
"Sooner or later this program is going to be ready to take on that challenge and overcome the challenge," Frost said. "These are the games you want because this lets us see where on that road we are. I don't have any doubt we'll get there, and we'll take our swing on Saturday and see how far we've come."
Kicking conundrum: Barret Pickering is still unavailable, and Nebraska's kicking situation remains in flux as the Huskers prepare for an Ohio State team that has just as many game breakers on special teams as it does on offense and defense.
It is expected that walk-on sophomore safety Lane McCallum will continue to handle the place-kicking duties while backup punter William Przystup handles kickoffs and Isaac Armstrong does the punting.
Nebraska has had four kicks blocked — two field goals and two extra points — and has seen three kickers combine to go 2-for-7 on field-goal tries. 
"It hasn't been very good, and the statistics bear that out. Certainly not something we anticipated. If we had anticipated it, we could have done more to try and address it beforehand," Frost said. "But we're hoping Barret is ready sooner rather than later, and in the meantime we're going to do the best we can."
Frost said Nebraska's issues in the kicking game can have an effect on how NU's offensive coaches call a game.
"More than anything, it changes your play-calling down in the red zone or overtime, those kind of things," Frost said. "(You) try and, if you can, not leave it up to a kick. But we kind of think that way anyway when we get in certain parts of the field that it might be four-down territory."
Head football coach Scott Frost talks about the week's preparations for Ohio State after practice on Sept. 26, 2019.
Staying focused: The extra activity around the football complex as "College GameDay" puts together its TV packages for the weekend hasn't had an effect on Nebraska's preparation, Frost said.
The Huskers have had a good week of practice, Frost said, and the coach doesn't expect NU's level of preparation to change anytime before Saturday's game.
"I don't think anybody's even noticed anything different to this point, probably, except for me having to do some extra things," Frost said. "We keep getting a little bit better, inch by inch, and foot by foot. So I think the players are dialed in and ready to do what they can against a really good team."
ESPN "College GameDay" in Lincoln
Be the first to know
Get local news delivered to your inbox!