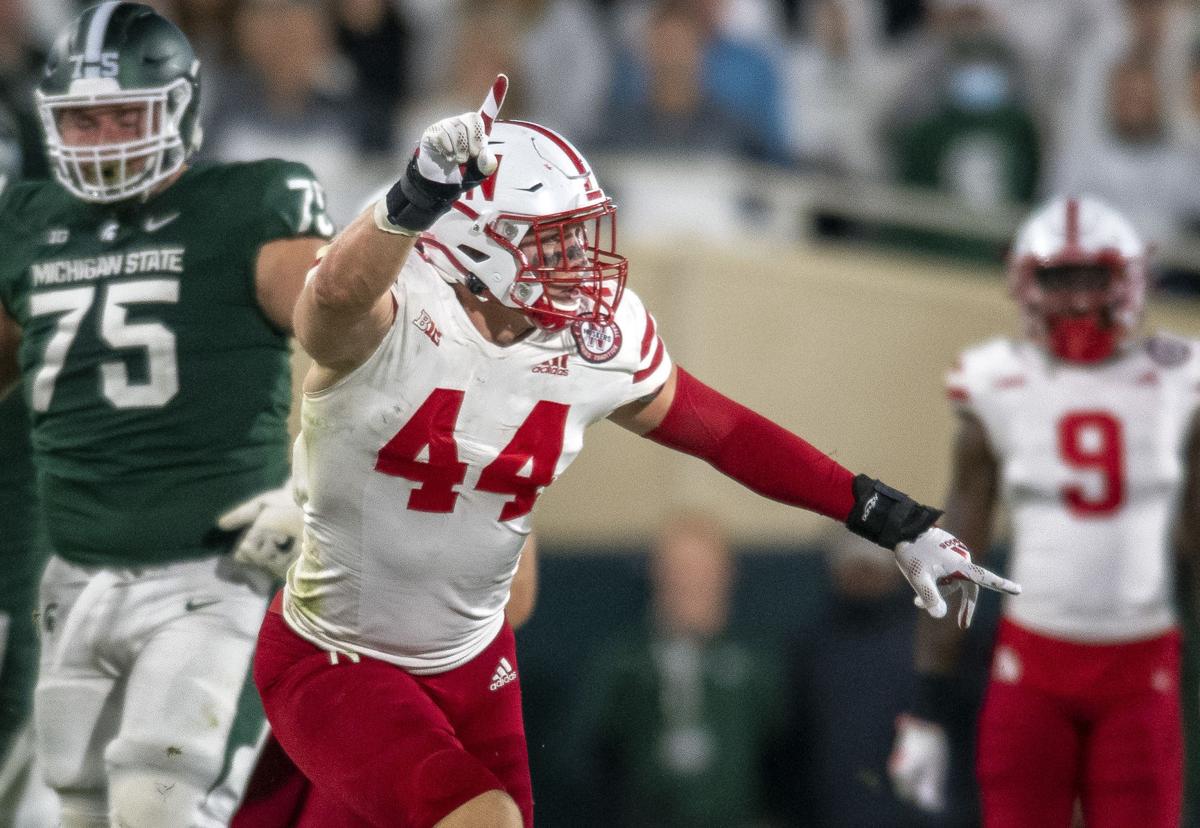 Something stood out to JoJo Domann when he watched the film from Saturday's game against Michigan State.
Domann, a Husker senior linebacker, gave Garrett Nelson a shout-out for his performance against the Spartans in a 23-20 overtime loss. The Scottsbluff graduate had six tackles, including a sack.
"The will to be great is burning in his chest," Domann said during Monday's news conference, which comes ahead of Saturday's 6:30 home meeting with Northwestern.
Nebraska's defense has been the team's best unit this season, and the linebackers are leading the way.
Nelson has seen the field a lot this year, and the 6-foot-3, 245-pound outside linebacker leads the Big Ten in tackles for loss (seven).
NU also is getting a boost from its inside linebackers, where sophomore Luke Reimer and freshman Nick Henrich have held down the fort. Reimer and Henrich rank one-two on the team in tackles, with 46 and 39 stops, respectively.
Those two combine for 20 tackles to lead the way against the Spartans, who didn't record a first down in the third or fourth quarters.
"That group has really grown together," NU coach Scott Frost said of his young linebackers. "That's really what we need the offensive line to do, that's really a young group."
Smothers handles situation well: Frost said he was impressed with freshman quarterback Logan Smothers, who entered Saturday's game after Adrian Martinez left due to injury.
The 6-2, 195-pound freshman engineered the Husker offense on the second offensive series of the game and got NU into Michigan State territory before back-to-back false start penalties stopped a promising drive.
Martinez returned on NU's third offensive series.
"He's been ready every time he's gotten a chance this year," Frost said of Smothers, who has appeared in three games.
His first two appearances, against Fordham and Buffalo, came in mop-up duty.
Martin and Betts updates: Frost said wide receiver Oliver Martin, who has missed four games, is close to returning. Zavier Betts is close, too, the coach added.
Martin hasn't played since the season opener at Illinois.
Betts, who had five first-half catches against Michigan State, did not play in the second half, though Frost did not elaborate on his injury status after the game.
Consistency in return game: Injuries and turnovers have handcuffed the Huskers in the return game this year. Cam Taylor-Britt and Oliver Martin were to return punts, but Martin has been hurt and Taylor-Britt was taken out of the rotation after some key mistakes.
Zavier Betts was to return kicks, but he has been nicked up.
Frost said players are getting return reps all the time in practice.
"When started camp, Samori (Toure) really wasn't even returning punts," the coach said. "Getting consistency back there is going to help, just like getting consistency anywhere and getting more reps is going to help."
More night games: Nebraska will play back-to-back home games under the lights after the Big Ten slotted NU's Oct. 9 meeting against Michigan for a 6:30 p.m. start on ABC.
Frost was asked about the chance for the Huskers to play two night games at home.
"We just need to get back on the field and win," he said. "I don't care if the game's at 2 in the morning or 2 in the afternoon. We're so close.
"Right now we're a good team that's lost some games. We've got to get over that hurdle, and right now the more opportunities that we get, the better."
More recruits? Typically, night games allow for a bigger crop of recruits to visit, because the turnaround from playing on Friday nights is not as short.
Frost expects the night kicks to help in that regard, but with NU piecing together a smaller recruiting class, the Northwestern and Michigan games will not have a large number of official visitors.
But the Huskers are expected to host several key unofficial visitors, including 2023 QB target Reese Mooney and 2024 QB target Dylan Raiola, over the next two weeks.  
"We won't have as many visitors all year as we normally do, but we're going to have some young kids, some '23s and some other people that are going to be important to us," Frost said.
"We need to put on a show for them."